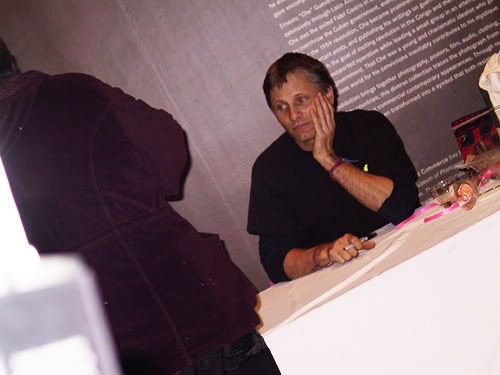 i recently went on a trip to NYC to visit a good friend. we went out to the bar with another of her friends, who let slip that she was going to a booksigning for viggo mortensen's photography book, linger. seeing as it had been my goal to see at least one celeb whilst in NY (and seeing as my only other brush with a celebrity was seeing brad and angelina getting on a plane from about 50 yards away while they were here in calgary) i jumped at the chance to join her.

so a few days later, i was in manhattan, standing in line in the biting cold at the international center of photography. we were behind a group of middle-aged women going on and on about how hot aragorn was, and about how they'd been to all the LOTR conventions, etc. they were fangirling way more than me ... i mean, sure. he's hot. he was good in the movie. but i was there more to SAY i'd been there.

anyway. i was looking down the street, and suddenly, these two chicks are walking towards me, talking animatedly. it's none other than judy greer, with a friend. i kind of did a double-take. and freaked out, because come on. arrested development? 13 going on 30? the chick's an icon. so i freaked out and phoned my friend to brag about it, when she walked by again in the other direction. so i snapped a photo of the back of her head: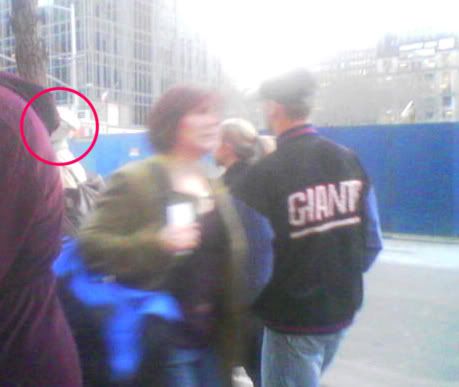 yes, you're all very impressed.

anyway, about 4 hours later, we finally made it inside. and there was viggo. looking ... slightly bored and annoyed (see above photo). apparently, we weren't allowed to take pictures with him. the weird middle-aged LOTR fangirls went up before us, and he wouldn't sign their LOTR posters (because COME ON, he's there to sign his photo book, not there to be all 'aragorny'.) and then it was my turn.

i must admit, he's hot. and his voice is even sexier in real life.

i was kind of hoping we'd have a conversation, because i'm planning on majoring in graphic design with a minor in photography. but he was very abrupt, signed my book quickly, and moved on to the next person. he sounded tired and annoyed, and didn't really seem to want to spend any more time than necessary with us commoners. so we did a quick tour of the museum and left.

oh well.

at least i got some pictures of him with one of the middle-aged aragorn-lovers.