What better way to pass some time before the OSCARS? E! Online Fashion Police




Lindsay tries to go demure, Angie shows us it's a cinch, Julia makes a clean getaway






Late Bloomers
We were all set to rave over lovely lady in red Katherine Heigl--how great are those peep-toe shoes and that flattering boatneck cut?--until we spotted what looks to be a white slip under her racy dress. Sweetie, whatever you're trying to hide can't be as tacky as wearing undergarments meant for someone twice your age.




Hide and Peek
Lindsay Lohan must have been inhaling too many Mystic Tan fumes. How else to explain why she covers up in demure couture for the GM Ten celebrity fashion show. But that boring black satin dress does have a racy side--just moments after this shot was taken, Lindsay's right breast was exposed to photographers. Talk about a wardrobe malfunction!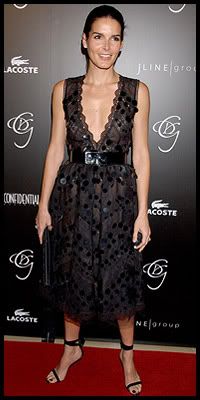 Doing the Dip
Angie Harmon puts a black-tie twist on the cinched-waist look so popular right now. At the Costume Designers Guild Awards, the former Law & Order star sports a belted black lace dress with a plunging V-neck and strappy stilettos. Our only beef with the Texas beauty? If you dare to bare, loosen up your primly pulled-back locks as well!




Aged to Imperfection
Can ya help a sister out? Ashlee Simpson works a boho-turned-hobo vibe at the House of Flaunt Oscar retreat in scuffed lace-up boots, a shapeless black dress, a seriously distressed leather jacket and frizzy locks. Ash, if you're having trouble making ends meet, how about hitting Jessica up for some spare change. It seems like she has enough to go around.


Low Eggs-Pectations
Stop, thief! Julia Roberts makes a drab getaway after making off with the Easter Bunny's flamboyant basket. But who can blame the NYC-based actor for her actions? Her dour 'do and frumpy outfit--banged-up shoes, frayed jeans, black coat and scarf--are desperately in need of an eye-catching accessory, even if it comes from one magically delicious rabbit.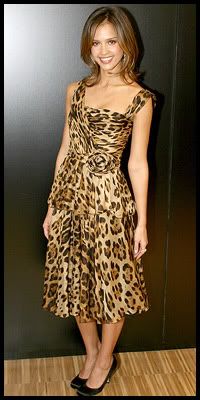 Bad Kitty!
Jessica Alba needs to change her spots. We have nothing against the leopard print she wore to the Dolce & Gabbana show in Milan, Italy, but all those folds of fabric have given this piece an identity crisis: Is it a dress? Is it a skirt? A caveman pelt--who knows? Jess, sometimes it's best to turn down those designer freebies.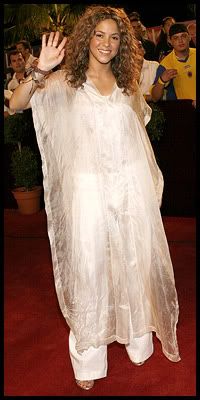 Tummy Tuck
Looks like Shakira just walked out of an ashram for her appearance at Miami's Premio lo Nuestro awards. The transcendental tush-shaker throws a sheer white drape over her ivory pants, tank and silver sandals. Could the Oral Fixation singer be renegotiating the insurance policy on her abs?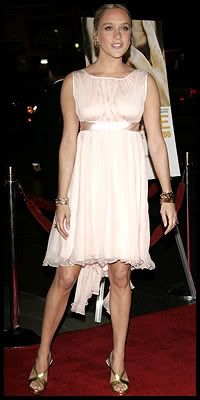 Pretty in Pink
Is Chloë Sevigny finally going legit? The usually edgy couture queen and indie actress looks adorably demure in a sheer pink baby doll dress with a matching satin sash and gold sandals at the HBO series premiere of Big Love. Nice try, Chloë. But it's going to take more than one red carpet walk for us to buy this new, innocent image.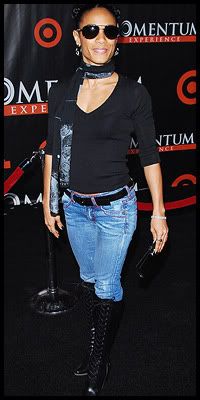 Dressed to Kill
We're starting to understand why Will Smith stands by his woman. Jada Pinkett Smith goes for an urban drill sergeant ensemble at the L.A. premiere of Seat Filler, in aviator shades, a tight black sweater, tucked-in jeans and lace-up boots that look as though they could inflict some serious harm. Not that we're criticizing the lovely Mrs. Pinkett Smith. No way!




Natural Woman
Call us crazy, but we prefer Paris Hilton when she keeps it cazh. The Simple Life star takes a java break after shopping at Kitson in Beverly Hills, appearing lean and lovely in a vintage-looking Ramones tee, 2 Be Free sweats and a classic ponytail. Our advice: Paris, give your stylist the day off more often.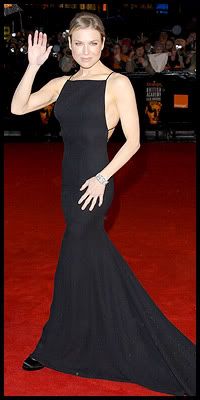 Tennies, Anyone?
Long time no see, Renée Zellweger. We're enjoying the view now that you're back. The Cinderella Man star graces the BAFTAs in a sweeping black gown that hangs on her buff bod with a couple of spaghetti straps. It's also nice to see that the yo-yo dieter has packed on some pecs. But is that a black sneaker peeking out from under her dress? Perhaps the fitness fanatic plans on running the rest of the red carpet...




American Invasion
Mischa Barton rocks London's Elle Style Awards in a plunging cream-colored gown, an ultra-sheer shrug and casually tied locks. Guess the Brits share our good taste, because they awarded the O.C. star Most Stylish TV Actress, while her Fox series won for Best Show. The victory speaks pretty poorly for the appearance of English television--too many bad teeth and ugly tweeds?--when an entire industry gets beat by a bunch of teens from Southern California.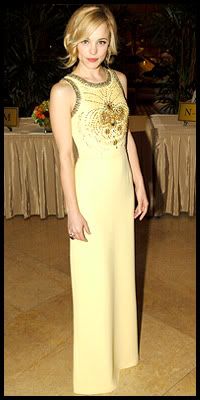 Sour Patch Kid
We have nothing but respect for Rachel McAdams' acting chops, but we don't get paid to review her movies. The overly elaborate embroidery on this washed-out yellow frock (which looks suspiciously like a pantsuit) that she wore to host the Academy's Sci-Tech Awards seems like something Cher might have worn circa 1972. Besides, the lemony hue does nothing to enhance her natural beauty. Sweetie, toss this dated dress back into the heap and try something that befits your starlet status.




Perfect Pair
These two are both so good looking and adorably happy together it makes us sick! Demi Moore is effortlessly chic at the Kitson launch of Rebel Yell clothing in this season's tapered jeans, strappy bronze sandals and a cozy, cropped brown coat, while hubby Ashton Kutcher keeps it cazh in relaxed jeans, hoodie, distressed leather jacket and sneaks. But it's her megawatt smile and his adoring gaze that have us sporting a particularly nasty shade of green.




Fool's Gold
What fun would our jobs be without the tacky glamour of divas like Kimora Lee Simmons? (We get that same moth-to-a-disco-ball feeling around the incredible shrinking Star Jones and the Day-Glo Donatella Versace.) The Baby Phat designer doesn't disappoint on this NYC outing in pointy stilettos, skintight pants and a bejeweled blazer. But it's the details that count: cotton candy-colored nails, a gawdy handbag with gold fixtures and a giant yellow rock on her ring finger. Hey, if you're gonna go over the top, be sure to aim high.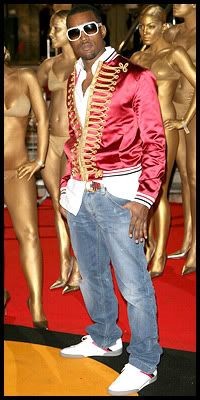 Beauties and the Band Geek
Uh-oh, looks like someone's cannonballing off the deep end. Kanye West does his best Sergeant Pepper and the 24k Hearts Club Band impersonation at the Brit Awards--this from the same guy who channeled the disco era at the Grammys. Is it just us, or is the singer taking his Evel Kanyevel persona too far? In fact, how long before we have to call him the artist formerly known as Kanye?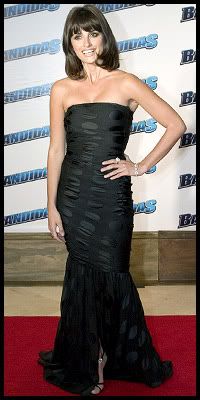 Muy Caliente
It's enough to make you want to switch teams! Penélope Cruz cuts a fine figure at the Mexican premiere of Bandidas in a slinky black strapless Dolce & Gabbana gown that hugs every curve. And she expertly tops it off with an adorable cropped 'do and some serious ice on her left hand. This Spanish beauty must be a bandit because she has stolen our hearts.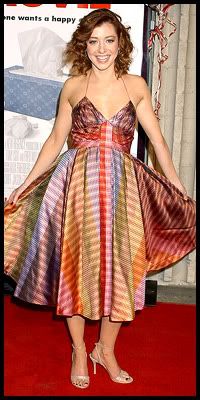 Magically Atrocious
Did Willow have to slay an entire Connecticut prep school to get enough madras for this gown? Alyson Hannigan glows from the neck up and from the ankles down. (We're suckers for perfectly pedicured toe cleavage.) But we can't fathom what convinced her to dress up in rainbow plaid for the L.A. premiere of Date Movie. Hey, Al, it's not called How to Lose a Guy in 10 Days.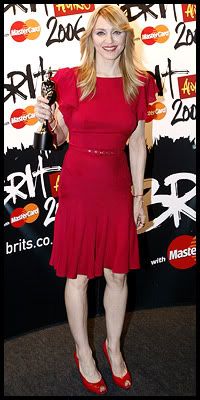 In Brief
Was Madonna out of clean underwear for her appearance at the Brit Awards? The Material minx appears to be going braless under her cocktail dress but ruins the naughty-girl notion with inappropriately bulky panty lines. She may be the Best International Female Artist, but this so-called scarlet lady doesn't get any kudos from the Fashion Police.




Shaggy Chic
We've always been fans of Meg Ryan's choppy 'do ($600 courtesy of celeb stylist Sally Hershberger), but this shaggy style is starting to look more sheepdog than sweetheart. And the cazh ensemble (beat-up jeans and a fringed brown suede jacket) doesn't help. Meg, if you want these fashion faux pas to be forgiven, at least bring along your new baby so we can blame it on the late-night diaper changes.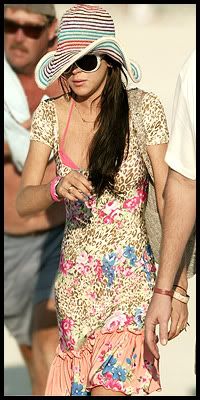 Kitty Littered
Looks like Lindsay Lohan has scored herself a Miami Beach bargain. At least, we're hoping she got this flimsy leopard-and-floral-print frock off a boardwalk vendor. The double-duty dress, which manages to be both prim and trashy, actually distracts from her more stylish vacation accessories, like the wide-brim straw hat, oversize shades and bright-pink bikini top. Linds, we'll look the other way if you just let the animal-print piece wash out with the tide.