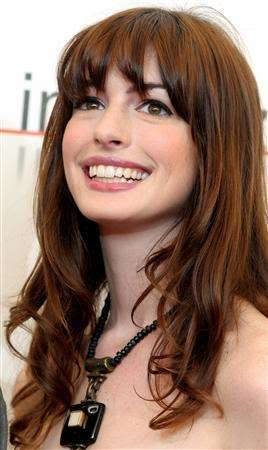 Awwwr. ♥



Apatow adds Hathaway to Knocked Up.

LOS ANGELES (Hollywood Reporter) - Anne Hathaway, currently on screen as Jake Gyllenhaal's icy wife in "Brokeback Mountain," is joining the cast of Universal Pictures' "Knocked Up."

The actress is set to star opposite Seth Rogen, Paul Rudd and Leslie Mann in the Judd Apatow romantic comedy.

Apatow is writing, producing and directing the movie, which follows a twentysomething guy who finds out he impregnated his one-night stand. The picture will be similar in budget to his last film, "The 40-Year-Old Virgin," which grossed $109.5 million at the domestic box-office and garnered a Writers Guild of America nomination.

Shooting is slated to start in the early summer.

Hathaway, who made her feature debut in the 2001 Buena Vista/Walt Disney hit "The Princess Diaries," will next be seen in 20th Century Fox's "The Devil Wears Prada."

Celebrity gifting reaps what money can't buy.

What do you get for the star who apparently has everything?

How about a diamond-encrusted bra and panty set? Or a 22-carat gold leaf and crystal hammer, value $2,500?

These are just some of the goodies being sent to Oscar nominees this year in an explosion of celebrity gifting by companies hoping for the kind of publicity that money can't buy -- a star seen using their phone, wearing their purse or gushing about their coffee machine.

What started out in 1989 as a discreet thank you gift from Oscar organizers to the (unpaid) presenters of the Academy Awards has turned into a multimillion-dollar industry that has spawned a wave of freelance gifting and the arrival of the "gift lounge" at most of Hollywood's movie and music awards ceremonies.

"It's certainly something that the Elizabeth Ardens and Casios and Procter & Gambles of the world have seen and deemed to be so valuable that they do it year after year," said Lash Fary, owner of Los Angeles-based Distinctive Assets.

Fary, whose company has a reputation for "impressing the seemingly unimpressible," said his first gift bag -- for Grammy presenters seven years ago -- was worth $5,000. Companies pay a hefty fee to Fary to have their items included as gifts.

This year his Grammy gift basket was worth about $65,000 including a guitar and a coupon for Lasik eye surgery. His Oscar "loser bag," to be handed out after the March 5 award show to the non-winning Oscar nominated actors, actresses and directors, ranges from the sublime (three days in a private suite at a Las Vegas hotel) to the mundane (a stain removing pen and a tin of breath mints).

"Seven years ago it was a much harder pitch ... (but) our industry has been fueled by pop culture magazines. They need celebrity content," Fary said.

The payback for this year's Victoria's Secret gift to the best actress Oscar nominees -- a $15,000 bra and panty set embellished with a (removable) Chantal Thomass gold and diamond brooch -- is less tangible.

"It may not be something that you will see as obvious on the red carpet but (lingerie) is something that is very close to every woman," said Victoria's Secret spokeswoman Sara Tervo.

"We're not about exploiting exactly what bra and panty some celebrity wears but we do have a lot of celebrities that like our products. For us it is always valuable to have high-profile women that are fans of our brand," Tervo said.

'IT'S THE LITTLE THINGS'

Swag is not always about lavish items like the $22,000 cruise to Antarctica, which was included in the Golden Globes gift basket. One recent gift lounge -- a private room where celebrities are introduced to their swag and its makers -- featured $1,000 worth of Tupperware and a single cup coffee maker.

"When you have everything at your disposal, it's sometimes the little things that mean more," said Fary, who said most celebrities are both genuinely grateful for the gifts and happy to work without charge when they turn up at awards shows.

Some commentators have criticized the ethics of showering already rich stars with free stuff but Fary says they are confusing philanthropy with marketing.

"The only backlash is one of misunderstanding," he said. "It's no worse than Budweiser buying an ad at $1 million for 30 seconds at the Super Bowl."

In a twist to the gifting explosion, the Web site Swagtime.com was launched four months ago to allow non-celebrities get their hands on some of the goodies.

Billed as "what was exclusive is now inclusive," the site tells consumers what was in those celebrity baskets and where they can buy the next big thing. It also auctions gift bags for charity and promotes the smaller businesses pitching their wares to the stars.

Fary sees no sign of the gifting phenomenon ending any time soon. "It's just like taking a bottle of wine to a dinner party. It's just polite. It's never going to go away."

Why the hell do they fucking get gifts at all. Yep, Reese Witherspoon is earning $29million for her next film – she'll be a bit cash strapped, better give her a $65,000 gift basket. I love Reese, but I used her because she's the best example I can think of at the moment for people who do not need fkn gift baskets. >:O

Frey's book deal nixed after scandal.

U.S. author James Frey, who admitted last month he made up much of his best-selling memoir "A Million Little Pieces," has been dropped by his publisher, Riverhead Books, Frey's representative said on Thursday.

Frey's unmasking and public confession to Oprah Winfrey, the daytime television host whose endorsement catapulted the drug-rehab memoir to the top of the bestsellers list, has rocked the U.S. publishing industry, stirring debate about the nature of memoirs and the importance of accuracy.

After writing "A Million Little Pieces" for Random House, Frey moved with his editor Sean McDonald to Penguin imprint Riverhead Books, which published his second book, "My Friend Leonard," last June. Riverhead then contracted Frey to write two more books, one of them a novel, for an undisclosed sum.

Penguin said last month that deal was "under discussion" and Frey's representative, Lisa Kussell, said on Thursday the deal had been canceled.

"All I can say is he no longer has a deal with them," Kussell said, declining to give any more details.

Penguin spokesman David Zimmer declined to comment.

The uproar over Frey's book started when the Smoking Gun Web site said it could find no public records supporting the author's claim he had spent three months in jail after trying to run over a police officer with his car.

Frey's book sold more than 1.77 million copies last year after being chosen by Winfrey for her Book Club.

On another appearance on Winfrey's show last month, Frey admitted that much of the book was fiction. He spent two hours in jail, not 87 days, and an account of his breaking up with a woman who later committed suicide was condensed in time and changed, he said.

The Los Angeles Times reported last month that Warner Brothers was reconsidering plans to make a movie version of "A Million Little Pieces."

Despite the controversy Frey's sales remain strong.

"A Million Little Pieces" was in the No. 2 spot on The New York Times' latest paperback non-fiction bestseller list, just behind Elie Wiesel's "Night," which is Winfrey's latest Book Club recommendation. "My Friend Leonard" was in fifth place on the hardcover non-fiction list.

Wtf. Why? If anything, the scandal was a good thing for sales. My friend works in a bookstore here and she says that it's the highest selling book there at the moment. ;_;' I'm not saying publishers should support liars, but truth or not, it was a good book. Personally, I blame Oprah for this, just because.