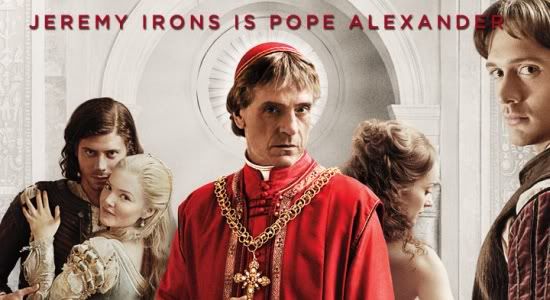 Check out the poster for the new Showtime series THE BORGIAS which premieres on Sunday April 3 at 9pm. You can read all our coverage of The Borgias here.


Show Summary: Oscar-winning actor Jeremy Irons will star in the epic drama series as Rodrigo Borgia, the cunning, manipulative patriarch of The Borgia family who ascends to the highest circles of power within Renaissance-era Italy. Additionally, Academy Award winning director Neil Jordan (The Crying Game) will create and executive produce the series as well as direct the first two episodes.





THE BORGIAS will be a complex, unvarnished portrait of one of history's most intriguing and infamous dynastic families. The series begins as the family's patriarch Rodrigo (Jeremy Irons), becomes Pope, propelling him, his two Machiavellian sons Cesare and Juan, and his scandalously beautiful daughter, Lucrezia, to become the most powerful and influential family of the Italian Renaissance.





http://www.daemonstv.com/2011/02/10/the-borgias-showtime-poster/?utm_source=feedburner&utm_medium=twitter&utm_campaign=Feed%3A+daemonstv+%28Daemon%27s+TV%29