Don't fret for Miley Cyrus. Though Disney has pulled the plug on "Hannah Montana," the studio's child stars often grow into successful adult entertainers. Witness an Oscar-nominated actor and the last decade's top-selling female recording artist. Here's what's up with 20 ex-Disney stars. As for Cyrus, she's filming her next movie.


Zac Efron
Then: Efron headlined the "High School Musical" series, as captain of a team and love interest to another Disney star. Sang and danced in videos like "Now or Never."

Now: After hit films in which he switched bodies with Matthew Perry and played opposite John Travolta in drag, Efron is a movie star.
Then: At 12, Lohan found fame as freckle-faced star of a hit Disney film, a remake of this pic. As an adult, the actress has struggled with sobriety and the law.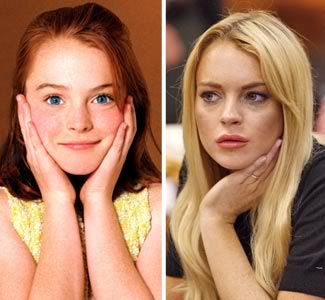 Now: Out of rehab, Lohan moved next door to her ex-girlfriend. She was rejected as a potential contestant on a reality TV show, but at least her side project is growing.

Britney Spears
Then: A Disney show launched Spears' career, which skyrocketed with "... Baby One More Time." She dated a Disney co-star. See the couple in all-denim formalwear.
Now: Wed twice, Spears is mom to two boys and allegedly dating a non-entertainer. After tons of hit videos, she has a new tune out.
Justin Timberlake
Then: Along with two other future pop superstars, Timberlake appeared on a '90s Disney show. Then he joined a famous boy band.

Now: Said bye bye bye to adolescence by bringing sexy back, partly thanks to an older ex-girlfriend and roles in major movies, including a current Oscar threat.
Christina Aguilera
Then: Xtina appeared on "The New Mickey Mouse Club" and lent her singing pipes to an animated Disney movie, as in this song.

Now:"Genie in a Bottle" launched Aguilera's solo career, which continues with a recent Cher movie. After one child together, the singer and her husband just split.
Vanessa Hudgens
Then: You know her from "High School Musical," but Hudgens was also on a Disney show starring twins. And was (is?) in a high-profile romance with what's-his-name.

Now: Hudgens' music career has produced modest hits, and in 2010 she joined the L.A. production of an iconic Broadway show. Her next film is a subterranean sequel.
Raven-Symoné
Then: She'll always be a "Cosby Show" cutie to us, but Raven-Symoné (real name?) found solo fame in a 2003 Disney movie and then on her self-titled Disney sitcom.

Now: Started the new year looking slimmer! Though she talked openly about her weave in a documentary, she's sensitive about this body part. New sitcom coming.
Lisa Whelchel
Then: Before playing the mean rich girl on a prep-school-set '80s sitcom, Whelchel co-starred on a 1970s rival of a classic Disney show.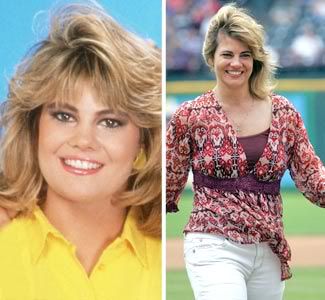 Now: Author of religion and parenting books, Whelchel advocates a controversial discipline technique. As for acting, she's appeared on a reunion show.
Annette Funicello
Then:
The original Disney TV star ("M-I-C..."), Funicello is an icon of baby boomers, who watched her grow up in beach-blanket movies with another '60s heartthrob.
Now: Funicello has long been diagnosed with this disease, which inspired her namesake research fund. In other ventures, she started a stuffed-animal company.
Demi Lovato
Then:
Lovato found fame in Disney TV movies about a music camp, co-starring a real-life band of brothers. She'd previously been a purple dinosaur's sidekick.
Now: Though her career thrives (she just won an award for a TV drama, and an A-list producer is keen to collaborate), Lovato is undergoing treatment. For what?
Ashley Tisdale
Then:
Tisdale's "High School Musical" character has dough; her Disney hotel comedy character keeps things sweet. Off camera, she launched a music career.
Now: She stars on a TV series about cheerleading and is returning to Disney Channel for a new movie about a certain rich girl. Yes, she's fessed up to plastic surgery.




Selena Gomez

Then:

Gomez conjured an acting career on a magical Disney show and spin-off movie. With her band, she records for Disney's record label. Here's "Naturally."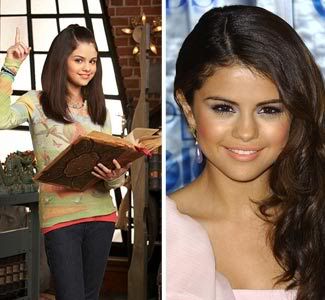 Now: She's supposedly dating a younger man, namely the top teen idol. Find photos of them. Professionally, her fashion line and a rom-com are on deck for 2011.




Shia LaBeouf

Then:

Everyone knows LaBeouf from the Disney movie "Holes," but kids of the early '00s were already fans from his TV series for the Mouse House, seen in these clips.
Now:
LaBeouf has played an archaeologist's son, a tycoon's protégé and a man among warring robots. A 2008 accident (whose fault?) seriously injured a key body part.
Ryan Gosling
Then: While on "MMC," Gosling was far from his native country, so he ended up living with another cast member's family.

Now: One of his generation's top actors, Gosling has scored one Oscar nomination and is generating buzz for his current film. Next up: playing Steve Carell's wingman.
Nick Jonas
Then: With brothers Joe and the other one, Nick starred on the Disney show "Jonas L.A." and in the "Camp Rock" flicks. But his real passion, and claim to fame, is the family band.

Now: Without his bros, Jonas fronts the Administration, so named because he'd love this job. Here's "Who I Am." Buzz: He'll record a joint album with a female Disneyite.
Emily Osment
Then: Yup, older bro is this ex-child star. Osment established herself as sidekick to a popular Disney character and by starring in, honest, a kids' film about kidnapping.

Now: According to Disney-star tradition, Osment has just released an album, with the single "Let's Be Friends." Caused a scandal when racy pics with Miley Cyrus leaked.
Kyle Massey
Then: You know him as Cory Baxter, the little brother on "That's So Raven" who spun off his own series, set in the White House. How did Cory end up there?

Now: Massey was first runner-up, but the most charismatic, on fall's "DWTS" season (who won?). He has a new Disney series, though you won't see him on it.




Keri Russell

Then:

Russell found fame on "Felicity", but it wasn't her first TV gig. The mop-top was a "Mickey Mouse Club" kid with another future actor.
Now: After dating a less-famous ex-Mouseketeer, Russell married non-actor Shane Deary, with whom she has a kid. Her 2010 TV comedydied quickly.




Hilary Duff

Then:

Shot to fame as Lizzie McGuire, protagonist of the Disney show of the same name who often appeared in cartoon form. And also in this movie.
Now: Branching out with pop songs isn't enough; Duff has designed a fashion line for a major label. The starlet married a professional athlete last summer.




J.C. Chasez

Then:

Chasez met his future boy-band mate in a Disney TV gang. His solo career took a hit after another star's wardrobe malfunction. His initials stand for ...
Now: Since his 2004 solo album, Chasez has concentrated his career on reality TV judging and songwriting for other stars. Did he date Chace Crawford?