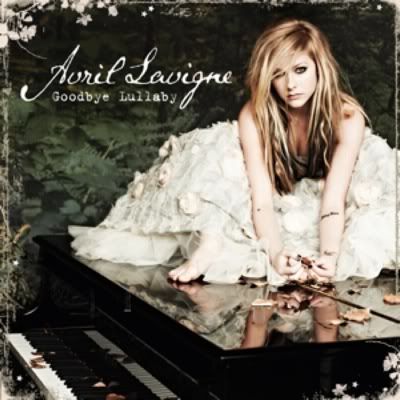 Two years in the making, singer-songwriter Avril Lavigne's fourth studio album, Goodbye Lullaby, will be released by RCA Records on March 8, 2011. Lavigne will debut the first single "What the Hell" on New Year's Eve during "Dick Clark's Rockin' New Year's Eve."
Lavigne worked with longtime collaborators Deryck Whibley, Evan Taubenfeld and Butch Walker, as well as songwriter/producer Max Martin. Lavigne continues to share her personal experiences through her writing and music, and Goodbye Lullaby is a further evolution of this, propelled by a more raw and organic sound.
Among its upbeat tracks are "What the Hell," an unabashed embrace of fun and freedom, and "Stop Standing There," fueled by an early-'50s girl-group feel. The album runs the gamut of emotions: Lavigne expresses her gratitude for special people in her life in the rocker "Smile," explores the dynamics of a relationship in "Push," shows her vulnerable side in "Wish You Were Here," and finds the strength to close one chapter of her life and move on to the next in the title track "Goodbye."
Outside the recording studio, Lavigne is a successful entrepreneur who continues to design and direct her lifestyle apparel brand, Abbey Dawn, which has expanded its worldwide footprint and will be shipping to 50+ countries beginning this month. Along with her popular fragrance Black Star, she recently introduced Forbidden Rose and is launching a third fragrance in 2011. This September, Lavigne's past charitable work also inspired her to create The Avril Lavigne Foundation. The Foundation works in partnership with leading charitable organizations to design and deliver programs, raise awareness, and mobilize support for children and youth living with serious illnesses or disabilities.
Avril Lavigne has made an indelible mark on the music community, selling more than 30 million albums worldwide, earning eight Grammy nominations and seven Canadian Juno Awards. She burst onto the music scene in 2002 with the critically acclaimed Let Go, featuring the smash singles "Sk8r Boi" and "Complicated." Her 2004 release, Under My Skin, debuted at #1 on the Billboard charts, as did her third album, The Best Damn Thing, which produced the irrepressible #1 single "Girlfriend" and logged more than 130 million views on YouTube! Lavigne also wrote the song "Alice" for Tim Burton's critically acclaimed Disney Film Alice in Wonderland.
source
!!!