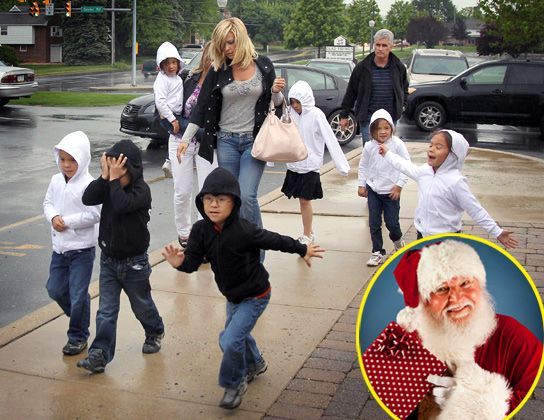 The little Gosselettes are a bunch of Grinches!
The Gosselin kids have reportedly been getting into trouble at school because they've been telling their classmates that there's no Santa Claus. With kids as young as 6 getting the bad news about Kris Kringle, RadarOnline reports that daddy Jon Gosselin, 33, has been getting a barrage of angry phone calls from furious parents
.
"The kids don't believe in Santa Claus, and they're telling other kids at school that there is no Santa Claus," a close friend of the family tells RadarOnline, who adds that
Jon "has received many phone calls from parents because the kids actually told others that 'your parents are lying to you' causing them to get upset."
This is the latest in a long line of trouble that the Gosselin kids have been getting into at school.
Kate Gosselin, 35, has denied that two of her children — sextuplets Colin and Alexis — were expelled from school, but did finally admit on The Today Show that the 6-year-olds "were having anger issues," and that the pair have been removed from school by "mutual agreement" and are now working with private tutors.
No one is revealing which of the Gosselin kids spilled the beans on Santa, but after a family conference, the kids apparently agreed to keep a lid on the myth-busting.
For now. "The kids are too smart at this point," a family confidante told RadarOnline, "but they are sweet about it and go along with it… and the Easter Bunny too."
Even though they don't believe in Santa, the kids will be having a happy holiday celebration with their parents. Jon gets to spend Christmas Even with his eight kids, while Kate gets them on Christmas Day.
And they have a wish list for what they're hoping to find under the tree, according to the insider: "one wants a scooter, the other wants a bike. They also want trucks and dolls and games."
No one actually told me "the truth" about Santa. I just kind of grew out of it, tbh. What about you, ONTD?
source