Posh would love it! David Beckham reveals his plan to ask Prince William for an invite to royal wedding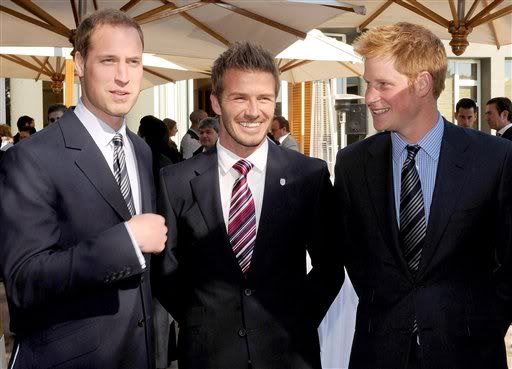 David Beckham is not only bidding for England to host the 2018 World Cup (op note: and that went really well...), he has his sights on another spectacular occasion seven years earlier.

He hopes he may be rewarded with an invitation to the wedding of Prince William and Kate Middleton if the bid is successful.

Former England captain Beckham has been frantically lobbying FIFA for votes, along with Prince William and the Prime Minister.



The footballer, born in Leytonstone, east London, but living in California, has formed a close friendship with William, who is president of the Football Association.

The LA Galaxy star said said: 'The engagement has come up in a few of the meetings, yes.

'I grew up in a family that was passionate about the royal family and a royal wedding will be fantastic for the whole country.

'I haven't asked for an invitation yet, but maybe if we win the bid I will.'

Beckham isn't the only star hoping to make it to the ceremony.

American rapper Snoop Dogg has offered his services as a royal wedding singer.

He says he's dedicating his new single, Wet, to Prince William's bachelor party.

The rapper is touting the track on his website and Twitter feed.

On Tuesday he tweeted the official royal account, clarencehouse, saying he'd 'Made tha anthem 4 Prince William's bachelor party n all bachelor parties round tha wrld.'

The star also sent tweets to a slew of celebrities - including Oprah Winfrey and Jamie Oliver - urging them to check out the song, and expressed a desire to perform for the prince.

William is due to marry Kate Middleton at London's Westminster Abbey on April 29.

I'm the source, Malcolm!