This year marks the
50th anniversary
of
Alfred Hitchcock
's nail-biting horror film,
Psycho
- which has been haunting shower takers ever since the ill-fated Janet Leigh first pulled her car off the road into the Bates Motel to rest her weary eyes.
From thrillers like Rear Window, Rebecca and Vertigo to spy films like Notorious and Torn Curtain, British-born director Alfred Hitchcock deftly harnessed his skills to make some of cinema's most spine-tingling and lasting films of all time.
During his legendary career, the Golden Globe-winning director made more than 60 films and television series.
Known for making audiences scream, Hitchcock also got a reputation for casting the world's most beautiful women as his leading ladies. Actresses
Grace Kelly
,
Ingrid Bergman
,
Tippi Hedren
,
Janet Leigh
,
Kim Novak
,
Shirley MacLaine
, and
Julie Andrews
all stepped into the role of Hitchcock's movie muse. Take a look at Hollywood's most memorable stars in rarely seen photos!
♥ GRACE KELLY ♥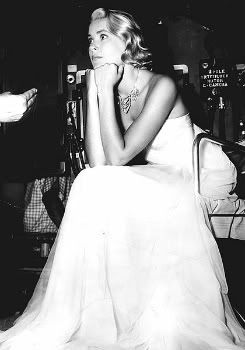 To Catch a Thief
,
Rear Window
, and
Dial M for Murder
actress Grace Kelly is sitting pretty on the set of
To Catch A Thief
in 1955. A portion of the cat-burglar caper was filmed on the French Riviera, where she met Prince Rainier of Monaco, whom she later married, turning her into Princess Grace of Monaco.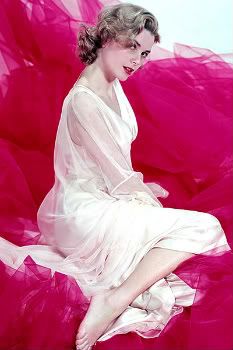 Rear Window
actress Grace Kelly (1929-1982) is shown in a dreamy portrait taken on June 15, 1953.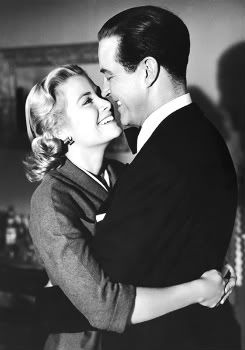 Quintessential "Hitchcock Blonde" Grace Kelly is snapped cuddling with on-screen husband
Ray Milland
in a still from their film,
Dial M for Murder
(1954). In the suspense flick, an ex-tennis pro (Milland) plots to murder his beautiful and unsuspecting wife (Kelly) in order to inherit her fortune.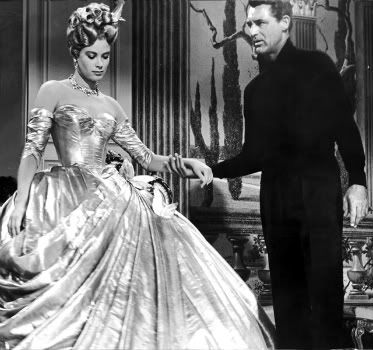 Notorious
and
Suspicion
star
Cary Grant
(born Archibald Leach) and Grace Kelly are snapped during a party scene during their crime caper
To Catch a Thief
. In the film, Grant plays a reformed jewel thief and Grace Kelly lights up the screen as Frances Stevens - the woman who steals his heart.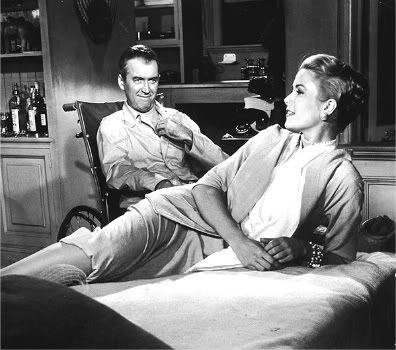 Screen gems
Jimmy Stewart
and Grace Kelly lit up the screen in Alfred Hitchcock's 1954 film
Rear Window
. In the Oscar-nominated movie, a wheelchair-bound photographer (Stewart) spies on his neighbors through his apartment window and eventually becomes convinced one of them, played by Raymond Burr, has committed murder. Grace Kelly plays the oh-so-stylish Lisa Carol Fremont, his disbelieving girlfriend.
KIM NOVAK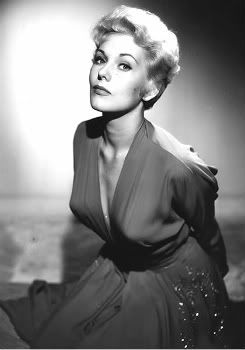 Vertigo
vixen Kim Novak is photographed in 1954. The blonde bombshell starred as Madeleine Elster in the 1958 Hitchcock masterpiece.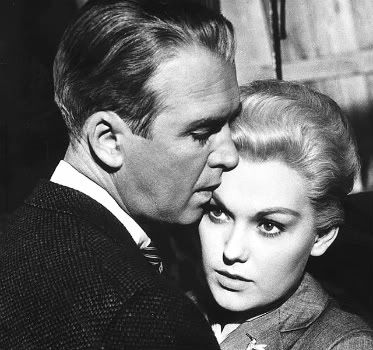 Jimmy Stewart (1908-1997) and Kim Novak are captured in a scene from Alfred Hitchcock's
Vertigo
EVA MARIE SAINT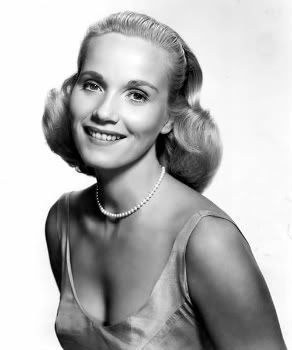 North by Northwest
's Eva Marie Saint is photographed in a film still from 1957.
Previously, the blonde beauty walked away with the Academy Award for Best Supporting Actress for her performance in
On the Waterfront
(1954). In Alfred Hitchcock's classic thriller
North by Northwest
(1959), Eva played the film's femme fatale role, the glamorous Eve Kendall. Hitchcock's decision to cut Saint's waist-length blonde hair for the role stirred up a great deal of publicity during the film's production. The venerable director explained his reasoning: "Short hair gives Eva a more exotic look, in keeping with her role of the glamorous woman of my story. I wanted her dressed like a kept woman - smart, simple, subtle and quiet. In other words, anything but the bangles and beads type."
DORIS DAY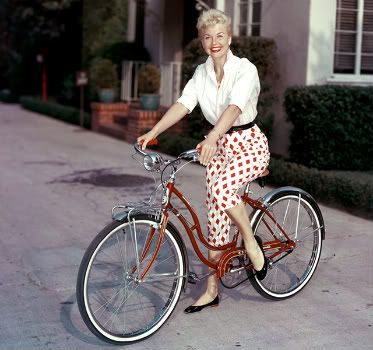 In a photo op where she is looking quite the opposite of her character in
The Man Who Knew Too Much
(1956), America's sweetheart Doris Day is snapped looking carefree on a red Schwinn bicycle in 1955.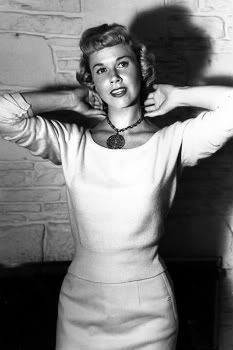 The Man Who Knew Too Much
's dazzling star Doris Day, originally Doris Kappelhoff, is snapped in a 1951 photo.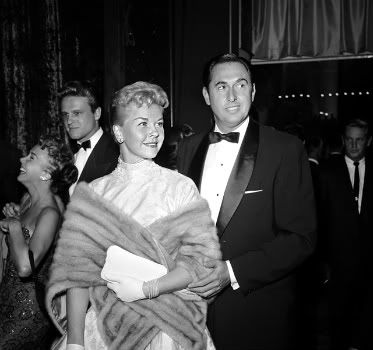 Doris Day has a night on the town with then-husband Marty Melcher at the film premiere of
A Star Is Born
on Oct. 13, 1954.
JANET LEIGH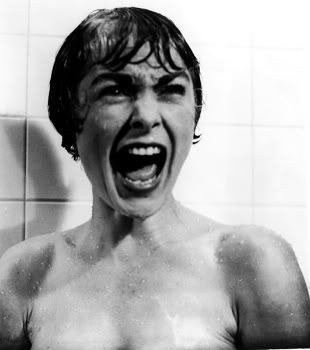 In one of cinema's most iconic images, Janet Leigh gets an unpleasant surprise while taking a shower in her room at the Bates Motel in the 1960 Hitchcock spine-tingler
Psycho
.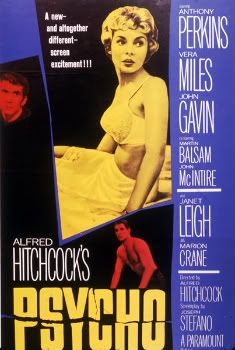 In the Hitchcock classic, a young woman (Janet Leigh) steals $40,000 from her employer's client and while on the run she encounters the young Norman Bates, proprietor of the Bates Motel, who has too long been under the domination of his mother.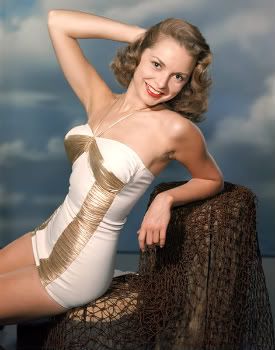 A 19-year-old Janet Leigh (1927-2004) poses in a white and gold bathing suit in 1947.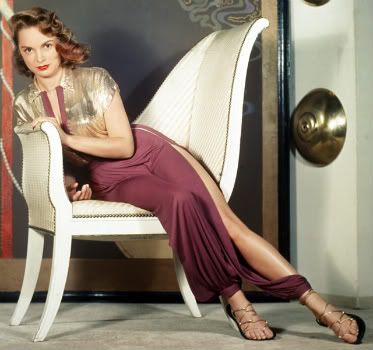 Psycho
star Janet Leigh (1927-2004) is pictured in purple pantaloons and a gold lame top in 1947.
JULIE ANDREWS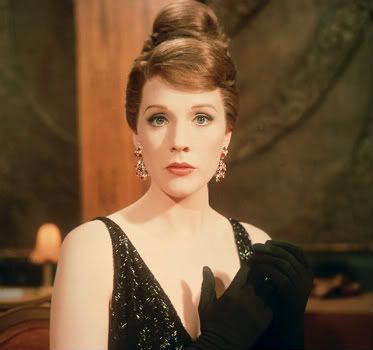 Torn Curtain
star Julie Andrews is snapped in a publicity still from the 1968 film
Star!
, directed by
The Sound of Music
's Robert Wise.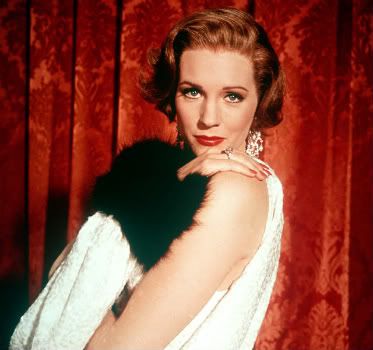 Two years after appearing in Hitchcock's cloak-and-dagger mystery
Torn Curtain
, Julie Andrews poses in glamorous photo still for her film
Star!
in 1968. The musical was based on Broadway and early film star Gertrude Lawrence.
The singer strikes a dramatic pose in a photo for the 1968 musical,
Star!
Before appearing in
Star!
, Julie Andrews was cast alongside Paul Newman in the 1966 Hitchcock film
Torn Curtain
, a political thriller set in East Germany.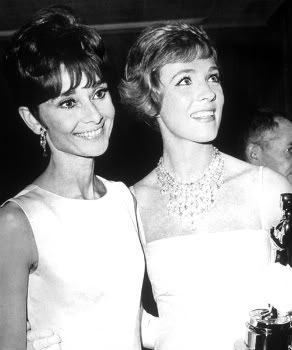 It's a face-off of the Eliza Doolittles! Holding her Oscar, Julie Andrews is snapped with
My Fair Lady
star
Audrey Hepburn
at the Academy Awards on April 5, 1965.
In 1964, Audrey Hepburn starred as Eliza Doolittle in the film version of
My Fair Lady
, a musical based on George Bernard Shaw's play Pygmalion - about a Cockney flower girl who takes speech lessons and is tutored by professor Henry Higgins. Casting Hepburn as the lead created quite the stir in Hollywood as Andrews had originated the role of Eliza on both Broadway and London's West End and was expected to nab the lead for the 1964 film adaptation. Instead Belgian-born beauty Audrey Hepburn beat her out for the role (despite the fact her singing voice had to be dubbed) of the now-famous flower girl. At that year's Academy Awards, Julie Andrews went on to win the Oscar for her performance in the family favorite
Mary Poppins
, while Hepburn failed to be nominated in the role that Andrews had originated.
JOAN FONTAINE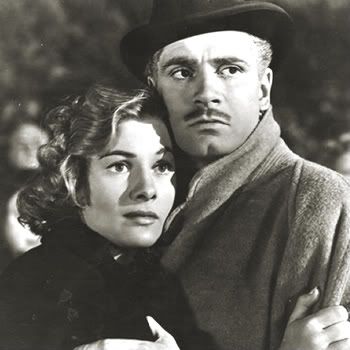 Film legend
Laurence Olivier
(1907-1989) and Joan Fontaine are pictured in a film still from Alfred Hitchcock's screen adaptation of Daphne du Maurier's novel
Rebecca
(♥), which was the British director's first American film. In the 1940 psychological thriller, Joan Fontaine plays a young woman who marries a rich widower and comes to grips with the dark past of his first wife's mysterious death.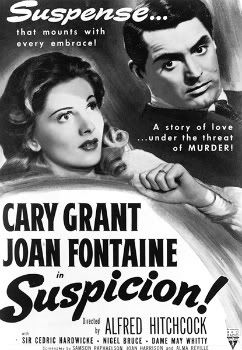 A poster from the 1941 film
Suspicion
starring Cary Grant and Joan Fontaine and directed by Alfred Hitchcock.
INGRID BERGMAN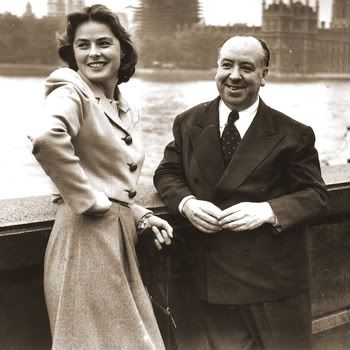 Notorious
and
Spellbound
actress Ingrid Bergman and Alfred Hitchcock are captured standing opposite the Houses of Parliament in London on Oct. 23, 1948.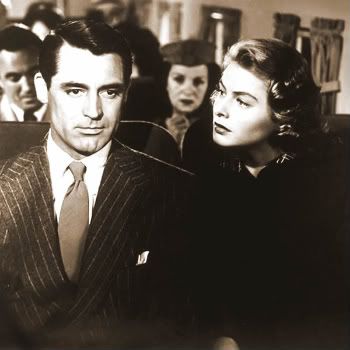 Cary Grant (1904-1986) and Ingrid Bergman (1914-1982) starred in the 1946 spy film,
Notorious
, directed by Alfred Hitchcock for RKO.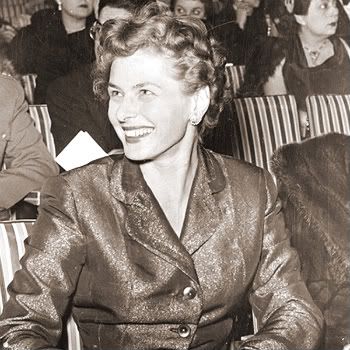 Swedish actress Ingrid Bergman attends a film premiere at the Metropolitan Cinema in Rome on Dec. 9, 1952.
SHIRLEY MACLAINE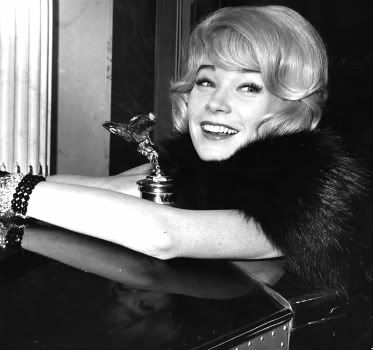 Shirley MacLaine embraces a Rolls-Royce during the filming of
The Yellow Rolls-Royce
on July 5, 1964. Nine years earlier, the Oscar winner took on the role of Jennifer Rogers in Hitchcock's dark comedy
The Trouble with Harry
(1955).
Shirley MacLaine is seen here in a belly-dancing outfit for a
John Goldfarb, Please Come Home
publicity still from 1965. The comedy came out a decade after her turn in Hitchcock's
The Trouble with Harry
(1955).
TIPPI HEDREN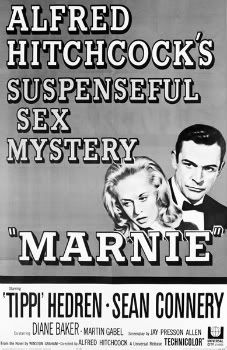 In Hitchcock's 1964 film,
Sean Connery
plays Mark - who marries Marnie (Tippi Hedren), a habitual thief with serious psychological problems. Connery tries to help her confront her traumatic past and move on.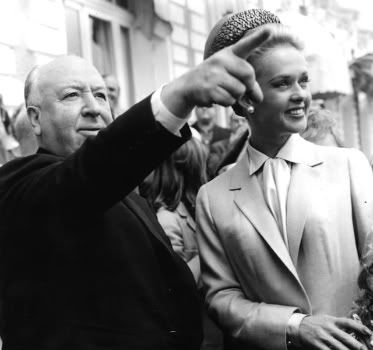 The venerable director is snapped exploring the sights with his leading lady, Tippi Hedren, after the premiere of their film
The Birds
on May 9, 1963 in Cannes, France.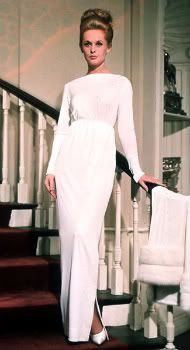 In a striking film image,
The Birds
star Tippi Hedren descends the stairs during a scene in Hitchcock's
Marnie
.
TALLULAH BANKHEAD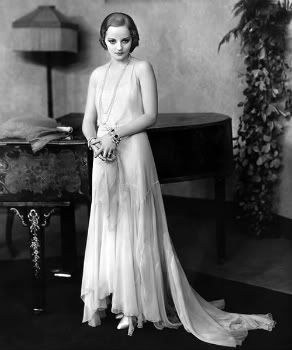 Over a decade before she stepped onto Hitchcock's
Lifeboat
, Tallulah Bankhead was photographed on Aug. 1, 1930 at the Lyric Theatre in London.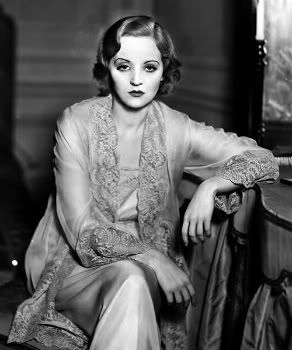 Lifeboat
actress Tallulah Bankhead (1902-1968) was an American leading lady of stage and screen during the Roaring Twenties. The actress is pictured during a scene from Let Us Be Gay on Aug. 21, 1930.
Bankhead was cast as the cynical journalist in Hitchcock's 1944 war film
Lifeboat
, set entirely on a lifeboat stranded in the North Atlantic.
***
TBH, I find this article kind of random and the pictures in random order. I also wonder why some unrelated (and actually widely-seen) pictures were used, but still took the opportunity to share pics of awesome ladies anyway!

Also, I have never found Janet Leigh to be particularly attractive.
***
Questions, ONTD:
- Who is your favourite Hitchcock leading lady?
- What is your favourite Hitchcock film and why?
- What is your favourite horror film?
SOURCE