I'm pretty sure there are Decemberists fans here, right?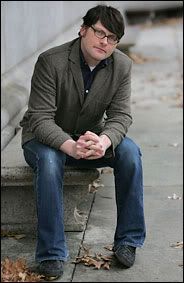 By BEN SISARIO
Published: January 25, 2006
Colin Meloy paused in front of the diorama of a pair of spiral-horned giant elands, the largest of the antelopes, and chuckled a little.
Mr. Meloy, the lead singer and songwriter of the indie-rock band the Decemberists, who will play a solo show tomorrow at Town Hall, was at the American Museum of Natural History recently on a brief trip to New York. And the scene of the stuffed elands, with a painted background of the savannah, and foreground props for brush and trees, tickled a funny bone particularly sensitive to antiquated versions of the past.
"It's the 1920's approach to what a museum should be," he said, looking at the serpentinite stone frame around the display and the heroic bas-relief above it. "But it's so artful, the way they do it."
Mr. Meloy knows something about artful anachronism. In the last few years he has quickly established himself as one of the premier new songwriters in rock, charming critics and ever-growing crowds with songs set in a fantastical world of Victorian chimney sweeps and dockside prostitutes, infant ghosts and exotic royal parades. His lyrics giddily engage a Scrabble master's vocabulary; one song on the Decemberists' latest album, "Picaresque," rhymes folderol, chaparral and coronal.
Fitting snugly into a gray tweed sports jacket, and with his reddish-brown bangs falling just over the frames of his narrow glasses, Mr. Meloy, 30, has the look of a confident, unhurried graduate student. Ultra-literary types do not often rise to the top of the indie-rock heap, but last month the Decemberists, who are based in Portland, Ore., and have released three albums on the independent Kill Rock Stars label, signed with Capitol Records after being pursued by other high-profile companies like Nonesuch and Verve. Discussing the songs in a voice a bit deeper than the pointed nasal tenor he sings with, Mr. Meloy said that although his characters inhabit an imaginary or literary past, as a songwriter he aims for the timelessness of archetype.
"Think of the character - which may be anachronistic - of the prostitute," he said, "whether the member of the harem or the Dickensian 19th-century prostitute. There's a certain universality to it that you can't get from other characters."
In "A Cautionary Song," a woman trudges from ship to ship "till at last she's satisfied the lot of the marina's teeming minions (in their opinion)," to feed the children who wait for her at home. A pair of male streetwalkers turn up in "On the Bus Mall," this time as bitter "kings among runaways" whose caustic world-weariness would not be out of place in a Gus Van Sant movie.
Mr. Meloy was born in Helena, Mont., to a family long devoted to the arts. His grandfather was one of the founders of the Archie Bray Foundation for the Ceramic Arts in Helena, and one of his sisters is the novelist Maile Meloy. He had planned to become a writer himself and studied creative writing at the University of Montana at Missoula, which teaches a stern Western realism that comes down from Wallace Stegner and Ivan Doig.
That style worked its way into Mr. Meloy's college band, Tarkio. Its music, reissued this week in "Omnibus" (Kill Rock Stars), was poker-faced alt-country influenced by Uncle Tupelo, with stark lyrics, for the most part, firmly rooted in reality.
Drawn after graduation to the Pacific Coast, he settled in Portland with plans to return to Montana soon to get an M.F.A. degree. But so near the sea, he began to follow his music on strange new adventures.
"As soon as I moved from Montana to Oregon," he said, "I immediately started writing more songs that involved the ocean. I had always loved maritime literature as a kid, adventure stories and things like that. There's something about the ocean in its depth and hugeness that of course would inspire this amazing genre."
His songs became playful narrative fantasies populated by improbable characters like the "chimbley sweep," whose song of despair ("I am a poor and a wretched boy/ A chimbley, chimbley sweep") Mr. Meloy cannot sing without a grin. "You can't write a song about a chimney sweep without a hint of irony," he said. "It you did it straight, it would come across as 'Mary Poppins.' "
To give the song a self-consciously literary twist, he borrowed the Welsh slang for a chimney sweep, as used in Dylan Thomas's "Under Milk Wood."
"You can trace my movement into this outlandish exotic narrative form in the songs right from when I graduated from college," he said. "It was really a reaction against that to a certain degree. Here I was trying to write stoic nonfiction memoirs about living in Montana, and once I was out of school, I started writing songs in this really bizarre way."
Mr. Meloy and his girlfriend, Carson Ellis, whose Edward Goreyesque artwork illustrates each Decemberists release, are expecting their first child soon and recently bought a house in Portland - a 1914 Craftsman, Mr. Meloy notes.
Wandering through the museum, Mr. Meloy is most excited to talk about his literary idols, among them Thomas and Tom Stoppard, and his interests in history. So dedicated a Russophile that on a trip to Russia he made sure to visit Irkutsk and Lake Baikal, Mr. Meloy named his band partly after the 1825 Decembrist revolt - adding the extra E for clarity - and partly in hopes of "imagining a people that would be represented by that month, and how dramatic and melancholy it is."
"Sixteen Military Wives," one of the most striking songs on "Picaresque," is mostly a cutting satire of contemporary politics. It counts the casualties of a war waged " 'Cause America can, and America can't say no," and ridicules the see-no-evil news media that watches it all with a "La de da de da."
But as if proof that politics alone cannot hold Mr. Meloy's attention for long, a deus ex machina comes with the arrival of "Fourteen cannibal kings/ Wondering blindly what the dinner bell will bring."
"In so many ways that sums up my whole approach to songwriting," he said. "You can throw in all the soldiers and the widows and the politicians and the media people, but really the most interesting thing is the cannibal kings and what they would do to eat everybody. It's just kind of me pulling myself back into a world I'm more comfortable with, which is just the world of my imagination."
I don't care if his girlfriend is pregnant. I still want to have his babies.
Source