CAUSE OF DEATH: DRUG OVERDOSE. HE DIED MONDAY MORNING AT 3:58AM. MORE HERE: http://community.livejournal.com/ohnotheydidnt/51745108.html
UPDATE FROM FACEBOOK -
SOURCE
THX TO
invisible_cunt
Burning Dan, we will miss you.
you were a shining light for our entire community
and although I know you would want us to smile, dance, and flow
I'm going to take a few moments to be sad for your passing.

For everyone who has not heard, Dan passed peacefully and unexpectedly Sunday night. In addition to founding and running Flow Temple, Dan was a celebrated poi-oneer who constantly challenged our thoughts on both how the tools could be used, and what good you could bring to the world through your art form.

He was also an incredibly sweet soul.

When we have information on a memorial service, we will pass it on.

Love you Dan.
FROM JGL'S TWITTER: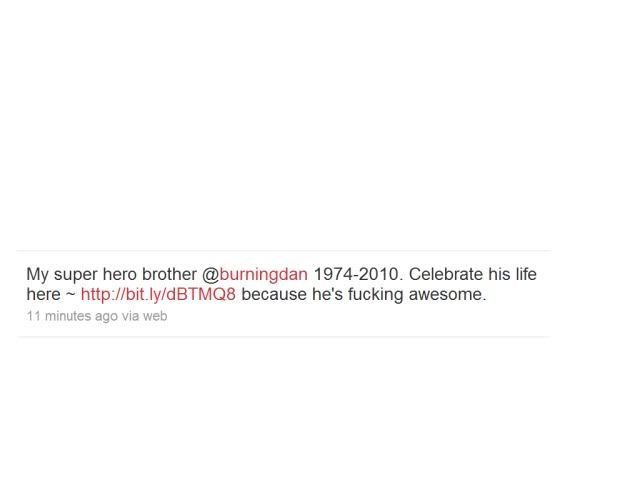 VIDEO WILL NOT EMBED - GO HERE TO WATCH:
http://v4.hitrecord.org//records/234697
[EDIT: NOT A VIDEO BUT A SORT OF MEMORIAL PAGE WITH LINKS TO DGL'S VIDEOS]
IF THE SITE ABOVE IS NOT LOADING, HERE IS THE TEXT FROM THE WEBSITE:
"BURNING dAN brightly embodied that bold beastly bliss sometimes referred to as "the creative spirit." He was my chief collaborator on the foundational incarnations of hitRECord.org over the years and continues to inspire us ever the more. He would absolutely positively insist that we not let this bad news deter us on our collective mission. That said, I might not feel up to it for a little while.

Watching this community blossom into what it has become never ceased to amaze him and me. We would regularly marvel at it and high five. Thank you all for that. There he is now pouring heaping hollowed watermelons full of love over each and every one of us.

So let's celebrate him, he's fucking awesome:

See you real soon,
thanks again...
<3"
[EDIT: ADDING THIS AMAZING VIDEO OF DGL IN ACTION. THX
nappyxheadedxho
]
JGL TWITTER
HITRECORD SOURCE
DAN YOUTUBE SOURCE
THIS IS TERRIBLE NEWS OMG :(