CAUSE OF DEATH: DRUG OVERDOSE. HE DIED MONDAY MORNING AT 3:58AM. MORE HERE: http://community.livejournal.com/ohnotheydidnt/51745108.html
UPDATE FROM FACEBOOK -
SOURCE
THX TO
invisible_cunt
Burning Dan, we will miss you.
you were a shining light for our entire community
and although I know you would want us to smile, dance, and flow
I'm going to take a few moments to be sad for your passing.

For everyone who has not heard, Dan passed peacefully and unexpectedly Sunday night. In addition to founding and running Flow Temple, Dan was a celebrated poi-oneer who constantly challenged our thoughts on both how the tools could be used, and what good you could bring to the world through your art form.

He was also an incredibly sweet soul.

When we have information on a memorial service, we will pass it on.

Love you Dan.
FROM JGL'S TWITTER: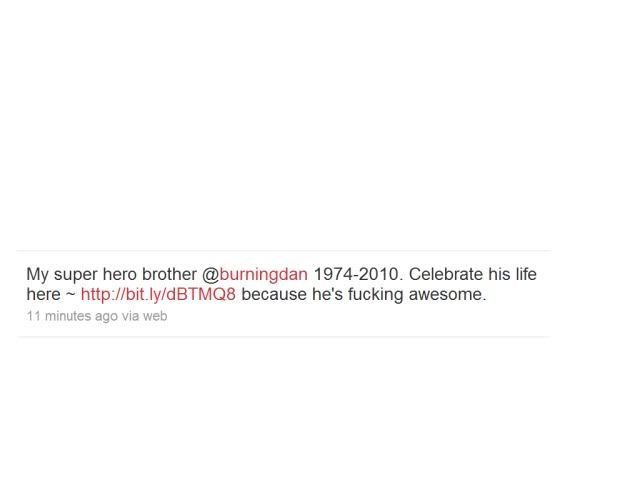 (
Msg from JGL + vid of Dan's spinning fire awesomeness
Collapse
)