Celebrity Champions Bradley Cooper, Molly Sims, Vivica A. Fox, Natalie Morales, and Terrell Owens are part of a 2010 nation-wide campaign to raise awareness about Alzheimer's disease.
The Alzheimer's Association Memory Walk is the United States' largest event to raise awareness and funds for Alzheimer's care, support and research. The following print ads were released last month to promote the 2010 Memory Walk.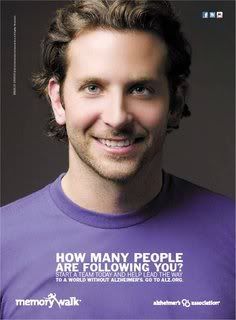 "I had no idea that Alzheimer's was fatal and was surprised to learn that it's not just an older person's disease…I hope that more people will take the time to learn more about the disease and support research now." – Bradley Cooper
Alzheimer's is a degenerative and fatal brain disease that affects memory, behavior, bodily functions, and quality of life. There is currently NO CURE.
"I think this disease is like six degrees of separation. You know someone who is affected. And if you don't know someone who is affected now, you will know someone that will be affected later." – Molly Sims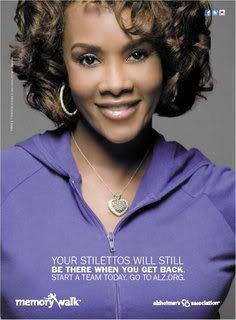 "You always think that it can't affect you." – Vivica A. Fox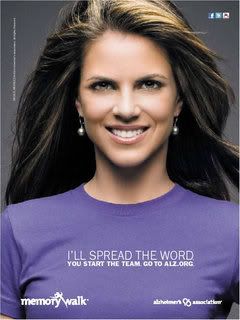 "It's time to speak up. Raise your voice to end Alzheimer's disease." – Natalie Morales
"Alzheimer's has affected my own family, so I understand first-hand the impact of this disease. I am proud to support the Alzheimer's Association as they educate people on the realities of Alzheimer's disease so we can inspire enough support
to stop it." – Terrell OwensFacts About Alzheimer's disease:
- Alzheimer's is NOT a normal part of aging
- Alzheimer's is NOT just an "old person" disease – it can strike people in their 30s, 40s, and 50s. This is called "younger-onset" Alzheimer's.
- 5.3 million people in the U.S. have Alzheimer's
- Alzheimer's is the 7th leading cause of death in the U.S.
- 1 out of every 3 people know someone with the disease
The extensive roster of current and former Alzheimer's celebrity champions includes David Hyde Pierce, Melina Kanakaredes, Seth Rogen, Victor Garber, Olympia Dukakis, and more.
Memory Walk calls on people of all ages to take action in the fight to end this devastating disease. Walk with a purpose. Walk for those who no longer can. Walk to end Alzheimer's.
To get involved in the U.S. 2010 Memory Walk, visit
Memory Walk
and participate in a walk in your area.
Sources:
Memory Walk on Facebook
Action Alz