This is a follow up to my Part 1 post
here
from over a year ago. IDK why, but I felt the urge to do another part.
What have the stars of Johnny Tsunami and Don't Look Under the Bed (among other DCOMs) been up to?
My Date with the President's Daughter (1998)
16-year-old Hallie, daughter of the American president, makes a date with a high school teenager named Duncan, then sneaks away from her Secret Service and has a wild night on the town.
Will Friedle (Duncan Fletcher)
-Duncan was just trying to find a date for the school dance and luckily meets a cute girl at the mall who agrees to go with him...and she just so happens to be the president's daughter.
-Will is best known as Eric Matthews in the coming-of-age television series, "Boy Meets World". Ever since the show ended in 2000, he has steadily bee doing voice-over work, notably in "Kim Possible," various "Batman" cartoons, and "The Secret Saturdays". He was also in "H. E. Double Hockey Sticks" with Matthew Lawrence and Gabrielle Union.
OBLIG
Elisabeth Harnois (Hallie Richmond)
-Hallie desperately wanted to be a normal teenager, so she uses Duncan to get away from her dad and the Secret Service to have some fun.
-Elisabeth has appeared in several TV shows and movies, including "Criminal Minds," "One Tree Hill," "Without A Trace," and "A Single Man." She currently has a starring role in the TV show, "Miami Medical" as Dr. Serena Warren.
Dabney Coleman (President Richmond)
-President Richmond has to put his election campaign worries on hold as he tries to find his daughter and learns to have a better, less strenuous, relationship with her.
-Dabney has been in numerous TV shows and movies, namely "The Guardian," "You've Got Mail," "Stuart Little," and he voiced Principal Prickly in the cartoon series, "Recess." Currently, he is in the show "Boardwalk Empire" as Commodore Kaestner.
The Paper Brigade (1996)
14-year-old Gunther moves to a small town with his family, where he works as a paper boy to earn money to impress a crush. He soon encounters bullies and a crazy ass neighbor.
Kyle Howard (Gunther)
-Gunther is basically a badass teenager with some nice hair and a pretty smile
and I love him.
-Kyle has had tons of roles in TV shows and films, including "House Arrest" with Jamie Lee Curtis, "Grosse Pointe," "The Drew Carey Show," "Related," and "My Boys" as Bobby. He is currently dating Lauren Conrad.
Robert Englund (Crazy Man Cooper)
-Crazy Man Cooper was, surprisingly, crazy, and would throw shit at the paper boys when they'd get to close to his yard.
-Robert is most famous as Freddy Krueger in the Nightmare On Elm Street movies. He recently appeared in "Bones" and has done a lot of voice-over work.
Genius (1999)
Charlie is a 13-year-old genius in college helping out a scientist. To make his life seem somewhat normal, he enrolls in a junior high and tries to have a bad boy image.
Trevor Morgan (Charlie Boyle aka Chaz Anthony)
-Charlie, with his insanely high IQ, gets made fun of a lot at school, he loves hockey, and falls for an ice skater named Claire.
-Trevor has had several bit parts in movies and TV shows, such as "The Sixth Sense, "CSI:Miami," and "Ghost Whisperer." He currently has three films in the works.
Emmy Rossum (Claire Addison)
-Claire figure skated and was nice to Charlie and..IDK, that was basically it.
-Emmy Rossum had a somewhat successful career, with parts in "The Phantom of the Opera," "Mystic River," and "The Day After Tomorrow." She is currently working on TV pilot called "Shameless."
The Thirteenth Year (1999)
Cody learns that his birth mother is a mermaid after he begins to grow fins and slimy scales on his thirteenth birthday.
Chez Starbuck (Cody Griffin)
(WTF what is this guy's name)
-Cody basically has to decide if he should stay a teenager or become a merman. (Merman....MERMAAAAN!!)
-Chez hasn't done much since this movie. He appeared in MTV's "Undressed" and the most recent thing he did was something called "Recipe For Disaster" in 2003.
Here's some bonus
Kristen Stewart
as GIRL IN FOUNTAIN LINE:
Johnny Tsunami (1999)
Johnny lives in Hawaii and has an awesome life being a surfer when his family suddenly has to move to Vermont. The schools there are against each other: the skiers versus the snowboarders. (OH NOES)
Brandon Baker (Johnny Kapahaala)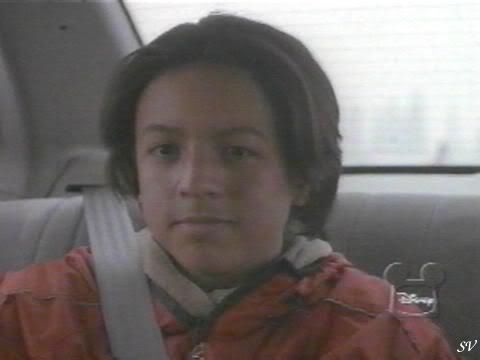 -Johnny is stuck at the skiers school but wants to be at the snowboarders school, a showdown occurs between the two groups, Johnny falls for his best friends, he learns the importance of family, yadda yadda yadda.
-Brandon appeared as Tawny's boyfriend on "Even Stevens," "One World," and "P.U.N.K.S." He hasn't been in anything since the movie's sequel, "Johnny Kapahala: Back on Board," in 2007. He majored in Film Studies at the University of California in Santa Barbara.
Up, Up, and Away! (2000)
The Marshalls are a family of superheroes, and the youngest, Scott, still hasn't received his superpowers. Basically, Sky High ripped this shit off. Oh, and the family's weakness is
ALUMINUM FOIL
.
Michael J. Pagan (Scott Marshall)
-Scott still hasn't received his powers, so in order to please his parents, he just pretends he did. Then he has to try to save his family from some evil dude and realizes he never needed powers, he was a hero on his own BAAAWWWWW
-Michael has done small parts on various TV shows, including "The Shield," "CSI: Miami," and "Cold Case." He just finished a movie called "Chain Letter." He is an avid basketball player and track and field competitor and has won awards in both sports.
Sherman Hemsley (Edward Marshall/Steel Condor)
-Edward was the badass grandpa who mentored Scott and saw through his bullshit when he lied about his powers.
-Sherman became an icon for his role pf George Jefferson on the classic sitcom, "The Jeffersons." He has appeared in shows like "Sister Sister" and "Cousin Skeeter." He now does bit parts, most recently in an "American Pie" sequel.
Kevin Connolly (Malcolm)
-Malcolm was the bad guy who would hypnotize people so he could rob banks and shit. Naturally, he tried to kill the Marshalls
with aluminum foil.
-Kevin has appeared in numerous things, including "John Q," "The Notebook," and "The Ugly Truth." Currently, he plays Eric on "Entourage."
Chris Marquette (Randy)
-Randy was Scott's goofy best friend and was, of course, comic relief.
-Chris has appeared in shows and films such as "Joan of Arcadia," "Strong Medicine," and "Just Friends." He is currently filming a movie called "The Rite."
Don't Look Under the Bed (1999)
Frances calls on her brother's imaginary friend, Larry, to banish a mischievous boogeyman who has framed her for his pranks.
Erin Chambers (Frances Bacon McCausland)
-Francis was a very logical teenager who believed everything had a reasonable explanation until she kept being blamed for the weird shit going on in town. Also, she's kinda batshit and chats with her brother's (awesome) imaginary friend.
-Erin has appeared in several shows, including "Drake and Josh," "Cold Case," Stargate: Atlantis," and "Cold Case." She most recently appeared on an episode of "Miami Medical."
Ty Hodges (Larry Houdini)
-Larry
is my favorite DCOM character ever
was the imaginary friend of Fran's little brother, and she is the only person (besides children) who can see him. He helps her figure out who's been framing her for the pranks all over town.
-Ty had a recurring role on "Even Stevens" and he has also appeared in "Holes," "Material Girls," and "Boston Public." He has a clothing line called HanceHodges.
Steve Valentine (Boogeyman)
-The Boogeyman turned out to be Fran's old imaginary friend, Zoe, who turned into a Boogeyman because Fran had stopped believing in her.
-Steve costarred on the series "Crossing Jordan," and he also appeared in shows like "I'm in the Band," "Chuck," and "Drop Dead Diva." He is currently filming "Avalon High."
Stephen Tobolowsky (Michael McCausland)
-Michael was Fran's dad and he was kind of a douche.
-Stephen is a popular character actor and has appeared in many TV shows and films, notably "Spaceballs," "Freaky Friday," "CSI: Miami," "Deadwood," "Heroes," and most recently, "Glee" as Sandy.
"WHO IS JOSH GROBAN? KILL YOURSELF!"
The Ultimate Christmas Present (2000)
Best friends Allie and Samantha steal Santa's weather machine in order to make a snow day occur.
Hallee Hirsh (Allie Thompson)
-Allie is a procrastinator and doesn't want to do her homework, so instead of doing it, she steals a weather machine from Santa. Totally a reasonable solution.
-Hallee has appeared in several TV shows, including "ER," "JAG," "Criminal Minds," and "Grey's Anatomy." She currently has two films in the works.
Brenda Song (Samantha Kwan)
-Samantha is a loyal best friend who always gets sucked into Allie's schemes.
-Brenda has appeared in several TV shows, mainly for Disney, including "Phil of the Future," The Suite Life of Zack and Cody," and "The Suite Life On Deck." She has three films coming out, including "The Social Network."
Jett Jackson: The Movie (2001)
Jett decides to quit Silverstone and lead a normal life. On the day of his last episode he is hit on the head with a prop and in his dream he is Silverstone.
Lee Thompson Young (Jett Jackson/Silverstone)
-Jett is a normal guy with great best friends and an awesome family..but he also has a hit TV show where he plays the action star, Silverstone.
-Lee Thompson Young has been steadily acting since his Jett Jackson days, including roles on "The Guardian," "South Beach," "Scrubs," "FlashForward," and "Smallville." He also starred in the Sugababes video for their 2009 single "About A Girl."
Lindy Booth (Riley Grant/Hawk)
-Riley was Jett's costar on the show. At first they didn't hit it off very well but they soon became friends.
-Lindy has had several appearances in television, including roles on "The 4400," "October Road," and "The Philanthropist." She is currently working on a project called "Butterscotch."
Nigel Shawn Williams (Artemus/Nigel Essex)
-Nigel Essex played the mentor for Silerstone on the TV show. The characters of Artemus and Hawk are in danger and need Jett's help.
-Nigel Shawn Williams has had some appearances in TV and film since Jett Jackson ended, including "John Q" and "The Jane Show." His main focus has been working in theater in local productions.
Kerry Duff (Kayla West)
(I couldn't find a recent pic).
-Kayla was one of Jett's best friends who finally realizes she has a crush on him and tries to find the courage to tell him.
-Kerry has appeared in the shows "Ghostwriter," "Goosebumps," and "Side Effects."She hasn't acted since a 2006 episode of "Instant Star."
The Even Stevens Movie (2003)
The Stevens family gets tricked into appearing on a reality show where they believe they're stuck on a desert island.
I took pics from the series instead of the movie because they're pretty much babies in the TV show.
Shia LaBeouf (Louis Stevens)
-Louis is an obnoxious brother who likes to get into trouble, and he wrecked Ren's 8TH GRADE WTF YEAH RIGHT graduation ceremony.
-Shia has had a lot of success since his Disney days, including roles in "Disturbia," "Transformers," and "Indiana Jones." He has a leading role in the upcoming sequel to "Wall Street" and is filming the third "Transformers" movie. He is also dating actress Carey Mulligan.
Christy Carlson Romano (Ren Stevens)
-Ren is a goody-goody overachiever who kinda goes crazy on the island, along with the rest of her family. She also falls for a guy on the island.
-Christy has been steadily working since the show, mainly doing voice-over work for "Kim Possible" and "The Cutting Edge" sequels. She also was in "The Beauty and the Beast" and "Avenue Q" on Broadway, has had a small singing career, and is currently working on three films.
Nick Spano (Donnie Stevens)
-Donnie is the dumb jock older brother of Ren and Louis and he has a nice body. That's about it.
-Nick has since had bit parts in TV shows, including "Cold Case," "Monk," "NCIS," and "Without A Trace." Supposedly he and Christy are teaching acting classes in LA.
Steven Anthony Lawrence (Beans)
YIKES
-Beans was the annoying neighbor who tagged along to the island and he really likes bacon.
-Steven has appeared in "The Cat In the Hat," "Cheaper By the Dozen," and "Kicking & Screaming." HE IS 20 YEARS OLD WTF HE LOOKS 40
A.J. Trauth (Alan Twitty)
-Twitty was Louis's best friend who suggested to the reality show to have the Stevens family be on the island. He later felt bad and tried to rescue them.
-A.J. has appeared in "You Wish!," "Reba," "House," "Pepper Dennis," and "Bones." He's currently working on "The Green Cafe" and his singing career.
Margo Harshman (Tawny Dean)
-Tawny is Lousis's other best friend who helps Twitty try to help the Stevens family. She is totally the HBIC.
-Margo has appeared in "Run of the House," "Everwood," "Grey's Anatomy," and "Fired Up!" She's recently been seen in "Sorority Row" and "Modern Family."
Double Teamed (2002)
Based on the true story of sisters Heather and Heidi Burge, who overcame obstacles to become professional basketball players.
Poppi Monroe (Heather Burge)
-Heather was the more athletic twin who was obsessed with working out..she also wasn't as cute as her sister.
-Poppi hasn't acted much since the movie, her last appearance was in a 2006 episode of "CSI: Miami." She has also worked as a model and appeared in several commercials.
Annie McElwain (Heidi Burge)
-Heidi was the girlier twin and wasn't as into sports as Heather. She's forced by her sister to join the school's basketball team and she grows to love the sport.
-Annie has barely been in anything. Her last appearance was in a 2006 episode of "Shark." She currently works as a photographer, and her work can be viewed
here
.
Gotta Kick It Up! (2002)
This was going to be the first year that Marshal Middle School was not going to have a dance team. All that changes when the new Biology teacher, Ms. Bartlett, agrees to be the coach. Now the girls need to prove that they are ready to compete and are able to win; not only to themselves, but to their parents and coach.
Camille Guaty (Daisy)
-Daisy was the tough girl on the team who gave everyone a lot of shit.
-Camille has worked on several TV shows, including "The Nine," "Prison Break," "Las Vegas," "Cupid," and "Family Guy."
America Ferrera (Yolanda)
-Yolanda was Daisy's sassy best friend and was a great dancer who constantly got made fun of for her weight.
-America had huge success in the TV series "Ugly Betty," which she won an Emmy for. She's also had roles in "Real Women Have Curves" and "The Sisterhood of the Traveling Pants.
Susan Egan (Heather Bartlett)
-Heather is the biology teacher slash dance team instructor with bad hair who gets the girls' shit together and makes them a great group.
-Susan Egan has worked steadily for 30 years, with roles in "Hercules" as the voice of Meg, "The Drew Carey Show," and "House". She originated the part of Belle in "The Beauty and the Beast" and also appeared in "Thoroughly Modern Millie" on Broadway.
Sources: Google, YouTube, Photobucket, IMDb
I miss old Disney so so sooo much. All of these were on YouTube if anyone is interested in watching. =]