......plus one reveal! Because you've been such good kids. Five new blind items today; so without further ado, let Ryan Seacrest invite you in:





# 1

Which producer for a dorky cable anchor has been complaining to colleagues that she's tired of his notoriously nasty behavior?

source



popular guesses:



(Keith Olbermann, Glenn Beck)

# 2

Which late-night TV host is having Tiger Woods-like problems? One woman has already come forward, but at least one more is looking to sell her sordid story.

source



popular guesses:



(George Lopez, Larry King)

# 3

This celebrity sister duo share more than just the limelight. They seem to share everything. Including men. As of this weekend the sisters can now boast that they've slept with at least one of the same men. One of the sisters made her rounds with an old flame of the other sister this weekend at a club. Not the Hilton sisters.

source



popular guesses: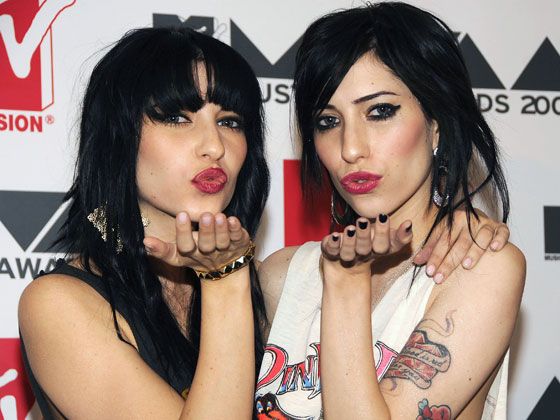 (Ali & Lindsay Lohan, Angel & Annalynne McCord, The Veronicas, the Shannon twins)

# 4

I was having a pleasant dinner when the person next to me said, guess who is gay. Well, it would be easier to guess who isn't gay, but I said I didn't know. They then said the name of this married, foreign born, former A list female singer and sometime actress who will always have A list name recognition. I had never even heard a peep she was. A gay right supporter for sure, but gay? Absolutely 100%.

source



popular guesses:



(Céline Dion, Gloria Estefan, Olivia Newton-John, Julie Andrews)

# 5

A starlet recently halted production on a project for 3 hours because wardrobe brought her a rack of clothes to try on in the wrong size. It was an innocent mistake, it was a size up, and she lost her sh-t because 1. she thought the costume designer was trying to f-ck with her about weight gain and 2. she's been paranoid about weight gain her whole life. Gradually her assistant had to coax her back to work and the bosses arranged for her to keep the clothes, the ones that fit. Not Jennifer Aniston.

source



popular guesses:



(Vanessa Hudgens, Hilary Duff)



REVEAL

the blind item in question (from Nov. 2009):

This super skinny A/B lister has always blamed her skinny weight on her incredible metabolism and good genes. Well, we know that every time she goes out to a restaurant, she purges her food in the bathroom. That's not the gossip here. The real story is why she does it. Her eating disorder apparently started as a diet competition between her and another celeb starlet. The two were competing for a very big role a few years ago (a role which our actress did not get) and the two openly made a goal to "underweight" one another. The celeb who got the part, lost the weight in a healthy way and moved on, but our star's ED stuck. So sad! Not Megan Fox.

source



The answer....
.
.
.
.
.
.
.
.
.
.
.
.
.
.
.
.
.
.
.
.
.
....is Kate Bosworth!





That would be all.....bouncy bounce guy from Die Antwoord thanks u 4 ur tiem.