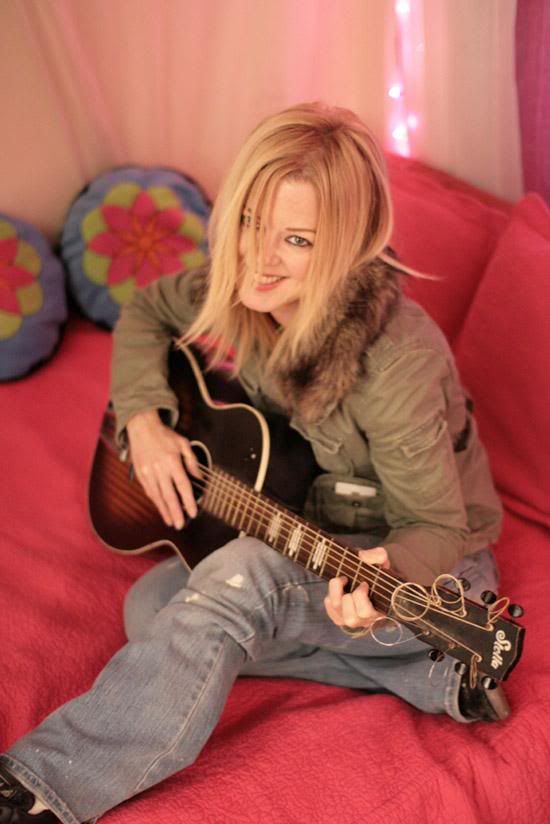 MaryLou Lord (90's singer song writer of Killrockstars fame) sets the record straight about her fabled friendship with Kurt Cobain
I have loved MaryLou since I was 15 and would see her playing in the Boston Park Street Station. My 1st kiss with my high school love was at a concert of her and Elliott Smith at the Middle East in summer of '97.
There were long-ago rumors of a a brief friendship between her and a young Kurt..one that infamously brought the wrath of Courtney..
Im friends with MLL on facebook and she posted this today..
About me and Kurt (what you don't know)
Today at 8:39am
Ok, so I barely pay attention to Wikipedia and most things related to myself. Can't stand it. Never could. Don't have the time, blah, blah....BUT tonight, I gave a good look at my Wiki page, and I DON'T LIKE IT!!..I have no patience for learning much internet negotiating, and I don't know how to EDIT the page!!..So, if anyone can edit the entire part that mentions Kurt Cobain, I would be grateful. I know that when I want to know something about someone, it's the first place I visit, and
I dont want people to have a shitty impression, or a false impression of me, just because some moron whith nothing better to do said stuff was so.......
Visiting my own page tonight made me slightly ill....I DON'T WANT that shit to be the first thing people see..I don't want it to be referenced at al!!!l.
.I've perhaps done myself a dis-service by not talking about "what exactly happened" openly when he was alive, or even given a proper interview with a proper writer, and gotten the whole truth out right there, right then, but I thought it best to just keep my mouth shut about the whole thing. (Not to mention, I ALMOST couldnt believe it all myself. One of the only mentions I made (and Kurt was alive at the time), was that the song "some jingle jangle morning" was in fact written about him. Big deal. Small local paper, the writer was a friend, and it was true. Courtney love went into a rage.
I have no doubt in my mind that she made him (they faxed a lot back then) fax a letter to the paper claiming that all I said was untrue...Ah Courtney, how you doin' now sister? WHO THE FUCK exactly believes ANYTHING she says ANYWAY??...Yes, I sit here nearly 18 years later and YES there are things I am pissed-the-fuck off about!..The things she said were FALSE and certainly DID NOT come out of Kurt's mouth...for one thing (and yes, it's somewhere embedded in Wiki), as beautiful as I thought Kurt was, the "infamous" episode that "supposedly happened in the back of a van" NEVER even occurred!! !!.
.My "thing" with him wasn't based on a "sexual" escapade between band guy/groupie type thing. That's fucking gross, and I wouldnt stand a guy that was like that (there's PLENTY of dip shit bimbos out there, and many of them WAY hotter than me to boot!!.We ALL know (those who really knew him) that he wasnt like that either...He would have been MORTIFIED, afraid of, AND sickened by chicks like that...

AND I ran into my stupid Wikipedia page and the whole thing FINALLY has made me want to LET IT BLURT!...Fuck it fuck it fuck it....If anyone is reading this, and you know how to edit wiki, PLEASE take that shit offffff!!!!!
Ok...so here goes...what exactly happened....
It all started with my friend Philip Welsh...Around 1988 I was playing in the subway (met Phil on green line, govt center (possibly the worst busking pitch EVER)...and Philip was nice and I would see him daily and chit chat about the covers I was playing etc...He seemed to know a lot (I was a BIG folky at the time..John Gorka, David Wilcox, Aztek twostep, Tom Paxton, Passim all the way) and I asked Philip to make me a mixed tape. Next time I saw him he presented to me one of those casette tape-holders containing something insane like 8 or 10 mixed tapes!!! HOLY SHIT !!! On these tapes were music that I certainly wasn't familiar with....It was stuff like Cows from Atlantis, the Holy Modal Rounders, Half Japanese, TV personalities, the Verlaines, the Pastels...and sooo much more...This was the start. Thanks Philip!! I LOve you (billy)
I had begun playing in the subway full time because I needed money and it was better than being a waitress (which I never would have been good at anyway)..and one of the main focuses was on songs by Shawn Colvin..I absolutely adored her. She also had no record out yet (remember...this was WAY before internet and there was no place to find the music if there was no record out yet)..so, I deemed it my mission in life to play her lovely songs as to the delight of people who wanted to hear awesome songs...I did this for a long time until her first cd actually came out!..(over the course of that time, she was to become one of the best friends I've ever had the pleasure of having)...so, Shawn's songs were alive and well, and certainly didnt need me playing them to be alive..Yay Shawn!
About this time 1989, I met a fella named Jim Neill in a record store in Salem Ma. I heard hime talking to the guy at the front counter and I decided I wanted to meet him. My strategy was to ask the counter guy in a really loud voice (hoping jim would hear my question and if HE (jim) were interested in my question, I decided that would make me interested in him!)..so I asked "Hey, do you guys have the new Shawn Colvin cd??" ..Jim's head spun around "You like Shawn Colvin"?? (remember, NO ONE knew her yet)..."ah yes, she's a friend, and I adore her" said I....Jim and I instantly bonded. Turned out Jim was working for a company called Ryko disk in my home town of Salem. I had just returned from College in London, and we decided to move to lower Allston and be room-mates.
In November or so of 1990 Jim was driving to work. I had hitched a ride with him to visit my parents that day. At around 8 in the morning a SONG came on the car radio. "what is this Jim"? (Jim knew everything about music)..he didnt know what it was. No cells then, and dj never said...BUT that song stayed in my head. A few weeks later I met a guy named Dave who was a dj on wers.