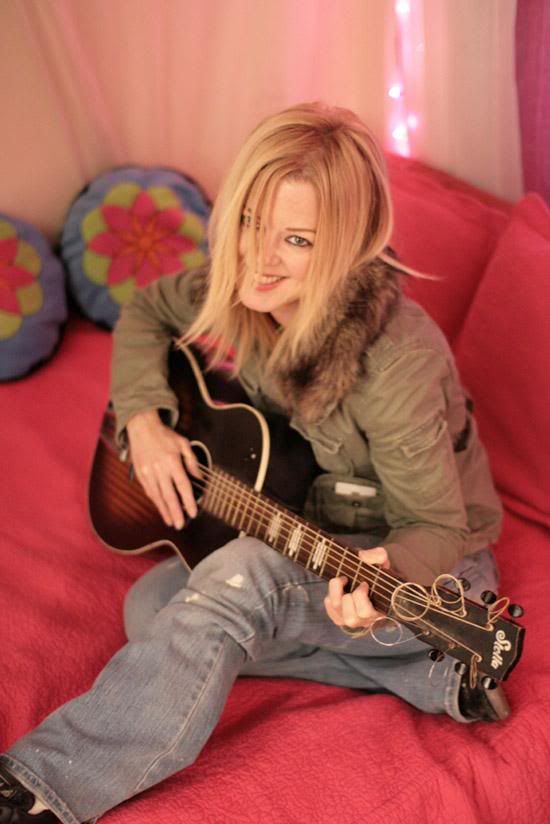 MaryLou Lord (90's singer song writer of Killrockstars fame) sets the record straight about her fabled friendship with Kurt Cobain
I have loved MaryLou since I was 15 and would see her playing in the Boston Park Street Station. My 1st kiss with my high school love was at a concert of her and Elliott Smith at the Middle East in summer of '97.
There were long-ago rumors of a a brief friendship between her and a young Kurt..one that infamously brought the wrath of Courtney..
Im friends with MLL on facebook and she posted this today..






About me and Kurt (what you don't know)

Today at 8:39am

Ok, so I barely pay attention to Wikipedia and most things related to myself. Can't stand it. Never could. Don't have the time, blah, blah....BUT tonight, I gave a good look at my Wiki page, and I DON'T LIKE IT!!..I have no patience for learning much internet negotiating, and I don't know how to EDIT the page!!..So, if anyone can edit the entire part that mentions Kurt Cobain, I would be grateful. I know that when I want to know something about someone, it's the first place I visit, and I dont want people to have a shitty impression, or a false impression of me, just because some moron whith nothing better to do said stuff was so.......



Visiting my own page tonight made me slightly ill....I DON'T WANT that shit to be the first thing people see..I don't want it to be referenced at al!!!l..I've perhaps done myself a dis-service by not talking about "what exactly happened" openly when he was alive, or even given a proper interview with a proper writer, and gotten the whole truth out right there, right then, but I thought it best to just keep my mouth shut about the whole thing. (Not to mention, I ALMOST couldnt believe it all myself. One of the only mentions I made (and Kurt was alive at the time), was that the song "some jingle jangle morning" was in fact written about him. Big deal. Small local paper, the writer was a friend, and it was true. Courtney love went into a rage. I have no doubt in my mind that she made him (they faxed a lot back then) fax a letter to the paper claiming that all I said was untrue...Ah Courtney, how you doin' now sister? WHO THE FUCK exactly believes ANYTHING she says ANYWAY??...Yes, I sit here nearly 18 years later and YES there are things I am pissed-the-fuck off about!..The things she said were FALSE and certainly DID NOT come out of Kurt's mouth...for one thing (and yes, it's somewhere embedded in Wiki), as beautiful as I thought Kurt was, the "infamous" episode that "supposedly happened in the back of a van" NEVER even occurred!! !!..My "thing" with him wasn't based on a "sexual" escapade between band guy/groupie type thing. That's fucking gross, and I wouldnt stand a guy that was like that (there's PLENTY of dip shit bimbos out there, and many of them WAY hotter than me to boot!!.We ALL know (those who really knew him) that he wasnt like that either...He would have been MORTIFIED, afraid of, AND sickened by chicks like that...



AND I ran into my stupid Wikipedia page and the whole thing FINALLY has made me want to LET IT BLURT!...Fuck it fuck it fuck it....If anyone is reading this, and you know how to edit wiki, PLEASE take that shit offffff!!!!!



Ok...so here goes...what exactly happened....
It all started with my friend Philip Welsh...Around 1988 I was playing in the subway (met Phil on green line, govt center (possibly the worst busking pitch EVER)...and Philip was nice and I would see him daily and chit chat about the covers I was playing etc...He seemed to know a lot (I was a BIG folky at the time..John Gorka, David Wilcox, Aztek twostep, Tom Paxton, Passim all the way) and I asked Philip to make me a mixed tape. Next time I saw him he presented to me one of those casette tape-holders containing something insane like 8 or 10 mixed tapes!!! HOLY SHIT !!! On these tapes were music that I certainly wasn't familiar with....It was stuff like Cows from Atlantis, the Holy Modal Rounders, Half Japanese, TV personalities, the Verlaines, the Pastels...and sooo much more...This was the start. Thanks Philip!! I LOve you (billy)

I had begun playing in the subway full time because I needed money and it was better than being a waitress (which I never would have been good at anyway)..and one of the main focuses was on songs by Shawn Colvin..I absolutely adored her. She also had no record out yet (remember...this was WAY before internet and there was no place to find the music if there was no record out yet)..so, I deemed it my mission in life to play her lovely songs as to the delight of people who wanted to hear awesome songs...I did this for a long time until her first cd actually came out!..(over the course of that time, she was to become one of the best friends I've ever had the pleasure of having)...so, Shawn's songs were alive and well, and certainly didnt need me playing them to be alive..Yay Shawn!

About this time 1989, I met a fella named Jim Neill in a record store in Salem Ma. I heard hime talking to the guy at the front counter and I decided I wanted to meet him. My strategy was to ask the counter guy in a really loud voice (hoping jim would hear my question and if HE (jim) were interested in my question, I decided that would make me interested in him!)..so I asked "Hey, do you guys have the new Shawn Colvin cd??" ..Jim's head spun around "You like Shawn Colvin"?? (remember, NO ONE knew her yet)..."ah yes, she's a friend, and I adore her" said I....Jim and I instantly bonded. Turned out Jim was working for a company called Ryko disk in my home town of Salem. I had just returned from College in London, and we decided to move to lower Allston and be room-mates.


In November or so of 1990 Jim was driving to work. I had hitched a ride with him to visit my parents that day. At around 8 in the morning a SONG came on the car radio. "what is this Jim"? (Jim knew everything about music)..he didnt know what it was. No cells then, and dj never said...BUT that song stayed in my head. A few weeks later I met a guy named Dave who was a dj on wers. I met him in the subway at Park st. I thought he had great hair and there was just something cool about him, so I decided to follow him. I followed him all the way to central sq. He went into the middle east. I followed him to the back room where the bands played. I payed the cover even!...Later that night after about 2 hours of stalking him (he's the ONLY guy I've EVER "followed" by the way), and finally I got up the guts to say hello...Turned out that he was a dj on wers (the same station I had heard THAT) song (the one with Jim in the car) on. Dave turned out to be an awesome ,awesome guy, and we have remained great friends to this day. We had lots of fun fun times back then...seeing band after band, talking about music, making tapes, etc. I would ride him on the back rack of my bicycle from Cambridge to boston night after night!! I was very very strong back then. Went to the gym 7 days a week, ran 4 miles a day...you getit.



It occured to me that perhaps Dave would know THAT song I had heard on the radio station he worked at a few weeks before. I sang it (hummed the melody) for him...."Oh, I think that's a band called Nirvana" he said....Ah,"make me a tape!" I said. So, Dave made me a tape. It was Bleach..I loved it....about 3 months or so later, Dave informed me that that band I liked "Nirvana" was coming out with a new record and that he had an advanced copy...Ah,"make me a tape!" I said...so, he did....HOLY shit SHIT! Again, I fell in love with it..But wayy more than Bleach...this was special.!!So, this was probably April or or May of 1991..(not exactly sure, but I had that tape for a while)......I listened to it all summer and learned to play (really shitty versions of course) most of the songs on that tape!...For some reason, I never bothered to see what the band looked like, and stuck with the tapes, and didnt have a record player anyway. never really gave a shit about what bands looked like. no internet. no wiki. no money...fuck it...loved the tapes!


At around that time I was REALLY REALLY into Teenage Fanclub...I had seen them at the middle east (probably with Dave (who probably to this day loves the fact that I "stalked" him), and they blew my mind!!!! I met them at the middle and had a great talk with Jerard Love about Scotland, the music, all the stuff nerdy-musos talk about ...oh, and also I forgot to mention that about a year before all this, I had discoverd Daniel Johnston..Probably right around 1988...I heard a song on the radio (speeding motorcycle) and called the radio station and asked who "That woman singing about the motorcycle was" Ah, Daniel...."where can I get his records?" ...radio guys says to go to "in your ear" I go and YAY NO RECORDS!! it appears he ONLY had casettes....I bought all they had...Hi How are you, Yip jump, etc...also got some Sentridoh..(I think)....


ok, so fastforeward to August 1991...I was in a band with Jason Hatfield called Chupa...Jason loved to play practical jokes and left a message on my machine saying in a very scottish accent "hello, this is Jerry Love, and I am hanging out at the Rat tonight and you should come round"..What is Jerry doing at the rat I thought? (he's the dude from teenage fanclub)..also, that same day, Dave (my radio friend), told me I should come to the rat to see The Melvins (cause I would like the singer's hair....I had a thing for BIG hair back then)...so, I was all confused but liked the Melvins and was hopefull that jerry would be there (although before I got to the show I realized it was probably Hatfield fucking with me)...Anyway, I went to the show..it was Sept 22 1991...The Show was great...Dave was there...bunch of people I knew were there....

As I was leaving the club (and the show was pretty much over and some people were leaving), There were 3 guys trying to get in...the door guy was being a prick "what's your name again (to the guys) , I dont see it on the list"...."Nirvana" the little one said. "nope, not on list" said prick.....I stop in my tracks (I was almost out the door)..."hey", you should let them in" I said in a sort of shocked that he wouldnt let them in kinda way..."who the fuck are you" says prick (to me)...I decieded to go back down stairs in the hopes that they might make it in, and of course to tell Dave that the "Nirvana" band were here and trying to get in....Before going back down into the Rat I just remember shaking my head and saying to the prick door guy" you really should let them in"....

About 10 or so minutes later, they came down stairs...(I told someone to tell Buzz, and he sorted it out)...There were probably 15 or so people left, finishing thier drinks, hangin out with the Melvins, merch, etc...

Then after a few minutes, the little guy with the blonde hair came up and said, "Hey, thanks for helping us get in"..."ah shit, I said, the show's been over for a while, and that guy (the prick) was being a prick"..( I knew the blonde guy was in Nirvana (cause they said "Nirvana" to the prick,, but I didnt know which one he was..still had never seen thier picture...he could have been a roadie for all I knew)..So, this is the point where I actually met him...

""um, what are you guys doing here" I asked...he said that they were doing a show at Metro>(not sure where it was) the next night, and they had just gotten in and wanted to see the Melvins. "Ah...ok...I really like your band"..."you know us" "yea...a little (I lied...I had owned Nevermind casette for months but couldnt get Dave in trouble so didnt say so)..Yea, "where are you from"...oh, Olympia huh, Capital right? "yea"..Oh..THEN, all of a sudden, someone came by me and says "Hey MaryLou, heard you playing in the Subway, it was great"...Kurt says..."You play music? ...in a subway???" "um yea".....whooa...what kind of stuff do you do> ..Um, folk songs..By the way, I know youre in Nirvana , but which guy are you? "Oh, I'm the Singer and play guitar"...(right around here is when I started to shit myself)...ONLY because I loved them sooo much ( no one else could have given a shit yet, really, Nevemind wasnt even out yet!)...So, he then says, "what kind of folk songs"..ah, you might not know it (for some reason I thought ONLY me and a few others liked what I liked (and that is actually true)...so I spout off..."Daniel Johnston, Teenage Fanclub, The Bats, the Clean, The Vaselines, etc..." The look on his face was PRICELESS..."Have you heard any of these bands"? I ask...''Do you want to go upstairs and talk "" he says......



We went upstairs and had one of the most insanely intense comversations about life, music, life, music, and life and music that I'[ve EVER had in my life. There was this insanely instant connection and as 2 approached, I asked where he was staying "the howard JOhnson's"( was right down the street)...I asked if he wanted a ride.

"sure"...ok....we leave the bar, and I start unlocking a very old bicycle with a great rack (on the back)...he see's it says "I thought you said you were gonna give me a "...."I know" I said..."you sit on the back"...So, there it was...I was on my 1966 columbia peddling Kurt Cobain around Boston....We got back to the hotel after a little ride around Boston, and sat on the big wall in front until about 9 in the morning...just shooting the shit, and knowing that we each had met someone special...


He told me to meet him at about 4 the next day at the Rat and that he would take me to the show...It was some kind of party thing for fnx....I went to the show and it was amazing!!..I heard all those songs that were on the casette and I knew that VERY few of those people in the audience had no idea what was to come. That night after the show, Kurt wanted to hang out where I lived and listen to the many records I claimed I owned...(well, I lived with the records.Some were mine, but mostly,...they actually belonged to Billy Ruane and there were thousnads and thousands of them.I was house sitting for Billy at the time)...I remember I had this really wierd picture of Lester Bangs on a wall from a very rare book called "pumping Irony" "do you know who that is? he looked more like meathead from all in the family than Lester Bangs...but Kurt said..."Lester Bangs"?..Whoa..


anyway, at this point, we had had a few drinks, and I rarely drank at all back then..I didnt smoke, didnt drink, went to the gym every day and rode big people around on my bike...but this night i had a few, and decided to have fun...We had a dance party (billy's records) which featured ...just us....this went on till about 4 am, then .....I HAD to ask him .."do you want to play some songs?"..Well, this was funny cause it was my guitar there, not his, and he's a LEFTY.(I'm a rightly)..so he struggled (and it was funny) to get out a few chords...he immediately got frustrated and said..."you play for me"...(shitting myself again at that point)....so, I played...I honestly cant remember all the songs I did, but I KNOW that I played "Polaroids" which now is so so ironic and bizarre for me ....He had such a look of intensity while I played it and he (I know) was absolutley blown away by the lyrics..(he told me so)..the line where it says "Begging for love in a Suicide threat"...so wierd now...This was 1991...Sept 23...I remember ...Then, next what happened (and this really really blew his mind...) was that I continued to play and I got up the guts to play about 6 songs that I had learned from Nevermind ( I had owned it for months ...remember), and it WASNT even out yet!




He looked absolutely shocked..I had never really said HOW MUCH I liked his band (didnt want to come off as a dork or get in trouble for pre-owning Nevermind)...so, it must have been wierd for him...a dude from Aberdeen, not very well known (especially in the chick department) and here comes me with my Daniel Johnston/kooky bike/love of Teenage Fanclub /Vaselines,, AND KNOWING the Nirvana LP inside out, before it was out!!!!...Ok, so if ANYONE is reading, are you getting this?.>???This was a fuckload more than a fictional BLOWJOB (No, sadly I didnt go there, (but now regret)...that Courtney MADE UP!!




The next day we hung out again....Kurt really wanted to play in the subway (it really intrigued him)...so. we went all around trying to find a girl named Janet Macanerny (sp?) who I knew was a lefty (but only remembered later that she simply flipped it around (didnt actually change stringing)...so, we had a fun day, and then again that night saw Nirvana again, and Came back to my place....




There are some people that you meet and you know that there is something profound going on...it's not a matter of "how much time was spent" with them...it's a wierd thing..I've had this only with one other person before...He was also a piscese...He is also a singer...same thing..TC, you readin?




I'm trying to put the time context stuff in order here so, forgive me if my dates are wrong.
There were some dates on the tour I attended...I went to the Baby head show in RI show was amazing, hung out after, etc, and I think New York was next. I awoke the morning of that show to Kurt on my answer machine.( I had driven back to Boston after the RI show because I was with my friend Danelle who had to get back to go to work)... He said, Take a bus, take a plane, take a train, take a boat....I want you here with me...at that time I had a full time job at Mystery Train records, and I had to convince someone to cover for my shift. (ed: note I worked there when I was 17!! xo mystery train!!) I hopped a grayhound to NYC and didnt get there till late. I met up with my friend Deb (who God bless her saved every piece of shit rant that Courtney was to spew YEARS later on this new web site called "America Online" in 1995, in her infamouse "HOLE" folder....(that's a whole nother story)...So, Deb and I got to the show (I think Deb came?) and it was nearly over, but I made it to the backstage and Kurt came up to me with a huge smile "There you are!!!" he exclaimed...He introduced me to Kim Gordon and Thurston and a whole bunch of other people. After the show we went to a big party for someone who worked for MTV...Then, we went to a club until about 5 in the morning...What was really, really fun about this, is that they had a jukebox filled with nothing but disco, and Kurt Cobain himself ( I know, hard to picture), danced his ass off....



Ok, so, you see there is at least a little story developing here, but I have to pick noodles up from the floor...DO you want me to continue, or should I someday write a book?

source facebook

hi mods I think i fixed it!