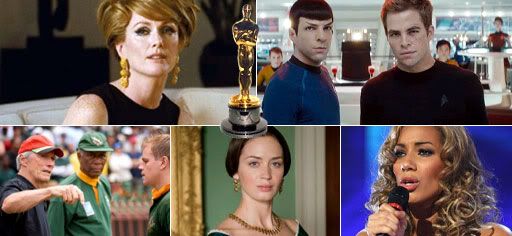 Alright, the 2010 Oscar nominations are in and obviously "Avatar" and "The Hurt Locker" are going to go toe to toe at the ceremony with 9 nods a piece, and it's made juicier by the fact that the two directors, James Cameron and Kathryn Bigelow were once married. Be sure to expect a lot of Battle of the Sexes/Exes/Lovers crap from the lesser media (TV, bloggers who will engage in such nonsense, etc.).

There weren't myriad surprises this year, a lot of it was set in stone a long time ago, but it wouldn't be the Oscars if there weren't some curveballs thrown our way.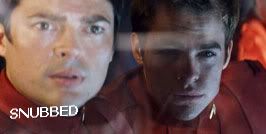 What was a pretty strong sign that the Oscars weren't going too populist (then again, let's see if "Avatar" cleans up or not),

a film like JJ Abrams' "Star Trek" which did score a PGA nomination (Producers Guild award which is the Best Picture equivalent), but failed to get one for Best film

(though fellow nominee, and sci-fi actioner "District 9" did).

Instead, "The Blind Side" scored a dramatic, unexpected Best Pic nod

. Arguably, it's just as populist (over $230 million in ticket sales and counting), but there's something about a drama -- even a sentimental hallmark one -- over a fun piece of popcorn cinema that we're ok with (and honestly we were worried after the PGAs that it was going to be the Popcorn Oscars).


Another last minute Best Picture nod — no one was truly sure if it would make the final pack — was the Coen Brothers' "A Serious Man." So the snubs for Best Picture were definitely Clint Eastwood's tepid Mandela/Rugby drama, "Invictus" (good, it didn't deserve it) and the aforementioned Gene Rodenberry reboot. But "Invictus" did earn itself two acting awards, Morgan Freeman and Matt Damon for Best Actor and Best Supporting, so it wasn't all a wash for Eastwood's picture.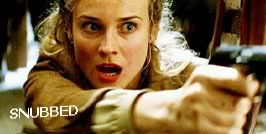 Acting wise, the biggest snub might be seen as Diane Kruger missing out on a Best Supporting nod for her turn in "Inglourious Basterds."
Then again her SAG nomination came as a surprise to most too, so maybe it wasn't such a left field move (and she didn't get a Golden Globe nomination either).
Instead, Maggie Gyllenhaal grabbed her spot for her turn in "Crazy Heart." Another major shocker was the absence of Julianne Moore for her excellent performance in "A Single Man."
She had received a Globe nomination and has been nominated for Oscar four times before and never won, but she did not receive her fifth nomination and was totally shut out.
Initially we began to think Penelope Cruz grabbing a Supporting nomination was a surprise, but she had earned a SAG nomination. It's just that her campaign has been rather quiet because she really has no shot at winning (and truthfully we would have preferred Marion Cotillard from "Nine" over Cruz, but she was the second best thing about that rather mediocre musical).

Musically, every indie-rock publication will cry foul that Karen O & The Kids were snubbed in the Best Original Song category, but a) these complaints crop up every time a popular indie artist doesn't get what they feel is just due, and b) we're not surprised to see it ended up empty handed.
The real snub of the music categories was Marvin Hamlisch's wacky, goofball score for "The Informant!" which was nominated for a Golden Globe and was expected to earn a Best Score nod by most folks in the musical composition field.
However, in a nice trade-off for once, Alexandre Desplat's wonderful "Fantastic Mr. Fox" score — which made our top 3 in our Best Score of 2009 picks — took an unexpected nom. Another big snub, but music to our ears: Leona Lewis' "I See You" from "Avatar" was not nominated for Best Original Song. Thank Christ for small miracles.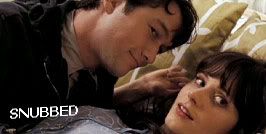 In the screenplay category there was one major snub. It was pretty much a given that the screenplay for "(500) Days Of Summer" would earn itself a nomination, but instead Oren Moverman's "The Messenger" took the nod which was a very pleasant turn of events for that undersung film.
Another screenplay surprise was Armando Iannucci's political satire, "In the Loop." It did not score an original WGA nomination, but did grab an Oscar nod (but it didn't achieve a WGA nom because as you'll remember it was ineligible; as many important script and writers were including Tarantino/'Basterds') . You'll recall that James Cameron actually earned a WGA nod for "Avatar," but thankfully, his facile "Thundercats" world was kept outside here. A
nother writing snub? The Coen Brothers did achieve a WGA nod for "A Serious Man," but failed to receive a nod here ("The Messenger" and "In The Loop" bumping them out of the slot). Likewise, Jon Lucas & Scott Moore's screenplay for "The Hangover" lucked out with an WGA nod, but came up empty for the Oscars.Finally, as we expected, Peter Jackson's "The Lovely Bones" was all but overlooked only scoring one acting nomination for Stanley Tucci's creepy turn as the pervy pedophile
(Jonathan, you owe me like $10,000 dollars). Some might also see Saoirse Ronan, not scoring a nom a snub, but frankly we weren't surprised and the filmmakers should be happy with whatever they got for that truly fumbled film.
We would say the (mostly) overall exclusion of Jane Campion's "Bright Star" (one nomination for Costume and that's it) is a huge snub, but we'd be preaching to a very small choir.
That film, while very Oscar worthy in multiple categories, unfortunately didn't stand a chance this year. It's very unfortunate as Abbie Cornish should have received a Best Actress nom. Oh well, it will happen for her in the future, one day...
source


FUCK Diane Kruger. What about my bb Melanie?!