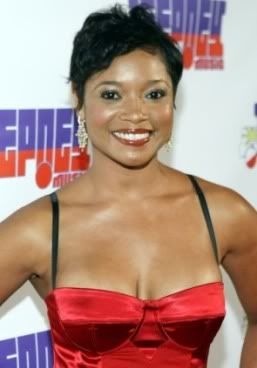 'Castle' star
Tamala Jones
covers the Oct/Nov issue of
Heart & Soul
magazine.
In addition to talking about past relationships with rappers Nate Dogg and Big Gipp of Goodie Mobb, how she nearly died from a brain aneurysm, and discussing how her home went up in flames; Jones revealed to the glossy that she wants to have her breast implants removed.
"I was coming out of a relationship, and I felt that I needed something new," the actress told writer Pamela K. Johnson about her initial decision to have her breast augmented.
The 34-year-old actress, who has also starred in films like 'Daddy Day Camp,' 'The Wood' and 'Booty Call,' admitted that she regrets getting the implants.
"That was a period where I didn't quite fully love who I was. Now I appreciate the old Tamala a lot more, and [at some point] I'm going to have the breast implants removed," she revealed.
Back in early 2006, Jones spoke to this columnist for a cover story for the men's magazine Smooth about then being happy about having her breasts enhanced.
"Oh my God, I was going to lie at first and not say anything and act like, s-t, I've grown. But I was like, you know what, I was just on the red carpet with my girlfriend Jaime Pressly and I was not plump like this. I might as well tell the truth. I'm very happy with them and they don't look fake to me and don't feel fake to me. I kind of did my homework and I looked for a specialist. I didn't go to just any ole body to get them done. I went to someone who works on breast cancer patients and he basically creates a breast and it looks and feels real. I can't wait to get a movie part where I can show them to you guys. In the right part in the right movie I am willing to show those babies so you guys can see," the actress said then.

Source:
http://www.bvbuzz.com/2009/10/15/tamala-jones-regrets-breast-implants?icid=main|main|dl2|link6|http%3A%2F%2Fwww.bvbuzz.com%2F2009%2F10%2F15%2Ftamala-jones-regrets-breast-implants
#
Good lord, that poor woman! She's been through the ringer! She's gorgeous though and her breasts do NOT look at all fake. Good job on her part. Too bad she regrets them.