Singer, model, and television personality Tila Tequila recently wrote on her official Tila Twitter account what seems like frightening dark messages and suicide tweets. These messages are entirely different from her usual mood, which is outgoing, positive, and loud. However, she is not staying quiet through this ordeal and has been responding with her fans over the social network stream. It leads fans, the media crowd and those just curious about Tila's plans for the future. This comes not long after her apparent choking by San Diego Chargers linebacker Shawne Merriman in early September, as according to CNN's article NFL's Merriman arrested, accused of choking Tila Tequila.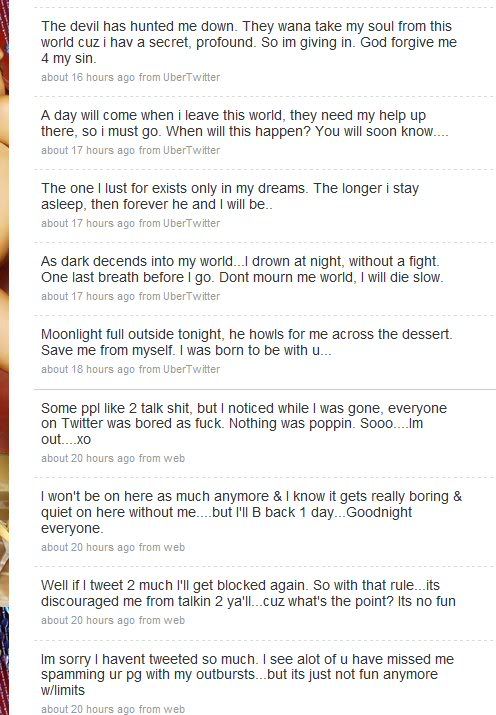 Many fans replied back and she responded to some, and even retweeted some of the messages. Is this another attention ploy from Tila? A couple months ago, Tila had been playing with her fans with her official Tila Ustream channel, giving them a skin tease. This is nothing unusual for the attention seeking girl, and nothing new as celebrities are turning to live streaming and twittering. Example: 50 Cent, the music artist - though his live streams do not show any skin.

The examiner asks in their article Tila Tequila frightens fans with tweets on suicide: 'It woulda been tonite I ended my life':



What do you think? Could Tila's sudden talk of suicide have anything to do with her issue that she ran into with boyfriend, Shawne Merriman?



Regardless, it is stirring up a lot of responses in the Twitter community (Just look up Tila Tequila in the Twitter search). Here are just a few:






So, is this really a suicide watch over a breakup or because of racism, religious fanatic talk, stress from her career, or just bluffing? Regardless, this should be enough to put Tila on suicide watch. Hopefully something is figured out as Tila has been a top trend in Twitter off and on since June 2009 and ReadWriteWeb confirms her as quite the active user in their article Twitter's Most Active Users: Bots, Dogs, and Tila Tequila.

What do you think?

----
post written by Nile Flores of Blondish.net. Follow Nile Flores on Twitter. Cross Posted from Fan History's Blog.