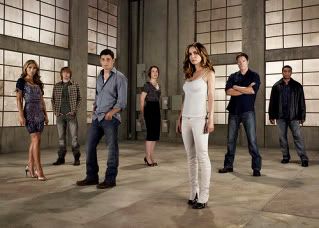 I remember barely bothering to tune into Joss Whedon's "Buffy The Vampire Slayer" during its first season on The WB. By the third episode of its second season it became my favorite show.

Whedon's "Dollhouse" isn't my favorite show, but tonight's installment makes me judge it (for the moment) the season's most improved.

Titled "Vow," the second season premiere of "Dollhouse" is funny, suspenseful, sexy and willing to kick around more than a few Very Big Ideas. Combined with the series' terrific "lost" episode, "Vow" roughly triples my investment in this series' fate.

Hints of what awaits:

* Three months have elapsed between 1.12 and 2.1. Not as much time as between 1.12 and "Epitaph One." But still.

* This season's Big Bad may or may not be one Sen. David Perrin (Alexis Denisof, who played Wesley Wyndham-Pryce on "Buffy the Vampire Slayer" and "Angel"). Perrin also may or may not be the season's Big Good. 2.1 fails to specify Sen. Perrin's party affiliation. We don't see much of him this week, which tells me he'll be around for a while.

* Claire Saunders' existential crisis (turns out she's FAKE!) means a BIG Amy Acker episode tonight before she wanders off to her role on ABC's midseason ensemble drama "Happy Town." (My understanding is Acker will recur twice more on "Dollhouse" this season even as she stars on the other series.)

* 2.1's teaser and first act likely contain the series' funniest 12 minutes to date.

* Sierra is a fleeting highlight, looking for a few moments like she just wandered off the "Mad Men" set.

* There's a lot more to Adelle and Paul's first-season-ending "arrangement" than a lot of viewers may suspect.

* Tahmoh Penikett's "Battlestar Galactica" co-star Jamie Bamber (who's only half-American) uses his Brit accent. The two former CAGs share a big scene near episode's end.

* "Epitaph One" vet Felicia Day does not turn up in 2.1, but Whedon says he hopes to bring her back later in the season. Day shot a sequence set in 2019 (or thereabout) that was to open season two, but it was scrapped; Whedon felt the footage may have overcomplicated an already complex episode.