NFL's Shawne Merriman Accused of Choking Tila "Tequila"
Tila "Tequila" Nguyen allegedly made a citizen's arrest on Chargers linebacker Shawne Merriman
Updated 6:04 PM PDT, Sun, Sep 6, 2009
San Diego Chargers star outside linebacker Shawne Merriman was arrested Sunday and accused of choking and restraining his girlfriend, reality TV star Tila Tequila, as she tried to leave his suburban home.
Sheriff's deputies got the call at 3:45 a.m. on Sunday from a woman who claimed to have been choked and thrown to the ground by the player at his home on Sagecrest Drive in Poway.
"Nguyen told deputies she had been choked and physically restrained by Merriman when she attempted to leave his residence," San Diego County Sheriff's spokesperson Jan Caldwell said.
Tequila, 27, signed a citizen's arrest warrant, charging Merriman with battery and false imprisonment, San Diego County Sheriff's Lt. Gary Steadman said.
Merriman, 25, was taken into custody and booked into the central jail at about 8:30 a.m. He was released shortly after 11 a.m. Caldwell said she didn't know if he posted bail or was released on his own recognizance.
The linebacker's lawyer talked briefly with reporters outside the San Diego County Jail downtown Sunday. He denied the allegations and claimed that Merriman and Nguyen were at a party at his Poway home with at least 14 other people.
"During the evening Ms. Tequila was extremely intoxicated, inebriated and Mr. Merriman did everything he could to assist her in arranging for transportation to leave his home. At no time did Mr. Merriman assault her; at no time did Mr. Merriman keep her against her will. His intentions were nothing but good," Merriman's attorney Todd Macaluso said.
Tequila requested an ambulance and was transported to Pomerado Hospital. She has since been released.
Caldwell said Sunday that deputies confirmed that Tequila had been drinking.
Tequila, whose real name is Tila Nguyen, is best known for "A Shot at Love with Tila Tequila," which ran for two seasons on MTV. The bisexual dating show featured men and women vying for Tequila's affections. She has also modeled for Playboy and other men's magazines.
Scott E. Leemon, an attorney for Tequila, said in a statement that neither she nor her representatives would comment publicly on the incident.
Stingaree management officials confirmed Sunday that Merriman and Tequila were a birthday celebration with friends in the Penthouse of the nightclub until 2 a.m. when the nightclub closed.
"They seemed in good spirits throughout the evening and were enjoying themselves. There was no outward indication of any problem between the two of them," Stingaree spokesperson Lauren Clifford said.
The Chargers, picked by some as Super Bowl favorites, open the regular season a week from Monday night at Oakland. Players had been off since after Friday night's exhibition finale against San Francisco. They are due back at practice on Monday.
"It's disappointing to hear about the issue involving Shawne Merriman. We'll continue to monitor the situation and let the legal process run its course," General Manager of the San Diego Chargers A.J. Smith said in a statement released on Sunday afternoon.
OPINION: Lights Out for Shawne Merriman?
The Chargers have faced a string of negative publicity after several arrests.
Chargers defensive tackle Jamal Williams was arrested on suspicion of drunken driving on Feb. 1., but the San Diego City Attorney's office decided to charge him with misdemeanor reckless driving after his blood-alcohol level showed 0.07 percent, under the state limit of 0.08.
Chargers receiver Vincent Jackson was arrested for investigation of DUI on Jan. 6, five days before San Diego's playoff loss at Pittsburgh.
In 2006, there were seven run-ins with the law by Chargers players, including linebacker Steve Foley's shooting by an off-duty Coronado police officer who suspected him of drunken driving, and two other players who were arrested for investigation of DUI.
Besides the arrests, linebacker Shawne Merriman was suspended four games for testing positive for steroids in 2006, and linebacker Stephen Cooper was suspended by the NFL for the first four games of the 2008 season after testing positive for a banned stimulant.
Merriman was the 12th overall pick out of the University of Maryland in the 2005 draft, and had 39 1/2 sacks in his first three seasons. The three-time Pro Bowl selection was getting back into shape after missing nearly all of last season following knee surgery.
It's now up to the District Attorney's office whether they will uphold the charges. If they do uphold the charges, Merriman is expected to be arraigned next week.
"He's done absolutely nothing wrong; he looks forward to the football season. He's ready to go and this is merely an incident that was unfortunate that should never had occurred and was a result, directly, of Ms. Tequila's conduct and the way she conducted herself in Mr. Merriman's home," Macaluso said. "We are very confident this matter will be resolved without any charges being filed whatsoever."
This guy is a liar. How do you know he's lying?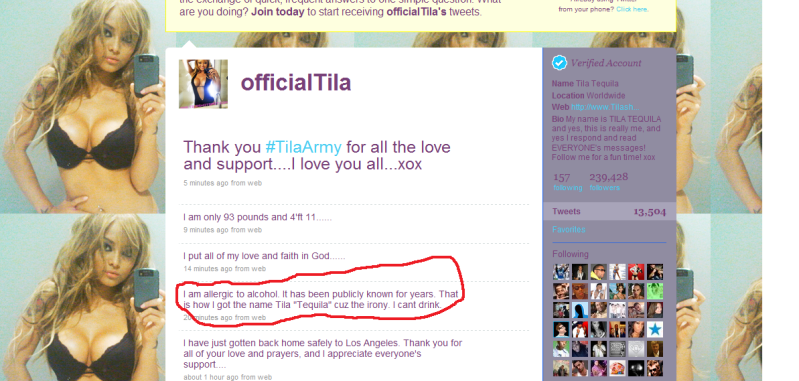 Sources: 1, 2