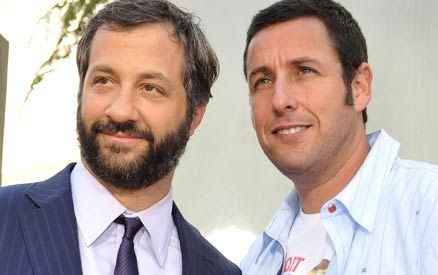 Twenty years before they'd collaborate on'Funny People,' director Judd Apatow and star Adam Sandler were just a couple of punks making prank calls while sharing lowly Los Angeles digs. A couple of very funny punks.
Actual footage of those prank calls is on full display in the opening minutes of 'Funny People,' as Sandler imitates a collage of characters, most notably an elderly woman who can't handle her roast beef, and Apatow roots him on or yells in the background. (You can watch a clip of the action here.) That's not all that's borrowed from real life; the scene where Sandler demands Seth Rogen show him his manhood? Actually happened.)
Apatow and Sandler aren't the only onetime roommates to both hit it big in Hollywood. We found 13 other pre-fame pairings that might surprise you.
– By Kevin Polowy
Al Gore and Tommy Lee Jones


The former veep-turned-movie star ('Inconvenient Truth' = Best. Slideshow-Driven Movie. Ever.) and Protector of Earth roomed with the gruff Oscar winner as upperclassmen at Harvard. The pair also ran in the same circle as dormmate John Lithgow, whose roommate wasn't nearly as famous.



Wes Anderson and Owen Wilson


We'd like to take a moment to thank the University of Texas Student Housing Department. If it weren't for the good folks there in the early '90s, there would be no 'Bottle Rocket' (which the UT roomies penned together) ... which also means no 'Rushmore,' 'Royal Tenenbaums' or 'Life Aquatic.' Not a world we'd like to live in.



Jude Law and Ewan McGregor


Now here's an argument over whose turn it is to do the dishes we'd pay to watch. Or maybe most arguments surrounded McGregor's stubborn refusal to wear pants. Though the pair -- who lived together early in their careers -- have yet to work together, they reportedly took a motorcycle tour through South America shortly after Law split with Sienna Miller.



Kiefer Sutherland and Robert Downey Jr.


These two Comeback Kids make one of the lesser-known famous roommate pairings, but according to a recent revelation by Sutherland on 'The Jimmy Kimmel Show,' the pair lived together for three years when he first moved to Hollywood. Maybe Downey Jr. just doesn't remember. It was the '80s.



Marilyn Monroe and Shelley Winters


Monroe was nicknamed "The Blonde Bombshell" ... and so was her late-1940s Hollywood roommate, Winters. 'Single White Female' anyone? The pair shared a bedroom as acting students at the sorority-like Hollywood Studio Club, which was no doubt littered with male actors in drag attempting to sneak a peek.



Dustin Hoffman and Gene Hackman


Much was made over the 2003 legal thriller 'Runaway Jury,' which reunited the acting legends 40 years after sharing a tiny Manhattan

closet

apartment. Hackman has described Hoffman as "the worst." The pad was so small, the kitchen and bathroom were one and the same, and while Hackman would make breakfast on the stove, Hoffman would often also "make" his own delicacy close by.



Dustin Hoffman and Robert Duvall


So sick of Hoffman and his morning-time delicacy-making, Hackman at one point "lent" Hoffman to their other good pal, Duvall. Days turned into weeks, and weeks turned into years. Both have admitted the main reason they went to acting classes was to pick up girls. They stumbled into becoming famous actors instead. (At one point, Hoffman, Hackman AND Duvall lived together as well.)



Holly Hunter and Frances McDormand


There had to be plenty of deliciously dark humor emanating from the Bronx apartment these acclaimed actresses shared in the early '80s. But not nearly as much as when they moved to Los Angeles in 1984 and shared a house with the Coen brothers and Sam Raimi. Where's footage of those prank calls?



John Cusack and Jeremy Piven


The Evanston, Ill. natives lived together while studying acting in Chicago and have starred in 10 films together (including that magical reunion project, 'Runaway Jury'). Strangely enough, they waited until long after their shared residency to start hating each other, engaging in a war of words with Piven claiming Cusack could not handle his sudden success on 'Entourage,' and Cusack firing back, "I am very happy for Jeremy." Burn!



Christopher Reeve and Robin Williams


Superman and Mrs. Doubtfire sharing living quarters? Hard to imagine. But the two roommates bonded while studying together at New York's Juilliard School, and remained "closer than brothers" (today they'd say "BFFs") until Reeve's death in 2004. Williams even came dressed in scrubs and a mask to entertain Reeve after his horse-riding accident, footed some of his medical bills and vowed to watch over his son after Dana Reeve died two years later.



Jonah Hill and Justin Long


After meeting on the TV show 'Campus Ladies' (what, you missed it?!), Hill and Long engaged in a real-life Hollywood bromance, where nightly conversations no doubt ranged from philosophical musings on pubic hair to emotional outbursts about malodorous scents. They parted amicably after both hit it big -- clearly an indication neither could stand seeing the other succeed.



Michael Douglas and Danny DeVito


That screen chemistry we saw in classics like 'Romancing the Stone' and 'War of the Roses' didn't come overnight, you know. It came over several hundred nights when the pair lived together in Upper Manhattan in the '60s. Douglas has said DeVito was already chasing Rhea Perlman then, while he was more of a "sock on the door" bachelor.



Ving Rhames and Stanley Tucci


What'd they do to keep the ladies from beating the door down of that dorm room? Oh, we kid because we love. These tremendously talented character actors bunked together at SUNY Purchase, where Tucci convinced his pal to shorten his name from Irving Rameses Rhames. Good call. Once established, the actors reunited for 1995's 'Kiss of Death.'



Moral of the story:

Find the most talented person you know, and live with them. You never know where it might take you.

Source: Moviefone