Filmmakers will use immortality, wax (& a huge paycheck) to bring Angelina Jolie back for Wanted 2
Timur Bekmambetov Explains How Angelina Jolie Could Be In Wanted 2
So Wanted ended with a pretty final resolution for Angelina Jolie's character. But she's supposedly coming back for the sequel. We asked director Timur Bekmambetov how she could return, and his answer was as simple as curving a bullet.
Spoilers...
So yes, Fox shot herself (and a ton of other people) in the head at the end of Wanted. But that doesn't mean she can't return, says Bekmambetov:
We are working hard to wake her up. She was deadly wounded. The bullet's still there (in her head), and now it's a process of how to wake her up. There has to be a reason for that. We survive if we have a reason to live. She decided [to shoot herself], it's her decision. And now we are trying to figure out what's the motivation for her to resurrect. It's happening. I think we will make it happen
.
So they're not undoing the gunshot wound to the head, or showing her in flashbacks, or bringing her forward in time or anything. Instead, they're sticking to the gonzo anything-can-happen, power-of-the-human-mind spirit of the original, by having her recover from a deadly bullet wound through sheer will power. Which, really, is as it should be.
Timur Bekmambetov was doing interviews for his stitchpunk movie 9, but we'll have plenty more on that later.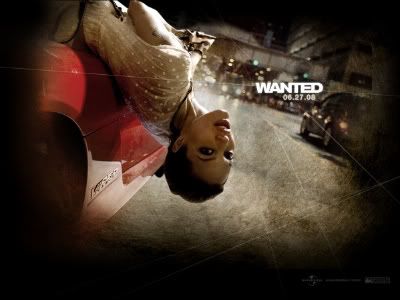 SDCC: Angelina Jolie to return in Wanted 2?
During the Comic-Con panel for the upcoming "stitchpunk" computer-animated film 9, producer Timur Bekmambetov talked briefly about the follow-up to his last film, the violent action film Wanted. "Yes, I think it's coming," Bekmambetov said.
"We're working hard to be ready to shoot in a few months."
The original Wanted was released in 2008 and grossed more than $134 million at the domestic box office. When asked whether the film would reunite original stars James McAvoy and Angelina Jolie, Bekmambetov deftly revealed, "
James McAvoy will be in the movie, and he will try to wake up our Fox.
"
Jolie's character died at the end of the first film, but when asked where Fox currently resides, Bekmembetov said evasively,
"She's in a bath with wax,
" referring to the healing baths which the characters took in the first film to repair themselves after so much gun-toting mayhem.
Sources:
1
2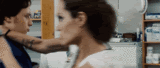 It's sad that studios still aren't convinced that James McAvoy can open a movie. First he lost a role to Tobey Maguire and now this. FFS Jolie insisted that they change the ending to make her appearance in a sequel less likely.