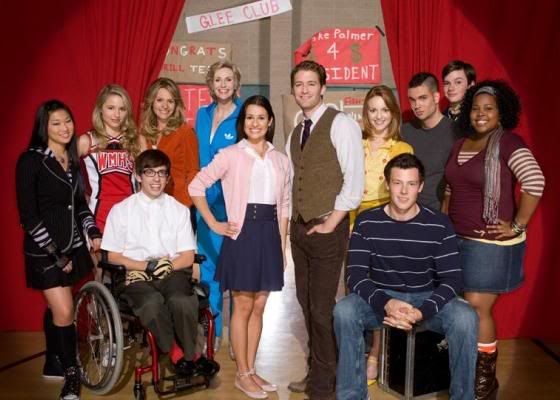 Korbi Ghosh from Zap2It.com saw the first two episodes (technically the 2nd and 3rd episodes) of "Glee" and answered some fan questions.

I saw that you watched episodes 2 and 3 of "Glee" on a facebook post. You're soooooo lucky!!!!!!! I am a huuuuuuuuuuuge fan, and if you would not mind, could you give me detailed plots for both episodes? –Kevin
In ep 2 (titled "Showmance"), Mr. Schuester (Matthew Morrison) is told he must recruit more Glee Club members if he wants the group to survive, so he sets the kids up to perform the 1978 disco hit "Le Freak" at a school assembly. Apparently, it was super popular back in Schuester's day. But Finn (Cory Monteith) and Rachel (Lea Michele), fearing the entire student body will laugh them out of the gym if they sing that "gay song," hatch another plan. In the process, they end up getting closer… In ep 3 (titled "Preggers"), Kurt (Chris Colfer) -- yes, Kurt -- tries out for the football team to impress his dad. Also, Finn's bitchy girlfriend Quinn (Dianna Agron) delivers some troubling news. But she's a big liar. As is Schuester's wife Terri (Jessalyn Gilsig).

Do Rachel and Finn ever get together? –Jasneet
Well, Quinn is still Finn's girlfriend in episode 3... and yet I'm not quite sure how to answer your question. Depends what you mean by "get together."

Is there any growth in Emma and Will's friendship? –Elise
Indeed. Emma (Jayma Mays) and Will (aka Mr. Schuester) share more than a couple intimate scenes in the next two episodes. But they're both good people. And Mr. Schuester is married, so… yeah.

Will Mr. Schuester divorce his wife Terri and hook up with Emma? –Megan
God, I hope so.

Do any Cheerios or football players join Glee? –Jasneet
Mhmmm

Are there more layers and depth to the other members of the glee club (Artie, Tina, Mercedes and Kurt?) –Elise
Episode 3 revolves around a major Kurt storyline and it's pretty awesome. Hilarious and heartwarming. And, I must say, I think Chris Colfer is going to be a breakout star.

What's on the soundtrack for each of the next two episodes? I know "Don't stop Believing" and "Rehab" were absolutely incredible, and I haven't stopped listening. Thanks so much!!! –Aaron
On tap: Hilarious interpretations of "Gold Digger" (Kanye) and "Push It" (Salt N Pepa), a heartbreaking rendition of "Take a Bow" (Rihanna), an unforgettable version of Beyonce's "Single Ladies" (unforgettable because it plays a pivotal role in the storyline), plus "I Say A Little Prayer" (Burt Bacharach), "All By Myself" (Eric Carmen), "Tonight" from "West Side Story" and "The Money Song" from "Cabaret."

I really thought "Glee" was just a summer show and that I had missed it. Strangely glad that's not the case. Any idea when they will air the episodes? –Michael
Set your DVR for September 16th at 9 p.m. ET/PT

Source: Zap2It.com

CANNOT WAIT TO HEAR "TAKE A BOW" AND "SINGLE LADIES" GLEE-STYLE!!"