Angelina Jolie continues a decade of dedication to do-gooding with one of her many visits with our Men & Women in Uniform
There was no publicity about Angelina Jolie visiting wounded soldiers at Reed. One wife of a wounded soldier has been quietly writing a blog since her husband was first injured overseas. She mentioned the day after it happened in her blog that Jolie had come to visit the soldiers
and talked about how she spent 20 minutes with her husband and spent a lot of time with others. She didn't come with some entourage. It was under the radar. After Jolie left someone gave gift bags from her to each of the soldiers on the ward including a $1000 gift certificate to Best Buy.
It's pretty hard to keep a visit from Jolie secret but it sure did take a while for the media to learn about it.
Some time after the visit 2 people who took pictures (among many people who reportedly took pictures) posted them to the USO site at different times.
The first pics posted were of Jolie putting on a USO T Shirt over her top and were posted by someone who works with the USO. Some time later the other 2 pics showed up on the USO site.
It was a lovely thing to do and greatly appreciated.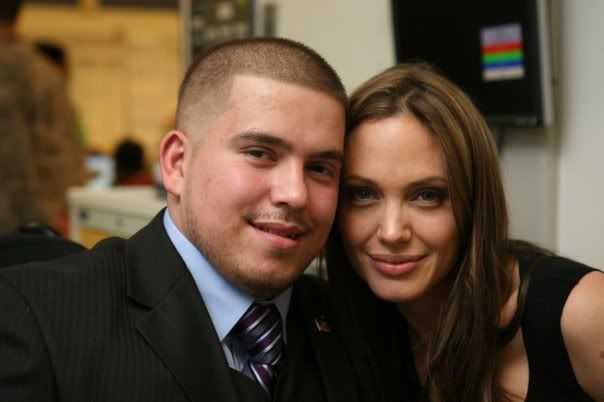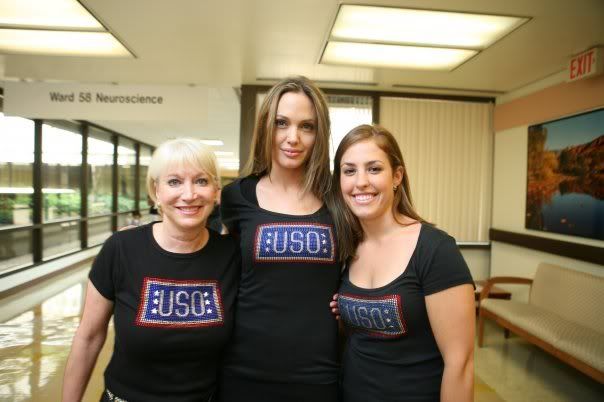 Source
Angelina Jolie just loves a man in uniform
Visiting US troops in Kosovo 7 years ago