I didn't want to flood but just share my experiences from going...especially cuz i had a really good seat right in between all the celebs. My pics aren't the greatest but I just wanted to share -- all the ontd MJ fans were in my heart as I was there



I got there quite early. There were tons and tons of people but everybody was incredibly calm and respectful. There was no madness and most of the cops were just chilling.



photo from my seat

Got into the Staples Center, not that many celebs had come in. Chris Brown was there bright and early. Like the douche he is, he had his sunglasses on. Nobody really paid him that much attention.



lionel richie

More people filled in...Spike Lee, Lionel Richie, Nicole Richie, Joel Madden, Jennifer Hudson were all sitting in the vicinity.



Stevie wonder on the piano

Wade Robson who was sitting DIRECTLY behind me (breathing on ur neck close) was bawling his eyes out during this one. He had his head down in his hands for most of this song ...poor bb :(


John Mayer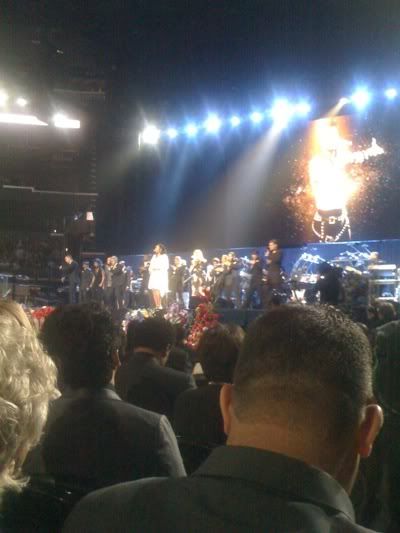 Jennifer Hudson and MJ's dancers who were ushers on the stage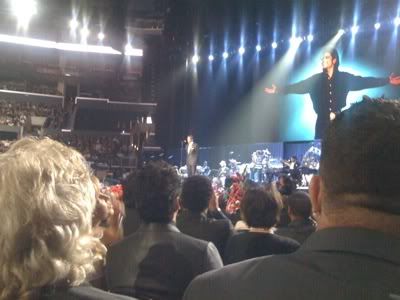 Jermaine jackson singin Michael's fav song


Usher....he got very emotional and spent a good time hugging each and every member of the family afterwards
'We Are the World' performed by the singers from the This Is It tour
Heal the World
Jackson family


Other tidbits (prolly saw on tv)

- Everybody stood up after almost every performance/speech
- Berry Gordy, Al Sharpton and Magic Johnson brought the house down with their stories
- When Paris Jackson spoke it was absolutely silent and all I could hear around me was sobs and tears
- the fans were very respecful most of the time (some screams here and there) but everybody was incredibly silent and patient....Wade Robson said "this is the most silent ive ever heard the staples center
- most of the people didn't know that the body was coming in and when they brought it there was an eerie silence/disbelief
- the coffin was the shiniest gold coffin I had seen and the flowers everywhere were gorgeous
- MJs kids were chewing gum hehe but poor bbs must have been overwhelmed..
- The show went very smoothly actually (besides that one break in the beginning) they pull together a great memorial very quickly

will add more as i think of them


SOURCE - Me and my crappy iPhone camera :(
more pictures on my flickr