Uhhh...Zooey Deschanel as Sid and JGL as Nancy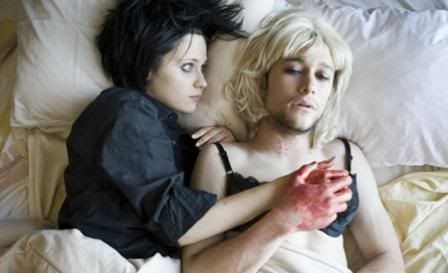 Remember when you would get together with some friends back in the day and recreate scenes from A Nightmare on Elm Street with ketchup on t-shirts and your mom's too-sharp knife and an over-sized $8 Freddy mask? Good times.

Now there's Cinemash, a new web series devoted to similar (though slightly higher-budget) tributes to famous scenes from movies.

Lots of famous people are involved, including She & Him's Zooey Deschanel and Joseph Gordon-Levitt doing Sid and Nancy mashed up with their upcoming rom-com 500 Days of Summer, Common and Christopher Mintz-Plasse doing Training Day, and stars of "Reno 911!" and "Human Giant" taking on Point Break (which also features music from Shudder to Think frontman Craig Wedren).

Go ahead and watch Zooey do her best to imitate Sid's fuck-you accent. (Yes, Joseph Gordon-Levitt plays Nancy.) Cate Blanchett, your move.

The entire schedule is



JULY 7
Zooey Deschanel and Joseph Gordon-Levitt Cinemash "Sid and Nancy"...Cinemashing "500 Days of Summer"
Writer and Director: Marc Webb

The co-stars of this summer's big romantic comedy are together again, paying homage to punk icons and biopic subjects Sid Vicious and Nancy Spungen.



JULY 14
Cheech & Chong Cinemash "Tron"
Writer and Director: Kashy Khaledi

The high-flying comedy duo get into a heated debate about the price of cannabis and decide to "Tron for it," launching themselves into the virtual world of the science fiction classic.



JULY 21
Stars of "Reno 911!" and "Human Giant" Cinemash "Point Break"
Director: Kashy Khaledi
Writers: Aziz Ansari, Rob Huebel, Thomas Lennon, Ben Garant, Kashy Khaledi
Music: Matt Novack and Craig Wedren

Thomas Lennon and Ben Garant of the notorious fake police squad, Reno 911!, join forces with Aziz Ansari and Rob Huebel of Human Giant, the sketch comedy troupe, to recreate a pivotal scene from the cult favorite action flick.



JULY 28
Channing Tatum and Charlyne Yi Cinemash "Dirty Dancing"
Directors: Nicholas Jasenovec and Kashy Khaledi
Writers: Charlyne Yi and Nicholas Jasenovec
Music: Lemjay and Ryan Kattner

An appealingly off-beat couple wax romantic and can't stop moving to the music as they mix intimacy and hilarity in a scene from the megahit movie.



AUGUST 4
Milo Ventimiglia Cinemashes "Oldboy"
Writer and Director: Kashy Khaledi

One of TV's true Heroes takes revenge on a group of greedy corporate executives who are strapping on their golden parachutes to escape responsibility for their misdeeds.



AUGUST 11
Will Arnett and Xavier Cinemash "Carrie"
Writer and Director: Kashy Khaledi

Adult Swim's animated character Xavier goes to the prom and Arnett, a frequent 30 Rock guest star, is there, too, to reenact the finale from one of the greatest horror movies of all time.



AUGUST 18
Common and Christopher Mintz-Plasse Cinemash "Training Day"
Director: Mya Stark
Writer: Kashy Khaledi
Music: Kenny "Tick" Salcido and Lemjay

On his first day as a narcotics officer, a rookie (Common) gets played by an evil veteran cop (Mintz-Plasse), whose ideas of right and wrong are all messed up.

Discuss? I'm very confused but I'm not gonna not watch JGL in drag. or GOB in drag.

I can't embed I do apologize but it's here.

(sorry about last time mods...these are all of the sources)article source, schedule source and video source