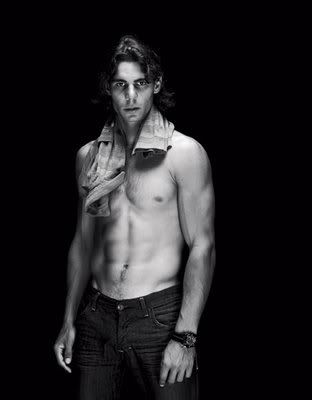 Reigning ATP World Tour Champion Rafael Nadal is targeting his return to tennis at ATP World Tour Masters 1000 Montreal, beginning 10 August. The Spaniard is the defending champion at the Rogers Cup, having defeated Nicolas Kiefer in the final last year. He also triumphed in Montreal in 2005 with victory over Andre Agassi.
The 22 year old was not able to defend his grass-court titles at The Queen's Club or Wimbledon due to knee tendinitis. At the time, the Mallorcan said: "To not play Wimbledon is one of the toughest decisions of my career. I have some time now to recover and will work very hard to return as soon as possible."

Speaking to Matt Dickson of The Daily Mail though, Nadal's spokesman Benito Perez Barbadillo confirmed that the Spaniard is expected back on the practice courts within the next few weeks. He is currently doing pure fitness work, while having treatment on the tendinitis in his knee.

"The plan is still very much that he plays in the Montreal Masters beginning on August 10. He is entered into it and that is what will happen if things go as we think they will," said Perez-Barbadillo.

With his return to the court, Nadal will also look to win back the No. 1 spot in the South African Airways 2009 Rankings. The Spaniard's 46-week reign atop the Rankings came to an end on Monday as Roger Federer reclaimed the No. 1 position after clinching his 15th Grand Slam title at Wimbledon.

---

and also, regarding the other post about Mathieu Montcourt's death, Rafa writes this on his website:

This morning I woke up with one of the worst news anyone can receive. I heard about the death of our friend Mathieu Montcourt. I am still under shock for this. I can't believe it.
I knew Mathieu since we were kids. We competed together at all the events at an international level there is since you are a kid: Les Petit As, Copa Borotta, etc. and of course afterwards once becoming professionals,.
When someone like this disappears, when something like this happens, you really know where we are and the relativeness of winning or losing a tennis match, of not competing at an event or anything else. This is the loss of a guy who was only 24 and that was sports person. He won't be playing with us again.
I would like to send my most deep and sincere condolences to his family, to his friends and to the French fans.

Mathieu, Rest in peace.
Rafa Nadal
Source
1
&
2
UNF. I'm so excited to hear this. It'll definitely prep him for the US Open. I've missed him sfm.