Magician Illusionist, Steve Wyrick, pretty much got himself blackballed by the Magicians' Alliance this weekend.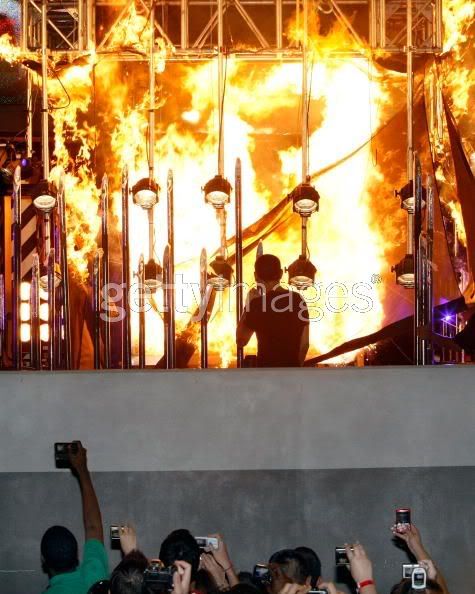 Video from KTNV News won't embed.


Though Steve Wyrick and (Linkin Park singer) Chester Bennington's "Death Drop" on the strip was more of a fizzle than a flame when it suddenly went wrong outside of Planet Hollywood July 4, Bennington's performance with his band Dead By Sunrise in the Steve Wyrick Theatre was the only thing supposed to be on fire--and was.

After the crowd waited for 30 minutes for the trick to go off, Bennington and Wyrick came out and introduced the show. Wyrick was supposed to get into a trunk, be hoisted into the air where Bennington was to set the ropes aflame. Wyrick planned to escape before the ropes burned through.

But a curtain around the set caught on fire instead, with Wyrick still supposedly in the trunk. People on hand put out the fire with fire extinguishers, but the crowd was left wondering what happened to Wyrick and what was the trick all about?

After stopping over at Club Tattoo to see if this examiner could find out what happened, a source with Wyrick after the show said he was fine, the trick went wrong, he did not go to the hospital, and only had to take a few puffs of his inhaler to feel better. Club Tattoo is owned and operated by Sean Dowdell and Bennington of Linkin Park doing promotions for his band, Dead by Sunrise, and Club Tattoo.
Later on, about 300 people gathered in the Wyrick Theatre for an acoustic set of songs off of Dead by Sunrise's forthcoming album, set to drop in September. The band performed in May at Club Tattoo in Tempe, AZ.

"You guys are going to hear something special," Bennington said as he settled on stage. "This set is acoustic, but the album is not. The album rocks. But you guys will hear something that you never will again."

The band was made up of two acoustic guitar players, a bassist and a keyboard player, with Bennington sitting on a stool in the center, in a black T-shirt, pinstriped pants and knee-high Doc Martins. The band trotted out two melancholy songs, "Crawl Back In" and "Walking In Circles." When Bennington introduced the third song, he brought on a few audience chuckles.

"This next song is a love song," he said. "No, it really is. I know my stuff is usually, um, a little dark, but I really wrote a love song this time. It's called "In the Darkness."

After continuing with, "Let Down," Dead by Sunrise wrapped up the set with one more song, "Morning After."

"We don't want to give the whole thing away, so this is the last song for you tonight, but we do plan on playing in Pomona ... and the album drops in September, so thanks for coming out."
Source.