In honour of Canada Day...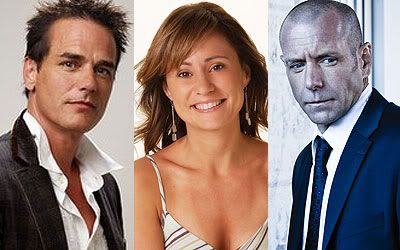 With Canada Day upon us, it's time to celebrate all things from the Great White North.

Because we kind of specialize in TV, why not take a look back at the homegrown TV series that not only became big, classic hits here, but around the world, as well.

From classics such as SCTV and Due South to newbies like Flashpoint, Canada has a rich history of entertaining not only ourselves, but viewers in other countries, too.


Flashpoint, CTV

The latest Canadian series to become a hit here and in the U.S., CTV's peek into the goings-on at Toronto's Strategic Response Unit, an elite group who defuses kidnappings, hostage-takings and home invasions before they spiral out of control. Starring Hugh Dillon and Enrico Colantoni, Flashpoint not only scored millions of viewers here, but became a Friday night timeslot winner for CBS as well.

International distributors Alchemy Television and Tele Munchen Group announced that Flashpoint has been sold to more than 50 countries and regions worldwide, including France, Germany, Italy, Spain, the U.K., Scandinavia, and Latin America, ensuring worldwide success.

Due South, CTV

Before Flashpoint, there was Due South. Starring Paul Gross — who appears in this fall's Eastwick on ABC — as an RCMP officer who is teamed with a Chicago cop (The Shield's David Marciano, and later, Callum Keith Rennie) to solve crimes, Due South not only boasted decent ratings both here (on CTV) and in the U.S. (on CBS), but Crash screenwriter (and fellow Canadian) Paul Haggis was the series creator.

Though it was cancelled after two seasons, Due South lives on, airing in Italy, Estonia, Finland, Germany, Hungary, Portugal, Russia and Sweden.

Corner Gas, CTV

Corner Gas needs no introduction — it is simply the most successful Canadian series that has ever been created here. Debuting way back in 2004, Brent Butt and the rest of the crew made us laugh for six seasons.

The U.S. caught Corner Gas fever two years later, when WGN bought the rights to air the sitcom in American homes, and other countries followed including Australia, Iraq, Finland, Morocco, Egypt, Saudi Arabia, Somalia and Israel — proving that international borders don't mean squat when it comes to laughs.

SCTV, Global/CBC

The show that is responsible for launching the careers of Joe Flaherty, John Candy, Harold Ramis, Dave Thomas, Andrea Martin, Eugene Levy and Rick Moranis launched in 1976, introducing viewers to the odd assortment of people who worked at the fictional Melonville TV station.

Garnering 13 Emmy nominations, SCTV got its start on Global before being cancelled after two seasons. CBC bought the syndication rights for Season 3 of SCTV in Canada — the series was being produced by independent station ITV in Winnipeg — and a U.S. deal was struck with NBC in time for Season 4, where it aired until 1983.

Want proof it was an international success? Entertainment Weekly included it on its list of the 100 greatest shows of all time. And let's not forget Strange Brew.

Degrassi, CBC/CTV

Generations of viewers have grown up watching the kids of Degrassi grow up.

Beginning with The Kids of Degrassi Street, Degrassi Junior High and Degrassi High — which all aired on CBC — viewers were introduced to such pertinent topics as sex, work, and abuse, all examined from the perspectives of Canada's youth. All three were broadcast into the U.S. on HBO, Showtime, Disney Channel and PBS.

CTV's updating of the franchise, Degrassi: The Next Generation, in 2001, reached a new generation of fans, and served as the tentpole series for U.S. network The N; it currently airs in over 150 countries around the world.

The Red Green Show, CHCH/Global/CBC

Like the trademark duct tape that Red (Steve Smith) used to hold everything together, The Red Green Show debuted on Hamilton, Ont., independent channel CHCH in1991 before being picked up by Global and ultimately CBC, where it ended in 2006 after an astounding 15 seasons.

With Red at the helm, viewers were treated to laughs courtesy of the weird folks at the fictional Possum Lodge. PBS came calling in 1995, and Red quickly became a staple of pledge drives, and the 2002 feature film, Duct Tape Forever cemented Red as a worldwide phenomenon.

The Beachcombers, CBC

No list of Canadian TV shows can ignore The Beachcombers, which debuted in 1972 and lasted until 1990, making it the longest-airing Canadian dramatic series ever.

The dramatic comedy followed the life of Canadian log salvager Nick Adonitas (Bruno Gerussi), who putted up and down the B.C. coastline snagging errant logs that had broken away from the logging barges.

Syndicated around the world, The Beachcombers is seen in the U.K., PBS in the U.S., Australia, New Zealand, South Africa, Ireland and Egypt.

Mr. Dressup, CBC

"Keep your crayons sharp, your sticky tape untangled and always put the tops back on your markers." Mr. Dressup — Ernie Coombs — entertained kids for 32 years with his gentle, empowering, entertaining and sometimes just plain silly show.

Flanked by his loyal puppet buddies Casey and Finnigan, Mr. Dressup may have only aired on CBC — American viewers could watch if they had a TV antenna — but DVD sales have nonetheless introduced him to the world.

Sue Thomas F.B.Eye, CTV

Based on a true story, Sue Thomas: F.B.Eye followed the adventures of Sue Thomas (Deanne Bray) at the FBI in Washington, D.C. Hard-headed and soft-hearted, Sue's talent for reading lips helped crack crimes and bag bad guys, along with her dog pal, Levi.

Debuting in 2002, Sue Thomas still airs in repeats on CTV as a daytime staple; it's broadcast in Japan, the U.K., Norway, Hungary, the Netherlands and Sweden.

The Kids in the Hall, CBC

Reminiscent of Monty Python, the cross-dressing comedy troupe which included Mark McKinney, Bruce McCulloch, Kevin McDonald, Scott Thompson and Dave Foley hosted their comedy series from 1988-94 on CBC and 1989-95 on CBS and HBO in the U.S. Kids can also be seen in Sweden, Argentina and France.

Their 1996 feature film, Brain Candy, was a flop, but it hasn't killed interest in the Kids; the CBC announced that an eight-part mini-series called Death Comes to Town will be broadcast at midseason with plans to air in the U.S. after that.

source
Happy Canada Day, Canadians and Mr Dressup fans everywhere!