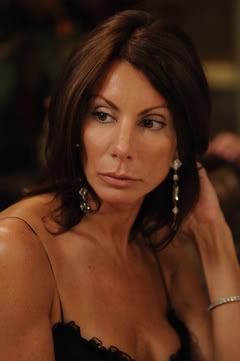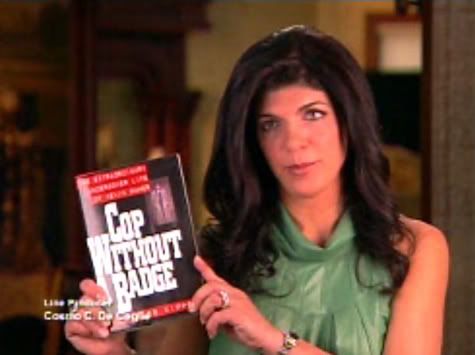 The 'Real Housewives of New Jersey' promo for next week revealed that secrets to
Danielle Staub's
past could be found in an out-of-print (but suddenly very much in demand) book called "Cop Without a Gun" by New Brunswick native
Charles Kipps
. We tracked down a copy deep in the bowels of Rutgers Newark's law library, and sure enough, it includes a mug shot of a woman named
Beverly Merrill
who looks astonishingly like Staub.
The book is about a former con named
Kevin Maher
who becomes an informant for the New York Police Department and the FBI, among other agencies, and who, along the way, leaves his wife and stepson for the morally ambigious charms of stripper
Beverly Merrill
.
Let's meet Bev: "She was brunette. Long, perfectly shaped legs poked out of her leather hot pants just as provocatively as her braless breasts strained against her low-cut blouse." And no, she wasn't wearing any underwear. After she and Maher have "explosive sex," he thinks to himself, "This is a good person. She has no morals, but she's a good person." (More on that later: Yes, she apparently also has a record.)

Unfortunately, Beverly turns out to be a "coke whore." That's okay at first, because Maher likes coke too. But he really doesn't like her sleeping with other guys. So Maher confronts another one of her boyfriends at the Bennigan's in Saddle Brook, sticks a gun in his crotch, and makes him confess. By this time, Beverly Merrill is now dancing at various North Jersey establishments under the name Danielle. Maher, deciding he wants to have a kid but that Beverly isn't "mother material," eventually splits up with her. According to the epilogue, Maher last saw her in 1992 dancing at a club called Shakers in Carlstadt.
SOURCE
IDK, I feel bad for her now because I wouldn't want my daughters to find out about a past like that. I suppose that's what you get for agreeing to do reality TV though. :/
Also, scans of the book pages that mention "Beverly" are
here
.