ATTENTION, I,
ecctv, have made a discovery.

THIS JACKET HAS BEEN WORN THREE TIMES ON THE RED CARPET.

TWICE BY THE SAME MAN.




I AM HORRIFIED.



The jacket was first worn by Jay Manuel on March 28th to the GLAAD Media Awards



As you can see he has a white pin on the left lapel here. The pin is a white knot symbolizing the marriage equality movement. I originally looked up White Ribbon and found that is a symbol of violence against women. (Poor phrasing if you ask me...) As much as I believe Jay would support this cause I felt there might be another meaning, and discovered the White Knot reasoning.


Carson Kressley then wore the jacket on May 3rd to the TV Week Logie awards in Australia



Carson also accents the lapel with a white knot, but wears it on the right side.

THEN just last night, Carson wore it to the 31st Annual AAFA American Image Awards in New York.



The white ribbon has been abandoned entirely. Marriage Equality has been solved apparently.


Obviously there is some conspiracy going on. Perhaps this is a sign to the underground gay mafia. I don't know but I am WORRIED. If anyone is able to come up with information on this jacket, or if it has appeared anywhere else please report in.

NEVER should something so unique appear on the red carpet more than once. If a woman did it, it would be a SCANDAL.


http://www.gettyimages.com

P.S.
If anyone finds Bill Hader or Danny Devito wearing this jacket riding a segway I will give them 20 dollars.


UPDATE
I KNOW NO ONE WILL READ THIS IT IS SO OLD, BUT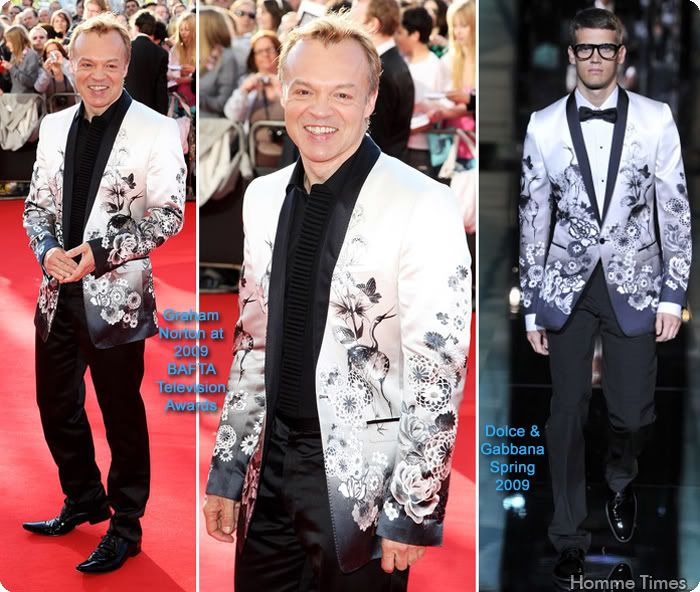 saann HAS FOUND THAT IT WAS ALSO WORN BY GRAHAM NORTON. GASP

MATTCHEW FOUND OUT MICKEY ROURKE WORE IT TOO!