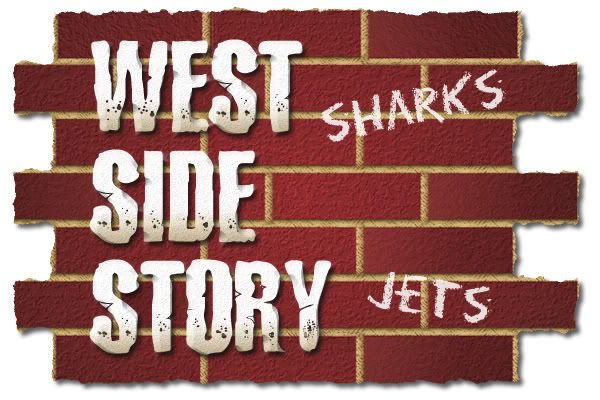 Even when they're flashing switchblades and kicking people in the ribs, the teenage hoodlums who maraud through Arthur Laurents's startlingly sweet new revival of "West Side Story" seem like really nice kids. When a pure-voiced boy soprano (Nicholas Barasch) shows up to perform the musical's banner anthem, the aching "Somewhere," it feels like the manifestation of some inner angel who always lurks beneath the surface of the angry adolescents onstage.



Youth has always been the engine of this epochal musical from 1957, created by one of the most talented teams in showbiz history: Mr. Laurents (book), Leonard Bernstein (score), Stephen Sondheim (lyrics) and Jerome Robbins (director and choreographer). But usually it's the scary, adrenaline-stoked energy of youth that sets the tone and rhythms of the show.

In the production that opened Thursday night at the Palace Theater, which lovingly replicates Mr. Robbins's balletic choreography, what prevails is a tenderhearted awareness of the naked vulnerability of being young and trapped in an urban jungle. Half a century ago middle-class adult theatergoers were shocked and appalled by the brutality of the ethnic gang warfare of "West Side Story." (The first sentence of Brooks Atkinson's review in The New York Times said that "the material is horrifying.") This time audiences — the grown-ups, anyway — are more likely to respond with feelings of parental protectiveness.

Age would seem to have brought a new detachment and gentleness to the famously feisty Mr. Laurents, now 91, who last year triumphantly reconceived (in a less forgiving vein) "Gypsy," another show for which he did the book. He has said that with "West Side Story" he hoped to achieve an authentic grittiness that the theater of the 1950s didn't allow. (He has also had many of the lines and lyrics translated into Spanish, an only partly successful experiment.)

Yet the show seems haloed in a softening mist of compassion, turning its sidewalk Romeo and Juliet — and most of its young characters — into imperiled babes in the woods. And as designed by James Youmans, the mean streets of Manhattan exude a rainbow lyricism, even in inky darkness. David C. Woolard's costumes, as Peter Marks previously observed in The Washington Post, bring to mind the color-coordinated peppiness of Gap ads. Mr. Laurents has exchanged insolence for innocence and, as with most such bargains, there are dividends and losses.

The best news is how newly credible and affecting the show's central love story becomes in this context, with Matt Cavenaugh and Josefina Scaglione as the doomed Tony, an idealistic Polish-American, and the virginal Puerto Rican Maria. As Mr. Sondheim has observed, "There are no characters in 'West Side,' nor can there be." They are by necessity, he said, "one-dimensional characters for a melodrama."

This has been particularly and irritatingly true of Tony and Maria, who, despite being given some of the most gorgeous love songs ever, have usually registered as a pretty pair of tear-stained paper dolls. (Exhibit A: Richard Beymer and Natalie Wood in the wildly popular 1961 film adaptation.) For me revisiting "West Side Story" has always meant tolerating the woodenness of its lovers to get to the good stuff: the score, the kinetic fireworks of the dancing and the brash vibrancy of Maria's best friend, Anita (played here by Karen Olivo, who delivers big-time).

But this "West Side Story" is most enthralling when Tony and Maria cross the ethnic divide to pursue the pipe dream of happiness together. Mr. Cavenaugh (on Broadway in "Urban Cowboy" and "Grey Gardens") and Ms. Scaglione (a 21-year-old newcomer from Argentina) fulfill the starry-eyed obligations of playing young folks struck by a love that arrives like a lightning bolt, propelling them into an enchanted, oblivious world of purple declarations of passion. But they also provide specific and surprising shadings of character that make Tony and Maria at least partly responsible for their fate instead of passive victims.

Mr. Cavenaugh's Tony, a former member of the territorial Jets gang, has a goofy, woolgathering and slightly shy side that helps explain his subsequent ill-advised behavior. His singing is more tender, wondering and introspective than that of most Tonys, with less of the regulation leading-man virility.

And Ms. Scaglione's stunningly natural Maria — freshly arrived from Puerto Rico for an arranged marriage with a member of her brother's gang, the Sharks — has the confidence associated with young women who are beautiful, willful and unacquainted with sorrow. Her voice may be as golden as honey, and she may be as naïve as her boyfriend, but this Maria is not exclusively sweet. You sense that she's the one who's really in charge, and for the first time I could imagine what Tony and Maria's marriage might be like.




Mr. Cavenaugh aside, it's the women who rule here. Ms. Olivo's worldly Anita, the girlfriend of Bernardo (George Akram), Maria's brother, is a stunner, full of citrusy zest and acerbity. The role of Anita (created on stage by Chita Rivera and on film by Rita Moreno) has always been the show's most fully drawn, and the right actress can steal the show whenever she steps onstage. Ms. Olivo obliges, but without overdoing the Latin spitfire clichés. And leading her fellow Shark girls in the rousing "America," that great sardonic hymn to living in the United States, she takes the production to a level of pure physical exhilaration it never quite achieves otherwise.

The execution of that number embodies what Anita says about how the Shark boys dance, "like they want to get rid of something quick." Yet it's only when the male ensemble members are joined by their female counterparts — most notably in the electric "Dance at the Gym" sequence — that they come fully to life.

Joey McKneely, for the most part, has reproduced Mr. Robbins's original work with reverent exactitude. Anyone who knows the film, on which Mr. Robbins served as choreographer and co-director, will recognize the celebrated street ballet of a prologue. Here the gang members, led by Cody Green (as Riff, the head of the Jets) and Mr. Akram, make all the right moves, but you feel no internal combustion going on, no hormone-fueled hostility forever on the verge of eruption.

These guys are like suburban kids slumming in the city for the day, and you expect their parents to show up in station wagons to take them home at the end of the rumble. (Reactions to this approach are sure to vary. "They're cute," I said sullenly at intermission to the woman I was with. "They're cute," she cooed dotingly in response.) It's a sensibility that deprives both the finger-snapping "Cool" and the satiric "Officer Krupke" of their necessary anger. And whenever Ms. Olivo appeared to mingle with members of either gang, I would think, "Oh, good, a grown-up."

The real grown-ups in "West Side Story" (there are four) have always been stick figures — villains or well-intentioned, uncomprehending fools who make the parents in the "Rebel Without a Cause" seem like Eugene O'Neill creations. This production does not make them any more believable. Though Mr. Laurents has tinkered with his original dialogue, a lot of it retains the stiff signboard poetry of socially enlightened mid-20th-century American movies and plays.

Having the Sharks speak to one another in Spanish effectively underscores the sense of cultural estrangement that the show demands. But since music is supposedly a universal language (and since the Jets and Sharks often sing the same melodies), do we have to have key, plot-propelling songs translated (by Lin-Manuel Miranda) into Spanish as well? It's fine for those of us who know the show inside out, but English-speaking newcomers may have difficulty following the second act. On the other hand, the deliciously girly body language in "Siento Hermosa" ("I Feel Pretty"), performed by Maria and a giggly set of friends, requires no bilingual dictionary.

Bernstein's score, gloriously rendered here under the supervision of Patrick Vaccariello, remains a ravishment of modernist dissonance and smashing schmaltz, as irresistible as Puccini. When Mr. Cavenaugh and Ms. Scaglione sing the duets "Tonight" and "One Hand, One Heart," it's hard not to melt into sweet, empathetic adolescent agony. First love may ultimately be only a matter of biologically programmed impulses. But the emotions it inspires, as this Tony and Maria remind us so poignantly, can transform the erotic into truly Edenic innocence.



Source
Pictures (in case you were curious)

----



I saw it on Saturday night, and to be honest, I was really unimpressed. I agree with a lot of what the article has to say. The show was too modernized. Neither the Sharks nor Jets looked menacing and impressive - I felt the greatest secondhand embarassment for Tony. Tony and Maria had no chemistry whatsoever. Maria's acting was alright but not great (her voice was better.) Personally, I thought the additional Spanish was unnecessary, but it wasn't a big deal. I didn't like how "Cool" was placed right after "America" and how "America" was only performed by the ladies. "Gee, Officer Krupke" was the last song in the play, and it just wasn't that funny. The play also ended on an awkward note too - everyone just stood around watching. Other things: 1) Anita's understudy was HORRIBLE and 2) I saw America Ferarra (Ugly Betty) at my performance, hehe. Overall, I recommend saving your money and watching the movie instead. My aunt and I were disappointed, especially since it's her favorite show and paid good money to see it!



ETA: Damn, I didn't realize my opinion could cause a minor calamity! What I'm trying to say is that I enjoyed the movie more than the play. I also wasn't sure who was playing Anita that night - if it really was Karen Olivo, then I apologize for mixing her up. I got confused with what my playbill said. That being said, I guess I expected more from her, considering a lot of people seem to love her here. Personally, I didn't love the revival and expected more from it, but please don't let anything discourage you from going if you really wanna see it. That's all I can say.