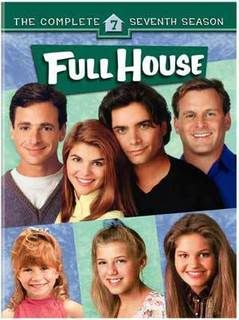 INTERVIEWER:
I just have to ask -- there were lots of rumors about John Stamos trying to put together a "Full House" reunion a couple of weeks back.
Would you be open to playing Aunt Becky again?




Lori: I had heard about that -- but I don't know that it's happening anymore. You hear a lot of talk, you know? I think it would really depend on the material. If I read a script and it was true to the original show and it was appealing, I would love nothing more than to be with my old "Full House" family. If it was right, absolutely.


There's a bunch of her crapping on about her character on 90210, but IDGAF ...
Sorry if this was a buzzkill, but really - I'm just shocked this was even a topic of discussion for the FH peoples. And the Olsens would be the George Michaels of Arrested Development (and yeah, I know I'm putting myself up for slaughter to the fanboysngals who are in shock at the comparison).

SOURCE: http://blogs.nypost.com/popwrap/archives/2009/01/lori_laughlin_q.html


This show taught me real family values, along with Family Matters and Fresh Prince. NO to Growing Pains tyvm.