Things are getting weird for Robert Pattinson.
But considering he's starring as high school vampire Edward Cullen in the movie adaptation of Stephenie Meyer's best-selling young adult novel, Twilight, that's probably to be expected.
Still, just last week the 22-year-old British actor was at an Apple store in New York City when a 7-year-old girl asked to take a photo with him. No big deal, right?
"But then she went really quiet and she was like, 'Can you bite me?' " Pattinson told me with a somewhat nervous laugh yesterday in a Beverly Wilshire Hotel room, where he'd been holed up doing press all weekend. "It wasn't a joke...I looked at her and thought, 'Do you know what you're saying?' There are these kinds of sexual thoughts that come out of people that they don't even know are sexual."
And to think the movie doesn't even hit theaters until Nov. 21.
Pattinson insists he never actually thought he'd be cast as the mysterious and potentially dangerous vampire who falls in love with the new girl in town, Bella Swan (Into the Wild's Kristen Stewart).
"I was embarrassed going into the casting because in the character breakdown, the first line is, 'Edward is the ideal perfect man,' " he said. "I literally put it off for five months and then I went in mainly because I had seen Into the Wild and I wanted to meet Kristen because I thought she was cool. But I felt like an idiot being like, "Hi, I'm here for the ideal man audition." (LOL)
And it only got worse from there. He had to take his shirt off for director Catherine Hardwicke (Thirteen) because Edward's perfection includes a six-pack, something Pattinson didn't have at the time.
But once he landed the role, he decided it was time to get fit. He began a two-month daily regimen that included three hours of kickboxing and at least two hours of running. He not only gave up beer but he also limited his meals to just one a day.
"I was just trying to lose like every ounce of body fat so when I took off my shirt, I would look like an alien," Pattinson said, presumably meaning a hot alien. "I thought that kind of worked for the story. The idea of taking my shirt off and looking like some sort of Adonis? Everyone would just laugh."
But then things went slightly awry. Two weeks before shooting, Hardwicke told him the shirtless scenes were being tossed because he had gone too far. He'd lost 30 pounds since the last time she had seen him. "I just looked so different," he said. "I was so much more muscular than I had ever been in my life, but I looked weird."
Hardwicke eventually relented and did shoot a shirtless scene or two, but Pattinson's stomach ended up on the cutting room floor because by that time, he said, "I was on a full cheeseburger diet."
Pattinson and his costars take off this week for a six-city promotional tour around the U.S. Then it's off to Australia. "I haven't really had time to reflect on it," Pattinson said. "It's pretty nuts. It doesn't seem very real at all. I just go to these different cities and people start screaming."
With Twilight being the first in Meyer's four-part series, a sequel is likely. However, an official decision won't be made until studio execs see box-office numbers. But Pattinson is confident they'll be back for more. "I have ideas already about the second one," he said. "I'm looking forward to doing a saga."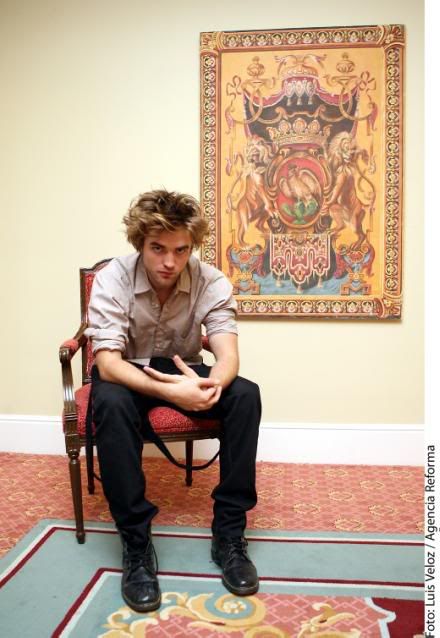 thurday's "Twilight" extravaganza -- otherwise known as a press junket -- I was able to glean a few more tidbits about Robert Pattinson. Cheers!
Asked what he misses most about his pre-fame life, Rob said he already misses getting to play his music live: "I used to love playing live at open mic nights. It'd be cathartic. I mean it was really key for me," he explained. Now that a few of his performances have been captured on YouTube, however, he's a lot less keen to take the stage. In fact, he's pretty sad about it. "I think, 'Wow, I just lost a huge chunk of my life.' "
How did a once aspiring political speech writer get involved with acting? His dad saw some good-looking girls going to drama club and encouraged his son to sign up.
After having been described as an actor with the agility of "a mountain goat," the actor revealed that shooting the baseball scenes didn't go very well: "I'm not athletic. I just thought, 'I don't want to hit a ball with a stick anyway!' "
He's not sure how, after he had refused to write music for "Twilight," director Catherine Hardwicke got ahold of his songs. But he suspects co-star Nikki Reed snuck it off his laptop, where he keeps some of his music. (Hardwicke later told reporters that she was eventually able to convince him to record the songs and it was only after she showed them to him together with footage from the movie that he agreed to let them be used.)
Vampires are supposed to have perfect teeth; apparently producers didn't think Rob's were good enough. He was asked to use Invisaligns, but, you know, chose not to: "I lied to them for about two months. They were like, 'Wow, That's amazing. You can't even see them!' " Also, it took him 20 minutes to get the vampire contacts in. "My eyes are super sensitive. I was always holding things up because it took forever to get them in."
As part of his tortured take on Edward, Rob "never wanted Edward and Bella to touch." That would be too painful for his character, he said. (Luckily, "Twilight" fans, he didn't get his way.)
Come back tomorrow to read my extensive interview with Kristen Stewart, who reveals why she called her "Twilight" dialogue "corny" in the new issue of Entertainment Weekly, whether or not she wants to continue playing Bella in the sequels and why she's passionate about acting.
Source:
http://latimesblogs.latimes.com/entertainmentnewsbuzz/2008/11/twilight-coun-7.html
and
http://www.eonline.com/uberblog/marc_malkin/b67923_robert_pattinson_talks_bare_bellies.html
(sorry dont know how to do the linky thing).


Aw this boy is so adorable, and it's totally ONTD's fault that I'm obsessed.