I was flipping through the tv today and what pops up? Janice and Brian Kehoe on one of those afternoon court tv shows. I couldn't find the whole episode but I found the intro.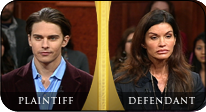 Supermodel Janice Dickinson is being sued by one of her former models, Brian Keyhoe for calling him an alcoholic and causing him to lose work. Brian Keyhoe claims Janice called him an alcoholic to make good TV. Janice says she is a recovering alcoholic and knows the signs. Brian claims she is not off the booze. Janice says, she treats all her models like her children and only wants Brian to get some help for his problem.
In the end Christina ruled in favor of the defendant(Janice).
Sources:
Video
&
Info
fixed the coding, sorry