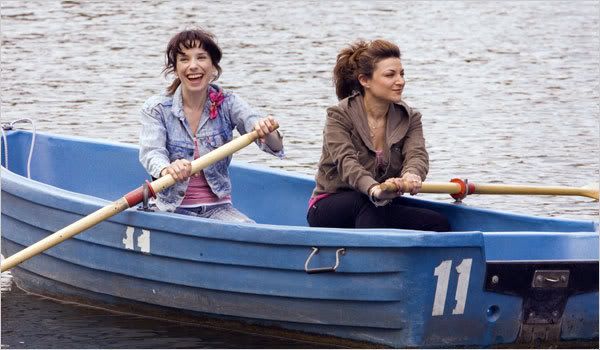 Sally Hawkins, left, with Alexis Zegerman, plays a spirited London schoolteacher in "Happy-Go-Lucky."
The Upside of Seeing the Bright Side
By MANOHLA DARGIS
Published: October 10, 2008
If you know the British filmmaker Mike Leigh's work — early and later titles like "Bleak Moments," "Naked" and "Vera Drake" — you may find yourself watching his most recent movie, "Happy-Go-Lucky," with mounting unease, a tinge of dread. Despite the extraordinary human parade that has passed in front of his lens, laughing and raging, yearning for love and asking for cuddles, Mr. Leigh has never been an artist for whom happy (word or idea) has been an easy fit. Life is sweet, as the title of another of his films puts it with a heart-swelling yes, but it's also an eternal fight against doom and gloom, the soul-crushing no.
The push and pull between yes and no animates all of his work, investing it with narrative tension and a sense of artistic purpose that is, whether overtly articulated or not, also insistently, vigorously left-leaning. The hard-working and often besieged characters who populate his stories live in worlds partly defined, if not wholly circumscribed, by ideology and the state. Nobody mounts a soapbox or whistles "The Internationale" in "Happy-Go-Lucky," but the film is so closely tuned to the pulse of communal life, to the rhythms of how people work, play and struggle together, it captures the larger picture along with the smaller. Like Poppy, the bright focus of this expansive, moving film, Mr. Leigh isn't one to go it alone.
Played by a glorious Sally Hawkins — a gurgling, burbling stream of gasps, giggles and words — Poppy rides into "Happy-Go-Lucky" on a bicycle, with daytime London and the film's opening credits slipping past her. She looks lost in thought (not lost) and wonderfully content. The bike soon goes missing ("We didn't even get a chance to say goodbye," she murmurs), but Poppy keeps moving forward and dancing and jumping and laughing and nodding her dark, delicate head as if she were agreeing not just with this or that friend but also with life itself. She's altogether charming or perhaps maddening — much depends on whether you wear rose-colored specs — recognizably human and every inch a calculated work of art.
Mr. Leigh's characters look as if they live in the world rather than in a movie, but are actually painstakingly conceived through an involved and lengthy collaboration between him and his actors that begins with improvisatory rehearsals and results in a tightly structured shooting script. Poppy, short for Pauline, a pixieish 30-year-old partial to bright blues (as if she were dressing with pieces of sky), is one of his most persuasive optimists, though Mr. Leigh tries to obscure her appeal with some early misdirection. Not long after her bike ride, Poppy and some girlfriends materialize at an ear-piercingly noisy club, bouncing in unison to the numbing sonic throb, only to then dissolve together into a silly, girly puddle.
Before you can start huffing superiority, Poppy and her roommate, Zoe (Alexis Zegerman, tastily tart to Poppy's sugar), are joking about Stravinsky and "The Rite of Spring," a bit of high-cultural name-dropping that feels as if it had been specifically designed to tweak the audience's class assumptions. Mr. Leigh has a documentarian's eye for unadorned reality — his people and places look equally lived in — and his dialogue has the ebb and flow, the swells and eddies and logjams of ordinary conversation. His characters often talk in circles instead of direct lines, clucking and offering cups of tea. But the dramatist in Mr. Leigh is always hard at work, aligning his characters for maximum narrative effect and emotional pow.
That's true even if "Happy-Go-Lucky" seems as lighthearted as the bobbing bloom at its center. In some ways, the film feels like a coda to Mr. Leigh's splenetic 1993 drama "Naked," about an angry young man, Johnny, with a severe case of logorrhea. Words are weapons for Johnny, who uses them to prop himself up and tear everyone else down, while for Poppy, a primary-school teacher, they're more of a caress. They're also invariably outwardly directed ("Bless 'em," she says with believable habit) and often accompanied by and obscured by hiccups of laughs and giggles. These yelps of joy at first make her seem a touch demented (a bookstore clerk's silence suggests as much), a prejudice Mr. Leigh is delighted to demolish.
Movies sometimes seem made for misery, for rivers of tears, stormy skies and third-act woe. Happiness is for suckers and Disney Inc. But happiness is a complicated, difficult matter, and in "Happy-Go-Lucky" it's also a question of faith. Poppy isn't a celluloid saint: she lusts like a real woman and nurses plenty of pints to go along with her loneliness. She also betrays herself and her neediness in a series of amazingly paced and played scenes that find her taking weekly driving lessons from Scott (Eddie Marsan, in a boldly repellent turn), a seething lump of rage and resentment whom she soon sends hurtling around the bend. Horribly funny and often just horrible, the lessons distill individual relationships to their stop-and-go lurching essence.
Nothing and everything happens in "Happy-Go-Lucky": Poppy chatters and wanders, teaches and learns. At one point, she takes flamenco lessons (from a sternly funny Karina Fernandez), doing her best to hold a pose that the instructor likens to that of an eagle. But grand poses don't come naturally to Poppy, who, earlier in the story, dresses up like a chicken to the delight of her students. She's made of humbler stuff, human stuff, which Mr. Leigh tenderly expresses in a surrealistic interlude that finds her wandering through a garden and arriving at a kind of Joycean nightscape where a visibly disturbed, gibbering homeless man (Stanley Townsend) asks her again and again, "Know what I mean?" "Yeah," says Poppy, reaching across the abyss. "I do."
source.
.
i wanna see this.