Shirley Manson Wants To See More Tough Girls Making Music
Published by Jennifer Vineyard on Friday, October 10, 2008 at 8:00 am.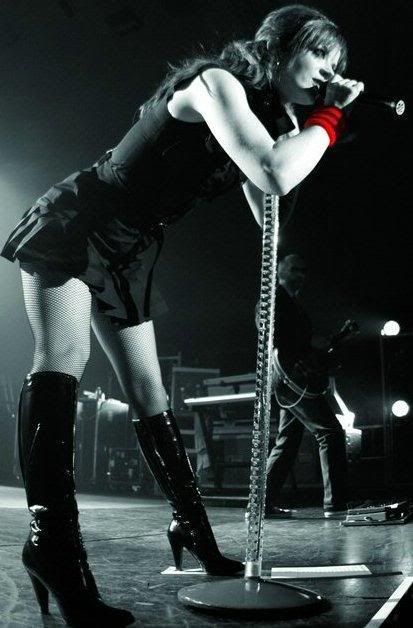 Garbage might be on hiatus — regardless of whatever Butch Vig may or may not be doing with Green Day — but Shirley Manson's on a break no more. She's got new music on her new show, "Terminator: The Sarah Connor Chronicles," and more new music on the way.

"I didn't have any idea that I was going to be singing on the show," Manson told us when we stopped by the set. "It was just as a favor to [the show's writer/creator] Josh [Friedman]."





Manson recorded a raw version of "Samson and Delilah" for the season opener, which will be on the show's soundtrack, out November 18. "Josh wanted it to be more of a gospel spiritual, I wanted it to incorporate more of the score, and Shirley wanted it to have a rock energy," said the show's composer, Bear McCreary.

"It was great to basically record a folk song and tell a story in a literal sense, which I'm not used to," Manson explained.

But for Manson's own solo material, she wants to be more in control. She's written quite a bit since Garbage stopped touring a couple years ago, and she's about to go in and record a handful of songs live with a band of friends she's put together. "I'm excited," she said. "I think it'll be new and fresh for me. I just want to make a noise."

Just don't ask her what that noise might sound like. "I got so pinned in and hemmed in by the success that Garbage enjoyed," Manson said, "that I got trapped by that. I found that tedious, so I made a promise to myself to never describe my music ever again. I'm not going to worry about how it sounds to anybody — how modern, how authentic — because I don't want to adhere to anyone else's idea of what we should be doing."

After her new band sees "how we all gel," they hope to play a few live shows, but they'll probably be low-key, surprise appearances. "I don't want to bill it big," Manson said. "I don't want to play that game. I just want to do music to get something out of myself. Being on the top of the charts means nothing to me. Absolutely nothing. Maybe once it did, but not anymore."

That doesn't mean Manson isn't taking a look at the charts and wondering "where our warriors are" these days. Back in Garbage's heyday, there were plenty of powerful women in rock, and the numbers seem to have dramatically dwindled since then, she laments.

"We're in a conservative era," she said. "My era was insane, and there hasn't been an influx of that since. It really upsets me. All the women are expected to be cute and pretty and fun and as super-unthreatening as possible. There's a place for gorgeous girls making cute music. People want that, they need that, and I'm all for it. But I'm scared by the imbalance in music. There aren't any females portrayed in a particularly empowered position, and that really disappoints me."

"If I had a kid growing up right now," Manson continued, "I wouldn't want her listening to the Pussycat Dolls or 'My Humps.' I wouldn't want them to be hearing those messages. Katy Perry is an interesting young lady, but when you have her on the Warped Tour, we have a problem."

The solution, then, Manson said, lies with the next generation to change the cycle. "The Pussycats can't sit out there much longer," she said. "It's time for young girls to come up and challenge who is sitting on the throne. We want to see the young blood. The youth. The vigor. It's time for change."

source

i have loved this bitch since i was 12, i'm nervous but excited about her solo album!