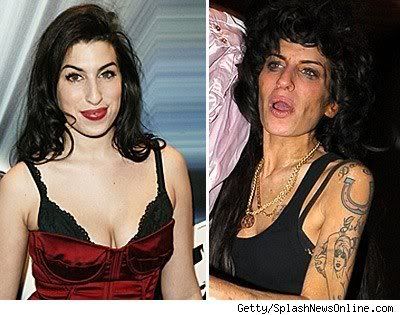 Amy Winehouse has reportedly threatened to kill herself with a knife.
Amy, 25, is said to be on suicide watch after apparently holding a knife to her chest and saying, "What's the point in living?"
It is claimed the 'Back to Black' singer is obsessed with the idea of dying young and was left distraught after her husband Blake Fielder-Civil - currently serving a 27-month sentence for grievous bodily harm and perverting the course of justice - turned down early parole from prison, leaving Amy saying she is "caught up in a nightmare".
A source close to Amy told Britain's Daily Star newspaper: "Her friends managed to get the knife away from her but are now holding a 24-hour suicide watch.
"Amy has a death wish. Her emotions are exaggerated She is either high all the time or when she hears something she doesn't like, she's suicidal.
"She is all for this stupid Sid Vicious notion of dying young. She is not scared of it and believes it is her destiny."
To add to Amy's woes, her father Mitch has allegedly received a violent and threatening letter from Blake, 26.