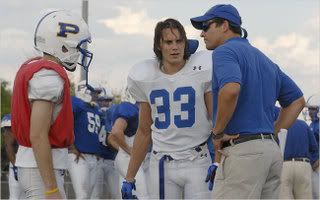 'Friday Night Lights' recap: A solid season 3 premiere on DirecTV

Friday Night Lights is back—for some viewers: Last night the show started a 13-episode run on DirectTV's 101 Network. NBC says it will air these new-season episodes starting in January. So for those of you without DirectTV, I'll just say right up top, here's a great big SPOILER ALERT. Read more after the jump.



So summer has passed in Dillon, Texas, and what was new last night? Well, in preparation for Gaius Charles' (pictured) announced departure from the series, his Smash was coping with the bad news that his injured knee would probably never enable him to run as fast as he once did. Connie Britton's Tami has become the high school's principal—that seems like an abrupt promotion, but I'm going with anything that keeps Tammy center-screen and under pressure, since stress brings out the most energetic/anguished/sarcastic/inspiring sides of her character.

And lo and behold, the flesh has triumphed over the spirit, as last season's newly prim Lyla (Minka Kelly) is now doing the deed with Tim (Taylor Kitsch). Not sure how this squares with her religious beliefs as they were dramatized last season, but it's a heckuva lot of fun watching these two have their fling. Kitsch in particular continues to impress: This guy is, mark my words, a budding movie star once FNL throws its final touchdown.

Speaking of which, a mighty touchdown throw was tossed by a new character—J.D. McCoy, a freshman brought in as rookie quarterback. J.D. himself didn't have a single line last night that I heard, but his pushy dad—played by the always reliably smooth D. W. Moffett—made a big impression as a guy who's going to be a real pain in the neck for our long-suffering Coach Taylor (all hail Kyle Chandler).

I'll keep this short: We're off to a great season, by which I mean most major characters are unhappy (yet wry and funny), the series seems as grungily authentic as ever, and while I don't care for the new short, curly hairdo Tyra (Adrianne Palicki) is sporting, maybe I'll get used to it.

What do you think about the show, if you watched? And if you don't have DirectTV, how do you feel about this cost-sharing agreement NBC struck with the company to keep this show on the air?

The obligatory shirtless Timmy Riggins portion of the post.



Can I just be Lyla Garrity for five minutes, please!

entertainmentweekly