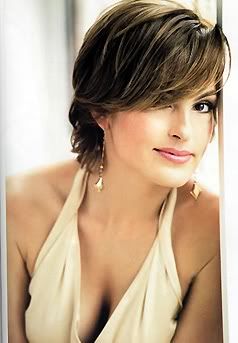 With Much Gratitude
First of all, I have, hands down, the best fans in all of show business. I cannot thank you enough for the awesome, thoughtful, creative, sincere, heartwarming, uplifting messages you sent me–you made me even more excited than I already was.
I am still flying high from having been nominated in this incredible year. Glenn Close is one of the reasons I became an actress, and to watch one of my mentors be honored the way she was on Sunday was awesome. As she said in her great speech, now is such an exciting time to be an actress, and for her to include Sally, Holly, Kyra and
me in her "sisterhood"—it doesn't get much better than that.
We are all incredibly proud of "Undercover," the Emmy-nominated episode. A lot of people worked very hard to put that dark and difficult show together. I still get questions about it: Did you film in a real prison? Were you nervous? Was it a difficultepisode for you personally? Yes, we did shoot it in a real prison, which made the work that much more intense for all of us. Our show is never easy, but this particular episode was as grueling, as challenging and required as much soul-searching as any I've ever worked on.
The intro to SVU always ends with the words, "These are their stories." I certainly took a breath when I got the script and realized that a rape was going to be part of Olivia's story. I never let myself forget that these stories are real stories that happened to real women, stories of pain and trauma that tore apart hearts and lives. I never forget that
these stories happen every day, to 1 in 6 women. But I am so grateful for the challenge of living out one of Olivia's darkest chapters. And I am grateful for the chance to show the true face of sexual violence– the ugliness, the inhumanity and the terror–and to shine the light of truth on it. The show certainly demanded our best from all of us, but the artistic rewards and recognition were gratifying. The letters we received from survivors–at once full of personal pain and praise for our work– were among the most beautiful and humbling that I have ever received.
Everyone has lots of questions about the new season, and rest assured, most of them are going to get answered. In the meantime, have a look at our truly remarkable roster of upcoming guest stars: James Brolin, Chris Elliot, and the unbelievable Ellen Burstyn. I cannot begin to tell you how honored I was to work with her and learn from her. It's not every day that you get the chance to meet someone you admire so much, much less watch them unpack their artistry before your eyes.
Speaking of meeting people, last night you were introduced to our new A.D.A., Kim Greylek, brought to life by the very talented Michaela McManus. We're all thrilled to have her on the show, and we can't wait to start busting perps with her!
Thanks again for all the good wishes! Keep watching!
God Bless,
M
Source
I love her so much I could chop somebody to pieces