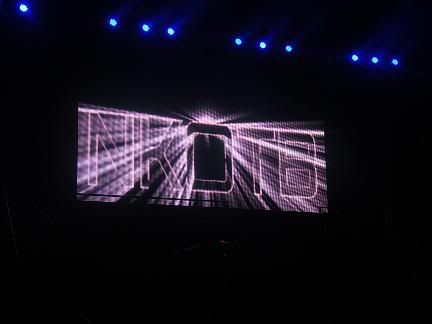 Air Canada Centre, Toronto - September 18, 2008
New Kids show old rust
By JASON MACNEIL -- Sun Media

TORONTO - It took them 14 years to get back together and the rust was somewhat apparent.

But a Boston-based quintet that started the boy band factory were still able to get by with some old hits and a few new songs that didn't do quite so badly.

New Kids On The Block returned to the minds and hearts of those same teenage girls now in their late twenties, thirties and beyond for their world tour launch last night at the Air Canada Centre, the first of three shows at the venue in the next few days.



The group -- Jordan Knight, Jonathan Knight, Danny Wood, Donnie Wahlberg and Joey McIntyre -- were out of the spotlight for 14 years but decided that now was a great time to cash in, er, reunite entirely for creative and artistic purposes.

New Kids On The Block (or NKOTB to fans) made their Canadian return earlier this year at the MuchMusic Video Awards, performing a medley of hits as well as the single Summertime. The rather lackluster performance was loved by fans and passively ignored by critics.

Fortunately the group managed to make a good middle portion out of a roughly 100-minute set that was strangely paced and, particularly during the second half, almost a three-man show in McIntrye, Wahlberg and Jordan Knight.


Beginning with a hokey montage that looked like some film trailer, the band emerged from high above a multi-level, sparse-looking stage with Single from the new studio album The Block.

And from that moment on, the shrill screams pent up for 15 years by the predominantly female crowd were let loose repeatedly and primarily for Wahlberg and McIntyre.

With Wahlberg mentioning Toronto in the opening song, the group looked a bit nervous as each made sure they hit their spots and did their rather rudimentary dance steps NSYNC, oops, in sync.

The pacing of the show was rather strange as the group left the stage three times during the first handful of songs, leaving some lulls with only a limp musical interlude to hold the fans over.

Following My Favourite Girl from 1988's Hangin' Tough album, New Kids On The Block opted for one of the big hits in You Got It (The Right Stuff) which had the venue buzzing as four female backing dancers came onstage.

"What's up Toronto?" Wahlberg asked. "I didn't hear you. What's up Toronto?"

Well, for the first half the fans stood and sang and screamed and screamed. And screamed some more when Jordan Knight went into Didn't I (Blow Your Mind This Time) as Danny Wood had a brief lead vocal.

But there were obvious gaffes that should've been taken care of well before opening night. The song Grown Man for instance features The Pussycat Dolls and Teddy Riley on the album, but the band could've used a female singer on stage to do portions instead of resorting to a video image on the large screen behind them.

Halfway through, the band opted for a small (and I do mean small) stage at the back of the venue's floor for Dirty Dancing and the Beatles-esque Tonight which went over quite well. Yet the five members seemed more concerned at times with not falling off the rotating stage than enjoying the moment.

This brief set should've kicked things into another gear but this is where the wheels seemed to fall off a bit, especially when Danny Wood (who did some break-dancing) and Jonathan Knight were absent for a rather sizable chunk of songs while Wahlberg, McIntyre and Jordan Knight went to work.

Jordan Knight also rekindled the band's heyday during Baby, I Believe In You as a fan blew his unbuttoned shirt around the same way he performed ages ago.

Finally all five returned dressed in white for I'll Be Loving You (Forever) prior to Wahlberg appearing to choke up about the song Click Click Click which started the "reformation."

By the evening's homestretch, which featured Summertime and Step By Step, the band seemed happy as much as relieved that night one was over.

Sadly they still looked a bit like new kids on the block.


Friday Night Review

I've been to both shows so far and I'm planning on going on Sunday again.
There's a lot of parts in both reviews that I agree with, but idc. I was too young the first time, I'm getting as much in this time as I can.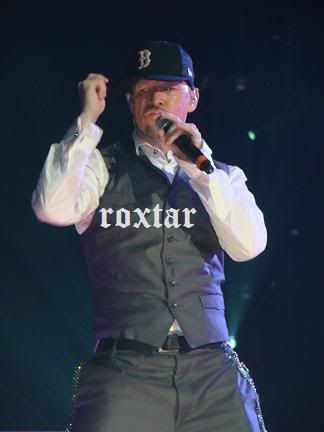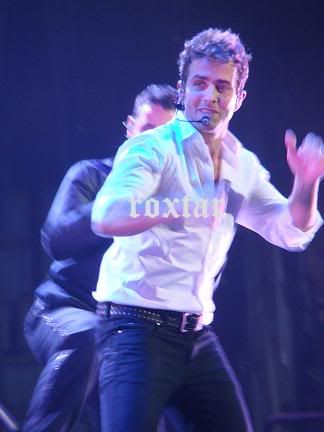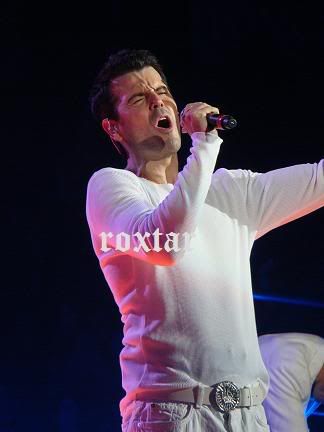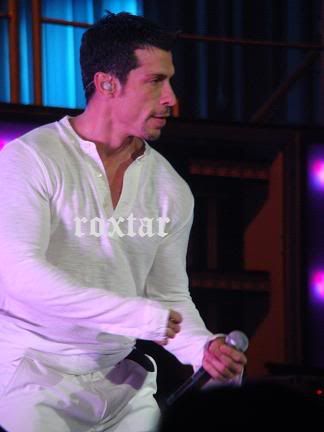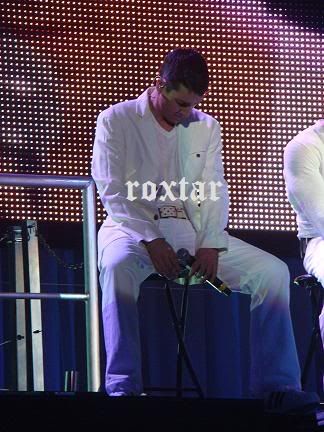 One of the reviews mentioned that Donnie was getting choked up at one point. This wasn't exactly at that point, but during one of their last songs he did get a little teary. If you look closely at this pic, you can see he has a tear on his face. :)




One of the reviews also mentioned Jordan's shirt blowing in the "wind"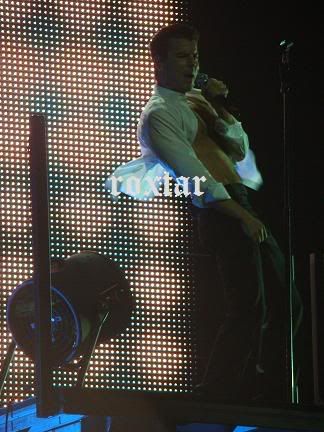 as ridiculous as it seems/looks, nobody in my area was really complaining about it.

They were also given a Gold record (in Canada) for The Block.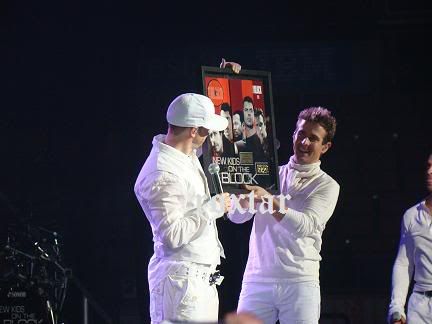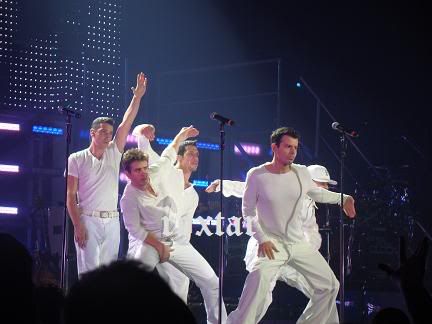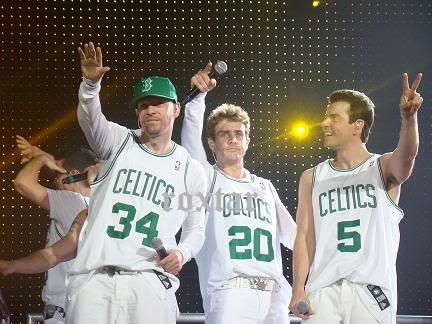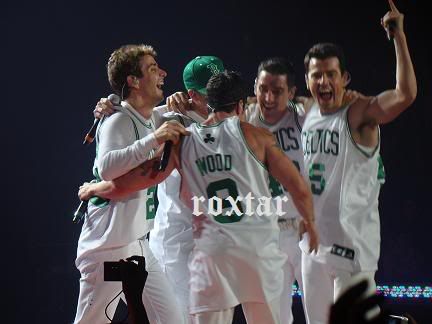 I loved this moment at the end. You could tell that they were all happy, proud... and relieved that they pulled it off.


Danny Breakdancing
Also mentioned in article



As promised, an appearance by Heathus as the Joker.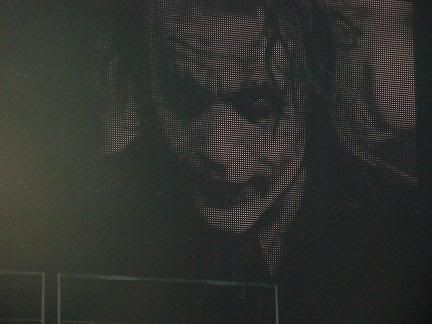 After "If You Go Away" they did a tribute video "for the ones we've lost" and it included pictures of Left Eye, Aaliyah, James Brown, Tupac and Biggie and of course Heath, which got the loudest response.


SET LIST

source - Thursday night Review
source 2 - Friday night Review
videos - me, my camera and my youtube
photos - me, my camera and my photobucket
There's a few extra pics at my photobucket. If you check back at some point tomorrow afternoon, there will be TONS. I took A LOT of pics