20 Best Boy Bands Ever
20. NAKED BROTHERS BAND
It's surprising that anything with the Nickelodeon brand would hold such a provocative title. Disney would never allow that! Can't wait until their sexy
Rolling Stone
cover shoot by Annie Leibovitz, but for now, brothers Nat and Alex Wolff are like little Jonases in training, fronting their own television show and selling albums.
19. WESTLIFE
Long before
American Idol
, Simon Cowell signed this Irish pop group. In the decade since, they've sold 40 million records and gained considerable international recognition. But on American soil? Not so much. The closest to star-spangled success that these Irish boys have found is when Ruben Studdard covered their hit song ''Flying Without Wings.'' Thanks
a lot
, Simon.
18. DAY26
Tweaking reality series Making the Band, Diddy — or maybe he was Puff Daddy at the time — took the show to MTV. After a search for a lady group (a.k.a., Danity Kane), Diddy went back to the boys in 2007, creating Day26, a male group with a more R&B/hip-hop sound.
17. LFO
A ''Summer Lovin''' for the new millennium, ''Summer Girls'' made LFO (Lyte Funky Ones, what else?) worthy of momentary boy band fame. It also made lead stud Rich Cronin soooo relatable! Chinese food makes me sick too! I think it's the MSG. I wear Abercrombie & Fitch and love Fun Dip and Cherry Coke! It's like he knows me!
16. TAKE THAT
Just like cats, boy bands are gifted with multiple lives. In their first, Take That sold 30 million records, sold out tours, and built a huge fan base. Then, Robbie Williams left the band in 1995 to wrestle with personal problems and ultimately rebound into solo fame, leaving the four other guys to forge much less successful careers on their own. Almost a decade later, the quartet came back for a very successful tour and good reviews.
15. GOOD CHARLOTTE
Oh, Joel Madden! Get that angry look off your face! You know that you belong on this list. No amount of guy-liner and studded leather can change your music from ''pop rock'' to the coveted ''alternative rock'' genre, so just get over it. And while being advocates for PETA and H&M's Fashion Against AIDS campaign is great and all, it doesn't really help your grunge cred any.
14. B2K
As the bubblegum pop fame of the '90s boy bands faded away, B2K (Boyz 2 Kool) rose to popularity with R&B ballads and club-worthy dance tracks. Shortly after they appeared together in the film You Got Served in 2004, they announced their breakup. Since then, Omarion has had a decent solo career, and in 2008, Lil Fizz, Raz-B, and J-Boog got back together.
13. 2GE+HER
The joke started off on them, with MTV creating a hilarious TV movie spoof on the creation and marketing of boy bands. They put together a heartthrob, a shy guy, a bad boy, a bright-eyed youngster, an older brother type, and the ''gag'' produced two albums, a television series, and a gaggle of girly fans. It looks like the joke ended up on us.
12. O-TOWN
It's no lie that a lot of boy bands are randomly assembled in the hopes of fame and seven digit payoffs, so why not just make a TV show about the process? Making the Band was born, an MTV-produced reality show that culminated in moderate success for ABC, a successful (enough) group, O-Town, and a prominent leading man, Ashley Parker Angel, who would later have his own MTV reality show.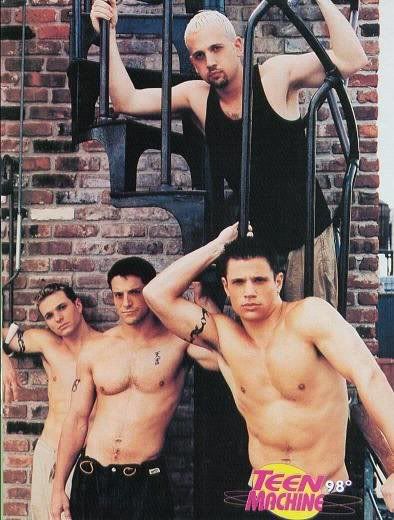 11. 98 DEGREES
Although they never quite reached the same fame as the fellas of 'N Sync and BSB, these four guys found themselves and then found a record label and manager to package and ship them out to hungry fans — introducing teenage girls to a beefier cut of boy band meat complete with the cheese that they were already used to.
10. THE MONKEES
While it was easy to criticize the Monkees for not being close enough to the Beatles' magnificence, it was even easier to sing along to their cheery tunes. Although the band members were picked to create a goofy TV show set to a laugh track, Davy Jones and the boys weren't just monkeying around — they ended up as chart-topping heartthrobs.
9. BOYZ II MEN
The artists on one of my first cassette tapes ever — so it's safe to say that Boyz II Men shaped all of my romantic expectations to this day with their smooth voices and sultry harmonies whispering promises and seduction from my Sony Walkman. But to be fair, they did teach me to never wait 'til the water runs dry. Or I could make the biggest mistake of my life!
8. JONAS BROTHERS
No use flinging your panties on stage for these holy honeys, ladies! With prominently displayed purity rings, Nick, Joe, and Kevin have ironclad chastity belts holding up those stylish skinny jeans. Only time will tell if these pretty teens can keep their prized V-cards, but for now, teenyboppers, their parents, and yeah, even you, will be getting tracks from A Little Bit Longer stuck in your head.

7. MENUDO
With synchronized footwork, fresh faces, carefully chosen characters, and a willingness to perform at shopping malls, the Puerto Rican sensation Menudo laid the groundwork for later acts. The group has been active and evolving since 1977, finding replacements each time a member — even Ricky Martin who was a Menudie in the '80s — turned 16.
6. NEW EDITION
As we've learned from Whitney Houston's marriage and countless reality TV shows, most things involving Bobby Brown end badly. The boys of New Edition kicked Brown out in the '80s and went on working for years. Recently, tracks like ''Hot Tonite'' have proven suitable for the 2000s. They even allowed Bobby back for a performance or two. Whitney, just say no!

5. BACKSTREET BOYS
My junior high school health teacher used Backstreet Boy lyrics ''I don't care who you are/where you're from/what you did/as long as you love me'' to push celibacy on us, but Nick, Brian, Kevin, A.J., and Howie were just trying to outline puppy love for the PG crowd. And give their groupies a real VIP pass...to their hearts of course.
4. HANSON
They were the original band of brothers, with hair that launched a million
Tiger Beat
covers. With instruments and writing credits in hand, Hanson proved to be a more talented and wholesome alternative to their fellow '90s pop acts. Now well past puberty, the trio cut their hair, got hitched, had babies, and started their own independent label, continuing to play to their all grown up ''Fansons''.
3. NEW KIDS ON THE BLOCK
Me and the Kids always seem to miss each other. Their initial fame came and went while I was still administering cootie shoots. Then they had a whole decade to woo me, but waited until this year, long after my boy band allegiances had been made. Still playing to sold out arenas full of diehard fans, their newest album comes out in September 2008.
2. 'N SYNC
It ain't no lie that these ''Bye Bye Bye''-ers taught the Y2K generation how to scream, faint — and buy cheap crap with their faces plastered over it — all over again. Since their hiatus in 2002, lead hunk Justin Timberlake's triumphant solo career and the, um, other pursuits of JC, Chris, Lance, and Joey, there's been no serious reunion talk. But, hey, there's always this year's MTV VMAs, boys!
1. THE JACKSON 5
They're the only family band on this list with more Behind the Music fodder than, well, Michael Jackson on his own. Born, bred, and carefully molded for the stage by their father/manager, Joe, brothers Jackie, Tito, Jermaine, Marlon, and Michael made Motown magic and a million girls swoon with their bell-bottoms and 'fro fashions.