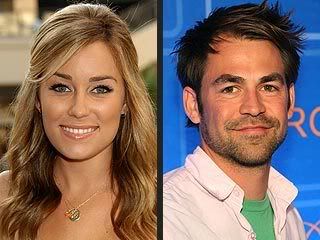 Lauren Conrad & Kyle Howard Dodge Dating Questions

Are Lauren Conrad and Kyle Howard dating? They'll be the last to tell – for right now.

The Hills star played coy when asked Saturday about reports from pals – supported by sightings at several L.A. parties recently – that she and the My Boys actor are an item.

"I'm just dating," Conrad, 22, told PEOPLE on Saturday at the Do Something Awards Pre-Party for the Teen Choice Awards. "I'm single and having fun."

Howard, 30 was more direct. "I'm not going to answer that," he said Saturday at the Celebrity Kickball event hosted by French Connection in Malibu.

They met through Brody Jenner a few weeks ago, a friend tells PEOPLE, and have been seen together at Crown Bar on July 23 – "Almost on top of each other," a witness says – and a few days later at Project Beach House in Malibu and at jazz night at Teddy's at the Roosevelt Hotel in Hollywood.



From here.