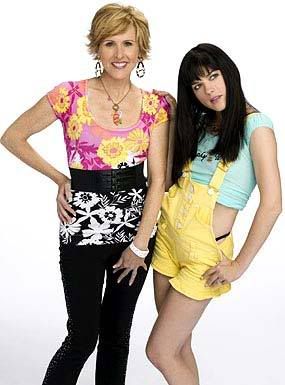 To follow up the shit-storm that was a
recent posting about the US version of Kath & Kim
, here is a video of the promos that have been put out.
THIS is the first look at the new US version of Kath & Kim, starring
Selma Blair and Molly Shannon.
The first two TV promos for the NBC show have been uploaded onto YouTube. "Australia's number one show comes to NBC," the voiceover on the ad says.
It shows Kim (Blair) arriving on Kath's (Shannon) doorstep with her suitcase, announcing she has divorced her husband and wants to move back home. The ad goes on to show Kim being disgusted by Kel (Best in Show star John Michael Higgins), who is wearing a short nightrobe, and drinking wine with her mum on banana lounges in the yard.
But take a good look now because the show might not be around for long. The series has already been panned in the US before it's even gone to air, with an influential media firm predicting it will flop in the States and be axed.
NBC is doing its best to see the show succeed, juggling its schedule around to give Kath & Kim a chance. The show will air as the final piece of NBC's Thursday night comedy block. It will follow established NBC sitcoms, My Name is Earl, 30 Rock and The Office, an American adaptation based on Ricky Gervais' British comedy that survived initial scepticism and lukewarm ratings to be one of NBC's success stories.
Source
-------------------------------------
I was expecting to hate it, but the promo actually made me laugh a bit. Also, I guess we'll see if post this turns into another 'rest of the world vs. America' fight like last time...