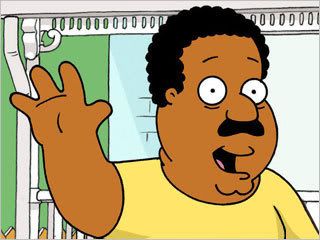 Diversity in Entertainment: Why Is TV So White?
(srsly tl;dr, so I bolded for the ADD types)
By Jennifer Armstrong, Margeaux Watson
Cleveland Brown favors gentle words, and few words at that. He likes yellow T-shirts and baths. He is also fiercely proud of his African-American heritage, as evidenced by his ''Two Decades of Dignity'' board game and that nice talk he had with a racist cop about how a black bowling ball might feel when surrounded by white pins.
It's a good thing, too, because Cleveland Brown is shaping up as network television's great black hope for the 2008-09 season — he's the only minority character anchoring a new series on the Big Five networks. Granted, his Family Guy spin-off, The Cleveland Show, didn't even make it onto the fall schedule (it's slated for midseason). Yes, Cleveland himself is merely a figment of animation. And true, the person who provides his voice, Mike Henry, is actually white.
But hey, it's a start, right?
These days, the networks need to ensure that even their cartoons of color count. After a period of making a public effort to focus on diversity in their casting — kickstarted by an NAACP outcry over the white TV landscape in 1999 — the networks have clearly started to lose that focus, and not just when it comes to African-Americans. Today the current prime-time lineup, including fall's 14 new scripted shows, is looking alarmingly pale.
According to an Entertainment Weekly study of scripted-programming casts for the upcoming fall 2008 season, each of the five major broadcast networks is whiter than the Caucasian percentage (66.2 percent) of the United States population, as per the 2007 census estimate. And all of the networks are representing considerably lower than the Latino population percentage of 15.2 percent, with The CW — whose only lead Latina star, JoAnna Garcia, will be playing a white character named Megan Smith on Surviving the Filthy Rich
— registering just 3.8 percent. After the quiet and unceremonious departure this winter of eight-season hit Girlfriends (the No. 15 show in all prime time among African-American audiences), The CW's black comedy block (inherited from predecessor UPN) has shrunk to just two sitcoms: critical darling Everybody Hates Chris (No. 29 among African-Americans) and The Game (No. 7 among African-Americans), which have both been relegated to the dead zone known as Friday nights this fall. And with very few exceptions (like black actress Niecy Nash, who costars with Jerry O'Connell in Fox's hotel sitcom Do Not Disturb), spring's annual presentation of the new lineups looked largely like a parade of Caucasian stars.
When CBS, for example, introduced the main actors from their new series to the advertising community in May, it went something like this: Kyle Bornheimer — white. Simon Baker — white. Jay Mohr — white. Rufus Sewell — white. Elizabeth Reaser — white.The NAACP has taken notice: It will release a new study later this month titled ''Out of Focus, Out of Sync — Take 4,'' which calls for diversity not only on screen but also behind the scenes, where decisions are made and story lines are hatched. ''1 out of every 3 persons in the United States is a minority,''
reads the report, an advance excerpt of which was provided to EW. ''One could argue that a third of all those working in Hollywood should be a minority. However...their presence is not accurately represented on-air and for the most part, their stories are secondary or non-existent. Behind the camera, the challenges facing minorities have been even greater and traditionally more difficult to overcome....
It is unconscionable and unacceptable that there is no new African American sitcom, or family drama for that matter, currently in the fall line up on any of the major broadcast networks.''
Vicangelo Bulluck, executive director of the NAACP's Hollywood bureau, says plainly, ''The trend definitely seems to be going in the wrong direction.''
The few minority showrunners agree that more work needs to be done, not just in hiring actors of color but in hiring them for the right roles.
''There's a saying that when America gets a cold, African-Americans and other minorities get the flu,'' says Girlfriends creator Mara Brock Akil. ''Television is certainly having a cold right now, and everybody is losing out.''
Grey's Anatomy creator Shonda Rhimes sees progress in her diverse cast and those of other established hits — namely Lost and Heroes. But she still cites room for improvement:
''Do I want to see any more shows where someone has a sassy black friend? No, because I'm nobody's sassy black friend. I just want to see shows in which people get to be people and that look like the world we live in. The world is changing, and television will have to follow.''
True enough: It feels downright regressive to have to point out that minorities can be stars too, at a time when Will Smith continues to dominate box offices, Oprah is the most powerful woman on television, and Barack Obama is running for the ultimate leading role (you know, of the free world). ''We should put them on a show and watch the wackiness ensue,'' jokes Chris exec producer Ali LeRoi. ''He's a movie star! She's a talk-show host! And he's the president! It could be like the new Three's Company.''
There was a time when diversity seemed to come naturally to prime time. The social consciousness of the '70s spawned successful sitcoms like The Jeffersons, Good Times, and Sanford and Son; the '80s brought living-in-harmony comedy Diff'rent Strokes and the ultimate breakthrough TV family on The Cosby Show. But a long fallow period (dominated by Cheers, Seinfeld, and Friends) followed until 1999, when the networks announced another particularly white fall lineup (The West Wing, Freaks and Geeks, Once and Again) — and minority groups revolted. Prompted by then-NAACP president Kweisi Mfume's remark that TV was a ''virtual whitewash in programming,'' groups representing African-Americans, Latinos, Asian-Americans, and Native Americans banded together to push for diversity — calling for sweeping boycotts if immediate progress wasn't made. In the end, it was: Minority actors were hastily added to shows (congratulations, Dulé Hill, you now work for President Bartlet!), and the
networks agreed to measures meant to foster diverse talent behind the scenes as well — most notably by hiring designated senior executives to monitor the situation. ''They've got VPs of diversity because we forced them onto them,'' says Alex Nogales, president and CEO of the National Hispanic Media Coalition.
''We said, 'We need someone to be the point person for you, Mr. President of Entertainment. And we need that person to report directly to you.'''
The result, nearly a decade later: Every major network now has a high-level VP whose entire job description boils down to lobbying fellow executives and producers to keep minorities in the game.
''It will really make our shows more relevant,'' says Mitsy Wilson, who oversees diversity development for Fox and parent company News Corp. Sitting in her Fox-lot office, flanked by a Waiting to Exhale poster and a Policía de Nueva York (NYPD Blue) poster, a head shot of an Asian-American actor on her coffee table, Wilson (herself African-American) explains that she and her second-in-command, Ron Taylor (also African-American), monitor the entire network. They work to promote diversity from the assistant level to the executive ranks, and among those who work either behind the camera or in front of it (the network requires at least one minority writer per show and one minority director per quarter). Wilson and Taylor help match diverse candidates with open positions and casting calls, scour the company's lower ranks for minorities with potential to be promoted, and meet with producers regularly to monitor progress.
It's a job that wins them varying receptions, given that they're asking many producers to hire from outside their regular circles. ''You have showrunners who understand that it actually makes business sense,''
Wilson says. ''A lot of it has to do with their frame of reference, which at some times is limited. If it is limited, they're more likely to say, 'I don't want to take that leap of faith.'''
'Til Death executive producer Tim Hobert, for one, says he uses the diversity office's resources to find new writers for his struggling sitcom — and, in fact, didn't mind that during the writers' strike, the network decided to add comic J.B. Smoove as a black foil to Brad Garrett's bumbling lead character. ''For me, the goal would be to tell interesting stories,'' says Hobert. ''I don't think it's good if you're like, 'Oh, let's just put on a black character so people will be quiet.'''
Fox and other networks have also been sponsoring writing workshops, talent showcases, and other outreach programs since the 1999 dustup.
And the last decade has yielded some high-profile gains: Rhimes' Grey's Anatomy and Private Practice; Dennis Haysbert, who played the president on 24 and now anchors network TV's sole African-American-led drama, CBS' The Unit; and Ugly Betty (exec-produced by Salma Hayek), currently network TV's only series centered on a Latino character. Network execs swear such success stories really are their goal: ''When people tune in to Grey's Anatomy, they see a cast that is what you would see if you walked into a hospital in any major city,'' says ABC president of entertainment Stephen McPherson. ''It adds realism to the show.''
There have also been some noble failures, such as CBS' Latino family soap Cane, which floundered last year despite the star power of Jimmy Smits (who recently joined Showtime's Dexter) — a particular disappointment when Hispanic characters are so scarce in proportion to their American presence. Says CBS Entertainment president Nina Tassler, a Latina who trumpeted the series last season with pride: ''[Its failure] wasn't because it was a Latin show, it was just because the narrative found its footing too late.''
Meanwhile, network execs insist this coming season isn't a lost cause just yet. ''The thought and energy that goes into these kinds of things was a little topsy-turvy,'' Tassler explains of this pilot season, which was stunted due to the writers' strike. ''As we go into adding new cast members, there's a huge emphasis on diversity.''
Casts on fall shows are still being filled out — some have room left for minority casting, while others, such as CBS' The Mentalist and NBC's Knight Rider, already include secondary characters of color. But there's that word again: secondary. After nearly 10 years of working with diversity reps and outreach programs, the networks still primarily solve the problem by sprinkling nonwhite actors into white-led shows — often as a comedic sidekick or in guy-who-helps-the-main-guy-solve-a-crime roles.
Brock Akil calls the solution ''very transparent. I think the audience can see right through that. If it's not organic, people are going to be like, 'Oh, you're just pandering to me.''' Instead of pumping up their percentages with supporting characters, shouldn't the networks be presenting more minority ''face of the show'' leads? It certainly worked out well with Ugly Betty Emmy winner America Ferrera. ''That never really came up: Would less people watch because we weren't telling the story of a white heroine?'' says Betty exec producer Silvio Horta. ''It doesn't really make a difference. It just has to be a really great story and a really great actress.'' Nogales worries that the networks have all but forgotten about their pledge of 1999. ''They haven't abandoned it,'' says Nogales. ''But they're not moving as fast as we would like.''
Why not? Well, for one thing,
there have been no smash-hit series starring a predominantly minority cast since The Cosby Show — which pulled 63 million viewers at its peak — left the air in 1992. ''The networks would love nothing better than to have a wildly successful minority show,'' says Bernie Mac Show creator and Daily Show correspondent Larry Wilmore (who also famously played Mr. Brown in The Office's ''Diversity Day'' episode). ''It only makes them look good. The key, of course, is wildly successful.''
But while NBC provided a widely accessible platform for Cosby to reach a mainstream audience, minority shows have been increasingly consigned to fledgling networks since the early 1990s as TV spread beyond the Big Three. ''That's usually how upstart networks become viable,'' says LeRoi. ''They target an underserved audience — which is usually African-American, Latino, and [other] minorities — so they can get some numbers. Then once they become a little bit more financially viable, they move into mainstream programming. That's what Fox did. That's what UPN did. That's what the WB did. So that audience tends to get handed off to the next upstart network. It's like a relay race and we're the baton.'' But while that strategy may be good for business, it's hindered the crossover potential of shows like Girlfriends and Chris. ''A lot of it is about access,'' says Wilmore. ''If you have a choice between Friends and Girlfriends, and you're used to watching Friends on NBC, why are you going to switch over to Girlfriends? But if Girlfriends comes on after Friends, you may stick around for it.''
By shrinking its African-American comedy block, The CW seems to be preparing to hand off the baton — though CW president of entertainment Dawn Ostroff says the startup network is simply following its audience's cues. ''It was shocking to me that those shows did not get a broader audience,'' she says of Girlfriends and last year's Pakistani-white buddy comedy, Aliens in America. ''You have to always keep evolving.''
MyNetworkTV looks to be taking the lead in niche programming: It just ordered a sketch-comedy show from Chris Rock's brother called The Tony Rock Project, and this season premiered the Flavor Flav sitcom Under One Roof. Going the DIY route is another alternative, one that has paid off handsomely for filmmaker Tyler Perry, who landed a $200 million syndication deal with TBS and watched his sitcom, House of Payne, debut last year to a record 5.2 million viewers. ''If everybody could do it, it would be great,'' says the NAACP's Bulluck. ''Everybody doesn't have the financial wherewithal to be able to play the game at the level that Tyler's playing it. I think he demonstrates that there is a market for it.''
Even so, minority writers aren't exactly finding their phones ringing off the hook, resulting in a thinning talent pool of showrunners of color. ''It was always easy for whites to run black shows or get jobs on black shows, but it was always tough for the reverse,'' Wilmore explains. ''Very few blacks get jobs on nonblack shows. So with a lot of black shows going away, fewer and fewer black writers get opportunities, let alone get the chance to be mentored and learn how to run and create shows.
So there's fewer opportunities to get to that level where you get the trust of a network to be able to run a show.'' Of course, perhaps
it would be easier for minority writers and producers to gain the trust of a network if more network executives were minorities themselves. Again and again, those working within the system say the absence of diversity behind the scenes is the key reason television continues to lack diversity on screen.
''When we started, I said my goal was to be out of a job,'' says Wilson, who joined Fox as a diversity rep in 2000. ''We were ambitious. What did we say [our deadline date was]? 2010.'' She laughs at the idea of achieving that goal (though, she adds optimistically, ''we're close'') — but LeRoi has a suggestion for speeding up the process.
''The first thing the diversity rep should do is fire the guy who hired him!'' he says. ''You see that white guy sitting next to you? Fire him and hire a black guy! You see that white lady down at the end of the hall? Fire her and hire a Latina lady! That's how you do it. And since everything is failing anyway, you mean to tell me that a Latina lady, a Chinese guy, or a black guy can't fail too? If the networks are going down the tubes, why don't they go down the tubes with everybody? Spread the wealth!''
Whatever their ethnicity, executives need to change the way they think, say minority leaders. And it's up to the big bosses like CBS' Leslie Moonves and NBC's Jeff Zucker to make sure that happens. ''The top guy has to say, 'You're not getting a goddamn bonus unless you start repopulating your shows with the way America really is,''' says Nogales.
Of course, it's about more than simply sprinkling additional minorities throughout shows — it's about giving those characters meaningful story lines that blend in seamlessly with their surroundings. ''I don't just want to see a black face or a Latino face or whatever,'' says Wilmore. ''People need to have roles on these shows that are dynamic and not just place marks.''
Adds Brock Akil, ''I think that's why Grey's Anatomy has been so successful. It's a very organic atmosphere, and the interaction between the characters of different races is very relatable.''
That kind of color-blind casting is something teen-focused networks seem to have down pat:
Nary a show has passed through ABC Family or The N without an interracial coupling or a naturally integrated cast. (ABC Family's Greek even has an interracial gay couple.)
Those networks' execs say it's a simple matter of economics, that their
Gen-Y viewers accept — nay, expect and demand — such a reflection of their multi-cultural lives. ''They're completely color-blind,'' ABC Family president Paul Lee says of younger viewers. ''We've done a lot of things wrong as a nation, but we've clearly done something right here. They embrace other cultures.'' Perhaps it's no surprise, then, that the most high-profile minority casting for the fall is on another teen show — The CW's 90210 remake, where African-American actor Tristan Wilds (The Wire) will play the central white family's adopted son.
''When we talked about how to make it more contemporary, diversity was a big part of that,'' Ostroff says. ''It feels as if it's a very modern family scenario.''
That said, 8 of the 10 regulars on 90210 are white (in addition to Wilds, Ecuadorian actor Michael Steger will play a student at West Beverly High). But at least we still have Cleveland Brown.
''Let's hope that he busts that door wide open,'' jokes Wilmore. ''If he can't do it, then I don't know who can.''
source