Since ONTD is such an internationally aware bunch (and I mean this!), you, gentle reader, would know that the American Ugly Betty isn't the first, nor even the second, remake of the Colombian (WOOOOOO!) show called Betty La Fea. I have decided compile a post of pictures for you to see how networks took pretty girls and made them ugly for everyone's viewing pleasure (or displeasure, depending).

LA PRIMERA:




She was played by Ana Maria Orozco, who also is on the Colombian version of Desperate Housewives (so wikipedia tells me).


the woman, obviously

the opening was pretty funny:




She plays Susana (guess her English version guise!)

There was also an Indian version called Jassi Jaissi Koi Nahin, with this being Jasmeet "Jassi" Walia


lol
She was played by Mona Singh



Israelis got into the action with Esti Ha'mechoeret. Her name is Esti Ben-David, and she was played by Riki Blich.


I'm sorry for the quality of the picture, but lol.

Here she is without shit on her face:



Then it's the German version, Verliebt in Berlin. Alexandra Neldel plays Lisa Plenske.
Now she's ugly:


Now she's not:



Our friends in Russia had their own version called Ne rodis' krasivoy, with Katya (the designated ugly one) played by Nelly Uvarova.


I guess Harry Potter glasses will make anyone look like shit.



She looks a little like Kylie, y/n?

ANYWAY, Mexico wasn't happy with the Colombian version, so they made their own, called La fea mas bella. Angelica Vale played Lety.


she was named one of people in español's 50 most beautiful people

It doesn't end there! No sir, the Dutch had their version called Lotte, with Nyncke Beekhuyzen playing the title role.



Spain pulled a Mexico and filmed their own version, in *~proper*~* Spanish. It was called Yo soy Bea (it's a play on words with Bea/fea) and it starred Ruth Núñez as the fuggo Beatriz Perez.


is it just me, or does she look like Chloe Sevigny around the eyes here?

Then came our version, and you ought to know how Betty looks vs. America Ferrara.

After us came a Belgian version, Sara. Veerle Baetens played Sara de Roose.



ouch. she's tied with Israel for the roughest looking one, imo.



i'll be real- this picture made me lol.

Then there is a Greek version called Μαρία η άσχημη (Maria H Asximi). tbh i don't know a word of Greek, so sorry, but i really can't find actress information. if a Greek/Greek speaking ONTDer would help illuminate the situation, i would be much obliged.



EDIT:
the actress is Angeliki Daliani (thank you
melina_agape)



After that, there is a Croatian/Serbian version called Ne daj se, Nina. Lana Gojak (i love her name) plays Nina Brlek.


she's cute!



tbh she looks better with the *~*ugly nina*~ outfit.

EDIT:
There was also the Portugese version, Tudo Por Amor, which apparently was inspired by a Mexican knock off more than Betty la Fea. It had Sofia Duarte Silva as Alice.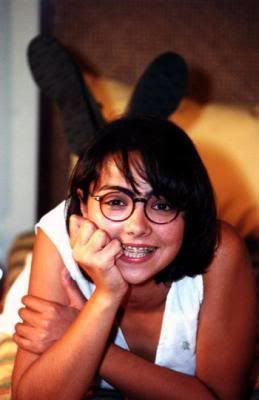 Coming soon is the Filipino version, and it will be called Chakang Betty. APPARENTLY (because wikipedia is often full of lies), la fea will be played by Bea Alonzo.


i wonder how they will make her ugly.


I hope u enjoyed this trip around the world.

Points to ponder:
who is the "ugliest"? who is prettiest while being ugly?
which version do you like the most (if you've seen more than one)? which version do you think sucks?

source: me, google image search, wikipedia

mods: i thought this comparison would be appreciated by people who might have wanted to know what other bettys looked like, or even inform them that other ones existed in the first place. that, and i know todos mis colombianos would like it, if only because i put the original there.