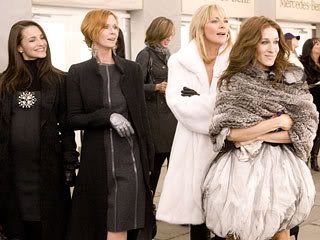 Even before last weekend's
boffo opening
, buzz was growing about a possible
Sex and the City
sequel. Now that we ladyfolk have proved to Hollywood that we really do like to watch movies (why was there ever a doubt?), a sequel seems ripe for the picking. Writer/producer/director Michael Patrick King has said he won't rule out the idea. "I wrote that movie with a beginning, middle and end because I didn't want to leave the audience unfulfilled," he told
Variety
. "The actresses are great, and if the gods smile and people are still interested, why not?"
Kim Cattrall has also expressed interest
, but that was before her
new sex- (not Sex) themed HBO series
was announced.
As a series fan who didn't love the cinematic version, I'm not clamoring for another Manolo-shod stroll down Park Avenue anytime soon. I think my movie date Kate said it best: "The movie really made me miss the show." And I can't help but wonder if we are letting our separation anxiety cloud our better judgment. Sure, it was great seeing the girls again, but what relevant (not to mention interesting) story lines are left? Charlotte as PTA president? Menopausal Carrie? Seinfeld had the right idea: Leave at the top with people wanting more. Let's let our Sexy ladies do the same.

What do you think, PopWatchers: Are you ready for another go? If so, what do you think should happen to your favorite
Sex and the City
character in the (potential) sequel? Or are you ready to wave goodbye to the fabulous foursome?
Source
Source