Amanda Lorber: Summer Camp Today, NYU Tomorrow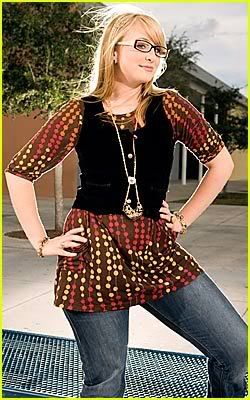 Amanda Lorber, the 17-year-old star of MTV's docu-series The Paper, rang up Just Jared last week to talk politics, plans for the summer and preparing for her upcoming semester at New York University.
Here are the many interesting things the fierce editor-in-chief of Cypress Bay High School's The Circuit newspaper had to say:
JJ: Since you're graduating, how will you be spending the next few weeks?
AL: I'm going to be spending as much time with friends as possible. I'm leaving for the summer! I'm going to be a camp counselor in North Carolina at a place called Blue Star.
JJ: You'll be teaching kids there?
AL: I will. And maybe I'll start up a newsletter.
JJ: I heard you went to the Barack Obama rally in Sunrise, Florida last week. How was that?
AL: It went well. I'm still trying to figure out what I'm gonna do, come, time to vote. I don't know for sure who I'm going to vote for but it will be a Democratic candidate. (Editor's note: This interview was conducted before Barack became the Democratic Presidential Nominee.)
JJ: What did Obama address at the rally?
AL: He's really an advocate for single parent households. He's really big on finding ways to help those people out. He mentioned single moms a lot. One of the things I was impressed by was increasing teacher salaries and I think that's really important. I don't know where he's gonna get the money because education is the one that gets cut all the time. I think teachers' roles are so critical and I don't think anyone could argue against that. And I think they deserve a salary raise so that was something that got me. I don't want to be a teacher but my teachers deserve a salary raise!
JJ: I read a couple of interviews that you're pro-Obama and anti-Hilary. What's the biggest problem you have with her?
AL: Her healthcare policies. It happened awhile ago with her but I'm big on healthcare. She's kind of in the pockets of big corporations and businesses. I do like the idea of universal health care, which is hard to do because its a difficult route to take. Someone's gonna get gyped!
JJ: They have that in Canada, right?
AL: Yes, they do. And some will probably tell you it's a good thing and some will tell you they're waiting for hours. So I'm trying to figure out how we could make it work for everyone. Well, I'm not doing it alone, obviously. (laughs) Yeah! Taking on the world's problems one step at a time!
JJ: Have you seen that video clip of Obama? He was speaking at another rally and he claimed he visited 57 states during his campaign.
AL: Yep, I did hear about that. I didn't know about that………. But yeah, all of the candidates have their issues. One of them is 1,000 years old! That's an issue.
——————
JJ: Did you watch the season finale of The Paper with friends?
AL: Yeah, I watched it with a big group of people. Neighbors, friends, family… I enjoyed the finale. It was interesting. Finally there were sprinkles of journalism in there, so that was nice.
JJ: When was the finale taped?
AL: Maybe four months ago?
JJ: And what has changed since then?
AL: Since then we put out our last issue, which was about two weeks ago. The issue came out great. Pretty much flawless.
JJ: Did you have a wrap-up party?
AL: No, we didn't have a wrap-up party. Everybody was aching to go because we're seniors. I wished all the young'uns good luck.
JJ: How many young'uns are there?
AL: Well we have about a 70 person staff…
JJ: Really? It doesn't seem like that at all.
AL: Right, because you're focusing on seven people, which is another way I look alienated because it looks like we have a seven person staff.
JJ: Is there just one classroom for The Circuit and then people rotate in and out the whole day?
AL: Yea, there is one classroom and there are different class periods that come in and do the work. And they also put out a magazine for the first time this year.
JJ: What did the magazine focus on?
AL: It's in-depth feature about things that are important to students. It's an outlet, because we have so many staff members. You can't write all these huge in-depth pieces all of the time. We have a 36, sometimes 40-page issue. And it's a lot. We want the students to read it and we can't put in all of those pieces all of the time. And so the magazine is an outlet for that. You know it provided the space and the opportunity for the younger staffers to get their work in.
JJ: Does the magazine run as frequently as the newspaper?
AL: Well, its a new concept for us, so we only did one this year. And I wasn't involved in it because I was trying to focus on The Paper. But it came out great, and Mrs. Weiss had younger staffers in charge of it. And they rose to the occasion and it came out great!
JJ: Sounds like a good addition!
AL: Yea, it's called The Outlet, because we're The Circuit.
—————–
JJ: Did your date ditch you at the last minute for the prom?
AL: Yes. Well, not ditched. He was actually grounded because he and I talk on the phone so frequently that he ran the [phone] bill up.
JJ: Did you wind up going by yourself, or find a new date?
AL: That was like two days before homecoming, so I wasn't about to find a new date. And I'm an independent woman! I'm told it looked like I was dancing with myself the whole time, which was not the case at all. The few moments when I got a little weird, they put those moments in, instead of putting in the people I danced with. I had a good time. I have the pictures to prove it…
JJ: Adam mentioned in an interview that if Alex was the Editor-in-Chief, he would look more like the hero and the more interesting one. You would then seem more like the bitter one. Do you think that would have been the case?
AL: No! It might seem like I'm just saying that but I would have been happy for anyone that got the position. I don't get jealous and hold grudges. I think that if it had been someone else running it, I would have been happy. Of course, I would have been hurt at first, but most people are able to over come those feelings of bitterness. I'm one of those people.
JJ: Independent woman!
AL: Exactly.
JJ: So I understand you're going to NYU for the fall, and Broadway was your first passion in life.
AL: It was, and that was why I wanted to go to NYU when I was younger.
JJ: Have you been to the orientation at NYU?
AL: I went to an accepted students orientation type thing. The orientation thing is after the summer. I've visited the school, but I haven't seen my dorm to tell you the truth, so I'm nervous.
JJ: Would you ever pursue that dream now that you're moving to New York?
AL: No, now that I'm moving to New York, I want to work my way up in the journalism world. Maybe do some theater on the side, but it'll always be second to journalism. My true calling you could say.
JJ: What's "the top of journalism" for you?
AL: I don't know what's going on with the print world right now. Some say 'I feel like the time she graduates, it'll be dead.' If I have to transition and do magazine journalism, I'll do it. I'd love to work for TIME or Newsweek. They'll be around, even if the newspapers aren't. So I kind of want to keep newspaper alive…single-handedly.
JJ: Have you seen any Broadway shows?
AL: I have! I saw Spring Awakening when we went to visit NYU. It was fabulous, it was amazing. I have the music now. I'm a little bit obsessed!
JJ: Well now that you're in New York, you should see all the Broadways shows!
AL: Yea, for like $5 a ticket.
JJ: I went to school at Columbia (University) and I would always go down to Times Square early in the morning and get those student rush tickets. 20 bucks a pop, front row seats.
AL: We were actually at Columbia recently for the Columbia Scholastic Press Association Conference! It was our first time going to it. It's national so it's pretty interesting with people from all over.
JJ: Did people recognize you at the conference?
AL: This was before the show aired. Some recognized from commercials. But it was before the show aired, so no. But now I get a lot of recognition.
JJ: Would you do another reality show?
AL: Probably not. It's not that I'm a private person, but the cameras did get on my nerves after 2 seconds. And I look like a nut talking to my dog. The only reason I talked to Gabby was because I wasn't supposed to be talking to myself to talking to the camera. MTV didn't want to take the confessional approach, and I don't know if you've seen High School Confidential, or anything like that. But confessionals are boring. Our show was not boring because they didn't take that approach. Who wants to watch someone sit down and just talk? So I just sit down and talk to my dog. And that makes it more interesting. (laughs)
JJ: Did MTV try to get you to purposefully do things? Like tell you that you should talk to your dog?
AL: No, it's like 'How are you feeling right now?' but don't tell us, tell Gabby. If I had something to say… I had to say it to her. She's a GREAT listener. She doesn't really talk back much. It's the kind of boyfriend you want.
JJ: Do you know where the rest of the cast is going to college?
AL: Yes, Adam is going to UCF, Giana and Trevor are going to the University of Florida. Cassia is too. She got into American University. I wanted her to go there since she would have been closer to me… I'm not sure where Dan is going…and Alex is going to Penn State.
JJ: What do you think of Trevor and Giana — as individuals and a couple?
AL: As individuals, I don't know that much about Trevor to tell you the truth. It's not like he's ever opened up to me or that I've ever opened up to him. He's an intelligent guy, I know that. He's big on math and good at economics… That's about it. I know that he dislikes me. Giana and I were good friends for a long time. It was from middle school to maybe the middle of 10th grade. And then we went our separate ways because we were interested in different things, with the exception of journalism. Viewers have heard she convinced me to take journalism as an elective in ninth grade. (Giana wrote a goodbye message here. Trevor wrote one here.)
JJ: And as a couple? Do you think they'll stand the test of time in college?
AL: Oh, no! She told me they won't. [They dated] for fun. I could see why people would want to date for fun… I was dating someone when the show began but you wouldn't know that.
JJ: Did MTV cut it out or you wanted it cut out?
AL: I'm a little more private with that sort of thing.
JJ: And why didn't it work out?
AL: Differences. It was long-distance. Things like that.
JJ: Alright, let's talk nose-job.
AL: Yeah… I can talk about it. I didn't want it to be on camera which is why there is so little footage of it. I had been contemplating getting a nose job for years. This was not a spur of the moment, spontaneous kind of thing. It's been something I've been contemplating for a long time and it took some serious thought. Talked to family members. I don't encourage plastic surgery, but there was no natural way for me to fix or enhance what I disliked about myself.
I've said in an interview before that people with tattoos and improve their appearance all of the time. You work out, or eat right. It's very much the same concept. Self-improvement. And why not? I don't see anything wrong with improving yourself. As I said I don't necessarily encourage surgery if there are other ways to go about feeling better about yourself. I mean if you feel good about the outside it improves everything. It starts from the outside in, type of deal. If you're confident with your outer appearance, you can be confident with yourself.
JJ: Do you think you'd ever get more plastic surgery?
AL: No, I wouldn't. This has just been the one thing that's been bothering me since childhood.
JJ: Are you happy with the way that you look now?
AL: I'm happy with the results, yeah. There's still things I'm not happy with like most girls, but I'm not going to go about the surgery route to fix them. It'd be too much. You're going to have flaws.
JJ: At NYU, you're going to be starting at the very bottom of the journalism food chain. Are you fine with working from the bottom again?
AL: Yeah, I did it in high school. There wasn't that much about how I was a copy editor before I became editor-in-chief. Before that, I was a staff writer.
JJ: Do you like reporting or managing better?
AL: If you're editor-in-chief in high school, you get to do both. I had some really interesting stories that weren't able to be covered whether it was because they were more concentrated on Alex and my relationship or playing to the interests of the audience. But, I did a story on counterfeiting that was going on at our school. I ended up speaking with the Secret Service, which was so interesting to me. I did a story on autism, which was an in-depth feature. I spoke to students and parents who were either autistic or had autistic siblings. I wrote about a baseball team for mentally handicapped students called The Miracle League.
JJ: Was this all published in The Circuit?
AL: Yeah, these were all published in The Circuit, and hopefully people that watch the show really do get into journalism, which was the whole point of doing the show to begin with. We wanted to arouse interest in journalism. Not just print but in journalism as a field, as a whole. If they're that interested, they can go look at our paper. It's online in PDF form, it's easy to view.
JJ: One more thing, are you familiar with my site JustJared.com?
AL: See, I didn't know anything about it and then I mentioned it when I was at a friend's house the other day. And his mother was freaking out! 'I LOVE THAT SITE!' She went on and on and on. She loves it. She visits the site everyday.
JJ: Well, thank you for taking the time to speak with me. It's been fun!
AL: Thank YOU!
————————–
And although the season finale aired last week, Amanda is still making headlines! Head over to NY Magazine to read her email to a reporter at a Columbia University's Spectator, who ripped Amanda apart for being "overbearing and annoying. Here's a sample of what you'll read there:
"I'm not saying I don't have enemies, obviously I do. You seem to be one of them, but as I write now, I'm starting to see where it's coming from. It's a different kind of jealousy. The type spewed from young women who resent teenage girls that get their names out there. You, Ms. Symonds, are obviously a fundamentally bitter woman. You degrade the work ethic and academic values of a 17-year-old in order to cure your self-consciousness and upset at perhaps never being recognized for your work when you're through with The Spectator."
And here's the cruel article about Amanda that was published in Columbia's The Spectator back in April.
And, just for kicks. Allow me to leave you with just one question: Where's MICHAEL JAN???????
Source